If you get arrested in Cobb County, Georgia, expect to serve hard time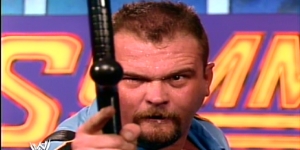 In the late 1980s, jive-talking con artist wrestling manager Slick introduced a disgruntled former prison guard to the WWF/WWE audience. The Cobb County, Georgia native dubbed the "Big Boss Man" destroyed wrestlers up and down the card; providing his own brand of justice after seeing the wrestling world for what it was – a company of potential criminals needing to be checked before things got out of line. But as it has been said time and time again, absolute power corrupts absolutely. The ability to beat people down with his trusty nightstick and handcuffing those battered individuals; Big Boss Man had become everything he was once fighting against.
Big Boss Man would eventually turn his back on Slick and his dastardly ways, leading to a feud with Man's former tag team partner before the law officer started making amends with all of the heroes of the WWF; including Hulk Hogan. As the 1990s stated rolling, Big Boss Man stepped up his game and began putting down criminals like the ex-convict Nailz and corrupted Royal Canadian Mounted Police, The Mountie. All of this happened while Big Boss Man's entrance music stated that if you ever came to the wrestler's hometown, he'd make you serve hard time if you didn't respect the law in order – just like The Mountie and Nailz.
So don't expect to get off easy if someone arrests you while your traveling through Cobb County. You could end up like The Mountie and spend a night behind bars while an "inviting" cellmate offers you to spend the night in his bunk.