"Don't exasperate me, young man!" – Bob Backlund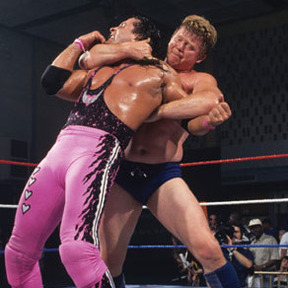 When looking at Bob Backlund, your first instinct would say that he's a friendly, older gentlemen ready to give you a nickel and a story. Instead, Bob Backlund is the type of elderly gentleman that would threaten to put you in his dangerous crossface chicken wing submission maneuver if you angered him. That's why in 1994 when Bob Backlund returned to the WWF he warned this new generation of WWF wrestlers, announcers, and even ring crew members to not exasperate one of the longest reigning WWF champions in history.
Bret Hart, who really wasn't a spring chicken when Backlund returned, seemingly raised the ire of the forty-four year old Mr. Backlund by being the WWF champion during Backlund's return – a belt Backlund proclaimed he never lost and Hart being a phony for calling himself the WWF champion. With the help of his submission maneuver, Bret Hart's brother Owen, and the sympathy of Bret's parents, Backlund became a two-time WWF champion with exasperation and his crossface chicken wing.
So before you confront a middle-aged man and think he won't retaliate when you irritate him, remember Bob Backlund, the crossface chicken wing, and how you too could feel the sting of an exasperated man.