"A friend in need is a pest." – Bobby Heenan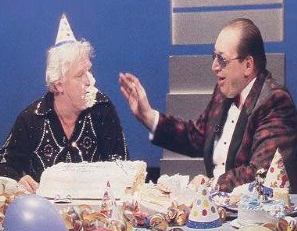 It's sad that Heenan's statement above reflected his career so perfectly. Bobby "The Brain" Heenan is considered one of the greatest wrestling managers of all time. But there were many times when "The Brain" was used as a punching bag simply because he tried to help one of his associates or friends.
From being bitten by The British Bulldogs' pet Matilda, to feeling the power of the Ultimate Warrior while wearing a weasel suit, Heenan's ability to help turned into a way for people to assault him. Even food wasn't out of the question. Chases would commence between a member of the Heenan Family and an enemy that would end with "The Brain" meeting a face full of cake – ruining his expensive, handmade suits in the process. For Bobby Heenan it was easier to be alone than to be friendly. At least being alone meant he wouldn't have to worry about taking a trip to the hospital after an event.
So be careful whom you pick as your friends. The end result could be you taking a punch instead of shaking a hand.