Using a necktie to choke someone during a brawl is beyond wrong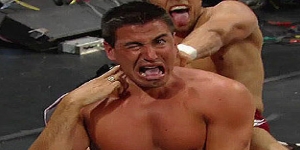 In 2010, long time independent wrestler, former Ring of Honor World champion and arguably the best (technical) wrestler in the world Bryan Danielson made his World Wrestling Entertainment debut under the new, mostly unimaginative name of "Daniel Bryan". Bryan joined seven other potential main roster WWE superstars to compete in a series of tasks and matches that made up the first season of NXT. Though impressive, Daniel was eventually eliminated like his fellow competitors until one man was left standing. And that man, who sympathized with his eliminated comrades, had a plan after his victorious moment.
At the end of June, the eliminated NXT season one competitors joined the season's winner Wade Barrett to lay waste to everything in their path. WWE's biggest star of this millennium (John Cena) was immediately targeted (with CM Punk being knocked out of the ring very quickly). The NXT eight destroyed the announcers' table, tore apart the ring, and, most importantly, beat the tar out of John Cena. But during the middle of the frenzy, Daniel Bryan knocked ring announcer Justin Roberts to the ground before using Roberts' own necktie to choke a man caught in the crossfire. Daniel's choking action (as well as spitting on Cena before almost kicking his head off) resulted in Bryan's firing.
So if you're ever in a fight with someone wearing a necktie or an individual in the middle of a chaotic situation has a necktie, do not use the piece of accent clothing to choke that person with. It is horribly frowned upon and could even help you lose your job.