Some women are gold diggers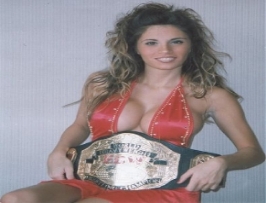 Before Kanye West's song "Gold Digger" reminded the world that there are scandalous women out there, wrestling fans echoed Mr. West's sentiments for years and years. Followers of the original Extreme Championship Wrestling found no better example of a gold digging woman than "The Queen of Extreme" Francine.
Like any normal woman turned moocher, Francine entered ECW as a simple admirer. The object of Francine's affections – Stevie Richards – eventually gave her a chance to date Raven's secondhand man. But the love between Richards and Francine didn't last long thanks to Raven's manipulative ways. When that relationship failed, Francine switched gears and helped lead The Pitbulls tag team to ECW Tag Team gold. The fans didn't really notice, but Francine became enamored with championship gold not long following that night.
Francine would turn on The Pitbulls to align herself with ECW Television and World champion Shane Douglas. After Douglas left for WCW, Francine started managing Tommy Dreamer – who would eventually become the ECW Tag Team champion under her watch. Tommy Dreamer couldn't keep the gold and Francine eventually moved on to Justin Credible after helping him win the ECW World title.
While one could say Francine was just a manager of champions, Francine herself admitted that the only way you could get some with "The Head Cheerleader" was by being a champion. Be careful when a woman tries to help you attain glory. More than likely she's not only a gold digger, but she'll also leave you high and dry when you fall from grace.