"'Almost' only counts in horseshoes and hand grenades." – Gene Okerlund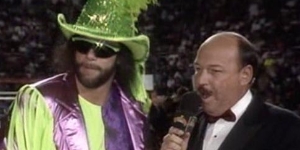 Believed to have originated thanks to baseball player Frank Robinson in 1935, the above quote has changed depending on the situation; but examples still used to exemplify just how coming close to a goal just doesn't work when striving for success. For Robinson, coming close in America's favorite pastime wasn't satisfying. In Robinson's possibly humble opinion, only two instances in life worked in a person's favor in regards to coming close to a goal – during a game of horseshoes or throwing a live hand grenade.
While playing horseshoes, a person can score points if the thrown horseshoe lands within one horseshoe length of its piped target. Tossing a grenade can cause great damage to a target even if it doesn't land directly on or at its intended destination. But in professional wrestling, like in baseball, coming close isn't enough.
Seeing wrestlers come short in attaining that precious three count or finding him or herself struggling to force an opponent submit in a dreaded hold, backstage interviewer and ring announcer "Mean" Gene Okerlund would paraphrase Frank Robinson's quote to remind everyone that in wrestling, and at times in life, coming up short just isn't good enough. And if you do fail to accomplish that goal or hit that mark, don't look for Mr. Okerlund to sympathize with you. They don't call him "mean" for nothing.