"It Wasn't My Fault!" – Gene Snitsky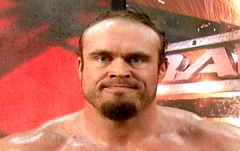 The fall of 2004, a rather odd, lumbering fellow entered a World Wrestling Entertainment ring in hopes of making a name for himself. Assumed by many as a bad luck of the draw in his first match on WWE's flagship program "Raw", Snitsky was paired up to face "The Big Red Monster" Kane. The match wasn't going too well for Gene Snitsky until Kane's pregnant "girlfriend" Lita tried to intervene.
Snitsky saw an opportunity to make an impact, grabbing a chair to crack Kane in the back. The weapon attack knocked Kane off balance, causing him to fall and land atop Lita. The collision ended with Lita miscarrying her baby – a baby procreated through forced sexual intercourse between Kane and Lita in an effort by Lita to protect real life boyfriend Matt Hardy from Kane's constant physical abuse.
Snitsky would go on to defend himself verbally against the claims that he was a baby killer. All Snitsky did was his job (though his job never called for the usage of a chair). Gene reminded everyone that the situation wasn't his fault. For the next several weeks, Snitsky refused to accept guilt for Lita's baby loss while mocking what happened. Snitsky would go as far as to punt a baby doll into the crowd. Yet, it wasn't his fault.
Though people will accuse you of wrongdoing, and you even go as far as to remind people what you actually did, retain you innocence. Eventually, people will not only believe your lies, but also join you in saying, "It wasn't my fault."