Enter a Room with Grandeur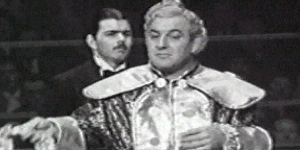 For those unfamiliar with the origins of professional wrestling, the visual circus seen every time World Wrestling Entertainment programming is on makes the original malign of the world's oldest sport and pre-determined entertainment look like a low down, Friday night bingo hall brawl. The smoke filled halls and arenas of old seemed to perfectly represent pro wrestling culture as a whole at that point. Something needed to change in hopes of making each wrestler feel larger than life. Then entered Gorgeous George. The flamboyant grappler (wearing an elegant, sequined robe; his platinum blond hair curled) would come to the ring having perfume sprayed around him while "Pomp & Circumstance" played through the arena's speakers.
From that moment on, men and women alike looked to up the ante and help become one with an entrance that transcends the pro wrestling fan niche just like George's arrival throughout arenas nationwide before their days in the squared circle. From bombastic music to the seat-rocking illumination caused by fireworks, the perfect entrance can only happen when everything comes together correctly. It has to be visually stunning as it is a true representation of the person connected to said entrance. A wrestler's entrance tells whoever is around, "This guy/girl is important and I should keep paying attention to them."
So the next time you enter a room and want everyone's attention, make sure you have someone on your side ready to play your entrance music. And, if you can afford it or just happen to know a pyrotechnics specialist, add some flair to the simple action of entering a building by setting off some fireworks. All eyes will be on you, my friend. And who knows; maybe they'll want a piece of you just like the fans craved to attain one of George's gold-plated "Georgie" bobby pins.