The green mist contains sperm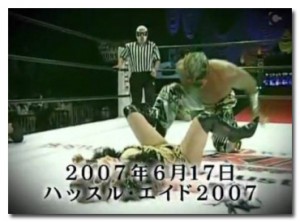 Now this life lesson might not be for anyone not in high school/hasn't taken a Sex Ed class. Long time wrestling fans might remember The Great Muta as the mysterious striker/high-flying wrestler from Japan who took both Sting and Ric Flair to the limit on several occasions. For other wrestling fans, Muta is a legendary symbol of Japanese wrestling that is idolized and revered. That's what makes his time in the Japanese promotion Hustle so odd.
After defeating Yinling (a woman portraying the character of an "erotic terrorist"), Muta spit his green mist to moisten the, ahem, lady region of Yinling. Little did anyone know that Yinling would appear a short time later pregnant. Yes, through an act of sexual assault via green saliva mist to clothed vagina, Muta impregnated the woman.
Honestly, I can't go any further with the story as it contains a human woman giving birth to egg that would hatch a 500 lbs. baby played by sumo wrestling star Akebono (the same man who sumo wrestled The Big Show at Wrestlemania 21) and a family rivalry that ended with Yinling "dying". All you need to know is that any woman who is having a not-so-safe period of her month should stay away from a Great Muta match or suffer the possibility of becoming pregnant by his green mist.