"I break your back and make you humble." – Iron Sheik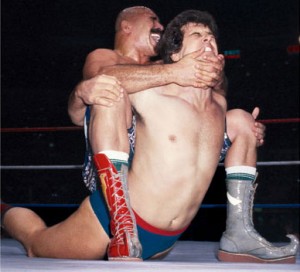 Wrestling legend Iron Sheik is crazy. And I don't mean in the sense of wrestlers being crazy. Iron Sheik is legitimately crazy. Don't believe me? Look it up on Youtube! You'll find so many videos featuring Iron Sheik telling the world how he'll hurt people from Hulk Hogan to the Ultimate Warrior to one of the biggest offenders to the Sheik's sanity, B. Brian Blair. Blair was one half of the tag team The Killer Bees, and he, alongside his partner Jim Brunzell, faced the Sheik and Nikolai Volkoff at Wrestlemania 3.
Seemingly, Blair's attitude and work ethic didn't please Sheik as the master of the Persian clubs has gone on a verbal tear while telling the world what he wanted to do to Blair if he didn't have respect for, "…God, Jesus, and Mr. McMahon." For those who don't know, Sheik would use the "old country way" to make people humble by putting them in the camel clutch and breaking their backs. There's another part of this that involves sodomy, but Sheik has flip flopped on if sodomy is necessary.
So if you have someone disrespecting you or your friends, make them humble the old country way – the Iron Sheik way.