Hustle, loyalty, respect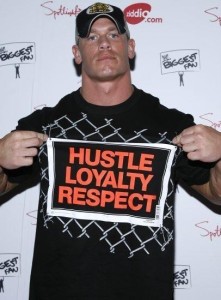 The current poster boy of World Wrestling Entertainment has created quite a few catchphrases during his tenure with the company, but none have stood the test of time better than the one that represents Cena the most – hustle, loyalty, and respect.
From the time he arrived in WWE, it was obvious Cena wanted to be something special by taking on top dog and Olympic gold medallist Kurt Angle in his first WWE match. That night, the hustler that is John Cena earned the respect of his peers and fans. During Cena's rise to the top, he's worked harder than anyone to make sure he's regarded as the best. Simply put, Cena's is the hustler's hustler. While many have turned on "The Doctor of Thuganomics" over the past few years, his core base of fans still support and respect Cena for his hardworking attitude, and the fact John Cena respects them as much as they respect him. Through Cena's showing of loyalty to the people who made him, the members of the Cenation have not left the gravy train.
So if you want to be a success like John Cena, you have to hustle, be loyal, and show respect to those around you and the business you love. Word life!