Mexican Wrestlers Only Get Paid if They Win A Piñata on A Pole Match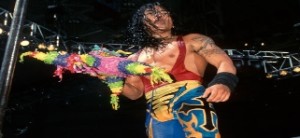 In the mid-90s, the WCW luchadores (the masked, high-flying, Latino wrestlers) were one of the brightest spots in World Championship Wrestling on television and pay-per-view. Unfortunately by 1999, the prestige of the luchadores and the Cruiserweight division tailor made for their style of wrestling had waned thanks to unmitigated unmaskings, poor intergender love triangles, and a lack of highlighting the division's strengths while hiding its weaknesses (lack of English promos/promo skills). So what happened in November of 1999 that would help give their neglected wrestlers and Latino/Mexican fan base a chance to shine on TV? They put five men in a match where the winner would get $10,000 by climbing a pole and obtaining a piñata.
Yes, this is a great piece in racial stereotyping featuring Mexicans beating each other with sticks over a piñata that actually fell off of the pole some ten seconds into the match. Eventually, the unmasked Juventud Guerrera attained the money prize, only to be attacked by "Dr. Death" Steve Williams. All the luchadores felt Williams' wrath – especially if they attained the $10,000 check. So the wrestlers never got paid because Williams took the check.
So if you're a luchador wrestling in America, expect to only get paid by winning a Piñata on a Pole match – but watch out for the white man!