You know nothing about shrimp cocktail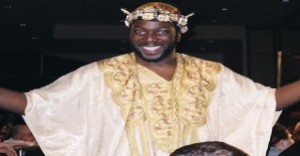 During 1996, pro-wrestling was graced with true royalty. In a Spanish Harlem, New York church, the son of an Ashanti tribe member entered a wrestling ring for his first professional match. From that moment on, every card featuring this man was bettered because of his status in Ghana, West Africa. That man was none other than Prince Nana.
During Ring of Honor's formative years, Prince Nana transformed from wrestler to manager extraordinaire. Using his cunning wit and knowledge of the ring to his advantage, Nana founded a group called "The Embassy" with former NWA and TNA World champion AJ Styles' protégé Jimmy Rave as its "crown jewel". The success of The Embassy gave Nana more money, more notoriety, and more of the lifestyle he had become accustomed to. Prince Nana eventually revealed that his status afforded him food average people would never enjoy whenever they wanted.
Mockingly, Prince Nana would ask his many interviewers what they knew about shrimp cocktail. This delicious delicacy was something provided to Prince Nana through his royal standing and hard work in building one of the premier factions in Ring of Honor. In truth, the person standing with a microphone in Nana's face, like the people watching at home, had no idea what I would feel like to have shrimp cocktail any time they want.
Yes, you might be able to get a taste of the illustrious food in your lifetime, but you'll never truly appreciate what shrimp cocktail truly represents like Prince Nana does. How do you like that, huh?