Drinking on the job and fighting your boss doesn't negatively affect your performance.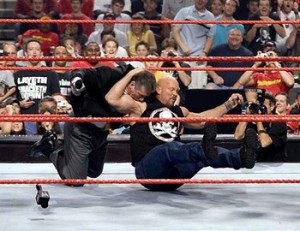 "Stone Cold" Steve Austin is the definition of an anti-hero in wrestling. Not only does he play by his own rules, "The Texas Rattlesnake" will cuss you out before giving you, your mother, and even your favorite pet a Stone Cold Stunner. So why admire someone like Austin? Simply because Steve Austin did something every working individual has wanted to do at one time or another – beat up their boss.
For years, Steve Austin took pride in scaring, humiliating, and assaulting Vince McMahon. And when Austin seemed to be done for the evening, "Stone Cold" would have a beer bash to send the fans home happy. Thanks to Austin's antics, the money rolled in for the WWF/WWE well beyond his years as an active wrestler.
So if you have aspirations of climbing the corporate ladder in grand fashion, pattern yourself after ol' "Stone Cold". If you're not the company's MVP two years after giving your boss his first Stunner, at least you'll have an assault charge to tell your grandchildren about.