Losing a contest to win your dream job doesn't necessarily mean you won't get the job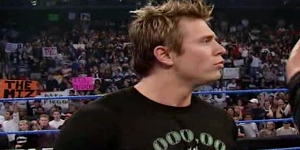 In 2001, the World Wrestling Federation (and later World Wrestling Entertainment) premiered a revolutionary show on MTV where wannabe WWF superstars had the chance to train under the watchful eyes of trainers/WWF wrestlers like Al Snow and Tazz. Surviving several grueling weeks, learning the ropes and figuring out what it truly took to be a wrestler in a business that owes them nothing, Maven Huffman and Nidia Guenard walked away with WWF contracts.
Yet the story didn't end there for the first season contestants. While Maven and Nidia gained guaranteed contracts through their work during the show, they weren't the only individuals to walk away as WWF contracted wrestlers. Harvard University graduate and future co-founder of the Sports Legacy Institute Christopher Nowinski, who obviously didn't win Tough Enough season one, found himself competing on "Monday Night Raw" not long after his fellow "TE" alumni made their respective on-screen WWF debuts.
The "losers turned winners" tradition continued throughout the next five seasons of the series as it transitioned from a wrestling-based reality show into a segment on WWE's secondary weekly show "Smackdown", into the pre/post-"Raw" series where "Stone Cold" Steve Austin took the reigns as the show's host and part-time trainer. People like Mike "The Miz" Mizanin, Ryan "Ryback" Reeves", Matt Morgan, and Ariane "Cameron" Andrew were cast from their seasons, only to find themselves employed by Vince McMahon and company not long after; living the dream. Even a few "Tough Enough" eliminations resulted in backstage/announcing work.
Just because the initial path to your dream job doesn't work out as planned, don't give up. If you work hard and keep pushing forward, things can and possibly will end up just as you had hoped.