Background: It was one of SHINE wrestling's first blood feuds as Leva Bates (Blue Pants in NXT) and Kimberly found bad blood after Bates added to Kimberly's losing streak and a failure to form a tag team. After four matches including a Last Woman Standing match, the score was 2-2 in favor of both women. To finally settle the score between two women growing certifiably crazy, the SHINE officials put Bates and Kimberly inside a Steel Cage where the only way one could win was by putting and locking their opponent in a straightjacket.
SHINE 9
Ybor City, FL
April 19, 2013
Leva Bates vs. Kimberly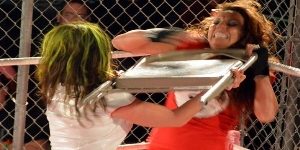 Constant cosplayer Leva Bates came out not only with a trashcan of weapons, but also dressed like The Joker. Kimberly actually gave Leva the chance to enter and unpack her items before jumping her. Sick chair shot to the back of Bates had her rolling early. Leva took out her aggression on both Kimberly and the referee by choking them when they neared her. Kimberly attempted to break a wooden sign over Bates' head, but had powder thrown into her eyes via her opponent. Using the chair that rattled her spine, Bates gave Kimberly a taste of her own medicine before dropkicking the chair into Kimberly's face to set up a cannonball splash in the corner to get the same effect. Bates was the first person to attain the straightjacket, but Kimberly was able to stop her coming in with a kick. Kimberly took her sweet time slamming Bates back first against the chair before utilizing a fall away slam. Kimberly was looking to end this one, but Leva still had some fight left in her by beating her with a traffic cone.
The momentum continued to swing back & forth depending on who was closest to a weapon. Using the wooden sign to bash Kimberly in the head, Bates scaled the cage until she was perched on top to missile dropkick Kimberly directly on the jaw. The fans voiced their awe, yet Kimberly was still able fight through the match-ending predicament of being put in that straightjacket. Hanging DDT landed for Leva, but Kimberly choked her way out of being put in the straightjacket. Using the restraint as a way to choke her opponent, Kimberly hoisted Bates onto her shoulders with the intention of executing a super Samoan drop. Bates countered at the last second, sunset power bombing Kimberly. Kimberly seemed to be prone to the straightjacket when she got a second wind to place Bates on the top. Leva countered whatever Kimberly had in mind, utilizing the code breaker followed by the backstabber to finally strap Kimberly in the straightjacket to attain victory.
Winner: Leva Bates (13:50)
Is It A Classic: A solid cage match. The hate that made this feud memorable really wasn't felt until the final minutes. Add that to the fact the straightjacket proved to be a difficult contraption for Bates to end the match, but an admirable way to end this feud.