Background: Low Ki debuted in EVOLVE wrestling looking to find a worthy challenge. With each win came a lacking of respect for the EVOLVE competition. Jon Davis, a favorite to win any future championship in the company, hoped to change Ki's mindset.
EVOLVE 13
Concord, NC
May 12, 2012
Low Ki vs. Jon Davis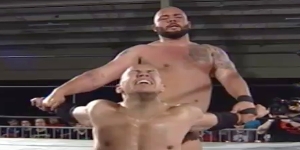 Davis had no problems showing just how strong he was by pushing Ki into the corner and even insultingly shoving his face. When Ki tried to pay back the former Dark City Fight Club tag team wrestler, Davis simply pounded his opponent's body with forearms. Ki picked up the pace, dropkicking Davis in position for some mounted elbows aimed at the top of Jon's head. Once again, it was Davis' strength that turned the tide when Jon yanked the former WWE competitor into the turnbuckles. Slam after slam rattled the spin of Low Ki. Hotshot into the turnbuckle bomb by Davis almost gained him the three count.
Stomping "The World Warrior" allowed Davis to keep Ki grounded and prone to strikes aimed at his opponent's back. Davis let too much room get between him and Ki, allowing Low Ki to kick Davis into the ropes for a huge double stomp that wrapped Jon's abdomen around the middle rope; driving the wind out of him. Using a double underhook lock, Ki shoved Davis against the guardrails for a sick, crowd-awing chop. Ki's kicks replaced his chops when the action returned inside, giving "The World Warrior" a near fall. Springboard kick from Ki missed, but not his follow up spin kick. Low Ki wanted to use that Tidal Crush attack when Davis caught him in midair to hit a spine buster … to gain a near fall!
Davis was looking for something big when the former "Kaval" turned Jon's intended attack into his Dragon Clutch submission. Jon Davis held on long enough for Ki to forgo the submission and look for the Ki Crusher. The fans were behind Ki when he turned Davis' reversal into another double stomp. A slugfest broke out, with Ki trying to kick his way to victory. Instead, Low Ki took the Pounce; being knocked all the way to the floor! Davis was so frustrated over the sure pin not happening thanks to his attack's force. Davis placed Ki on the top rope for a superplex. Ki somehow kicked his way out of the bad predicament, hanging Jon Davis in the tree of woe. Low Ki jumped off with the Ghetto Double Stomp to almost crush his opponent. The pin fall was elementary at that point in favor of Low Ki.
After the match, Low Ki gave Jon Davis credit for being the first heavyweight to truly test him.
Winner: Low Ki (14:22)
Is It A Classic: Just a hard-hitting battle from bell to bell. Ki played a great David to Jon Davis' Goliath, having to survive an onslaught, pick his spots and strike hard. An excellent match to say the least.