Background: During Xcitement Wrestling Federation's first "TV" tapings, legendary manager Jimmy Hart found a new project in Hail. Hail's opponent was none other than former multi-time wrestling Tag Team champion Marty Jannetty.
XWF TV Taping Episode 3
Orlando, FL
November 13, 2001
Hail vs. Marty Jannetty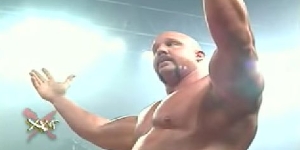 The gigantic Hail easily pushed Marty around while posing to the crowd. Simple attacks like the shoulder breaker and backbreaker were enough for Hail to hit his Hulk Hogan-like big leg drop to pin Jannetty.
Winner: Hail (0:47)
Is It A Classic: Okay, never again. Waste of time if there ever was one.