Background: Through two wins over two of SHIMMER's top title contenders in the form of Cheerleader Melissa and Lufisto on back-to-back shows, Wesna deservedly earned her shot at MsChif and the SHIMMER Championship.
SHIMMER Volume 25
Berwyn, IL
May 3, 2009
MsChif vs. Wesna Busic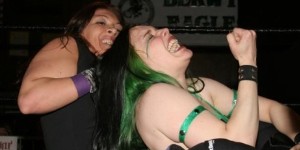 MsChif tried to scream some fear into Wesna, but it didn't work well at all. What did work for the champ was her ability to twist, spin, and wrestle her way out of various elementary holds. MsChif's used several kicks and a drop toe hold to put "The Croatian Panther" on her back. When the champ rushed her challenger, Busic rolled to the floor in hopes of stalling MsChif's momentum. Wesna's plan worked well as she yanked MsChif throat first against the top rope before locking her in a seated full nelson when she reentered the ring. MsChif bridged her way out of the hold, almost pinning Wesna off a roll up when she avoided the running challenger. Wesna laid MsChif against the ropes in hopes of allowing Social to get in a cheap shot.
MsChif stopped that from happening by screaming at Annie until she scurried backwards. Before the champion could turn around, Busic clipped her left leg from behind. Wesna moved from leg attacks to big moves in hopes of pinning MsChif quickly. MsChif turned the CB4 Driver set up into an octopus stretch. The champion lost her grip, but avoided Wesna's banzai drop attempt off a failed sunset flip by the champion. MsChif exploded off the ropes, kicking Busic dead between her eyes before using her standing moonsault for a near fall. Instead of standing, MsChif grabbed a prone Busic; using a half bow & arrow in hopes of making "The Croatian Panther" tap while MsChif regained some feeling in her left leg. Wesna held on long enough to scoot to the ropes, and save herself. MsChif grabbed Wesna for an Irish whip off the ropes. Instead, Wesna floored MsChif with a stiff forearm to the face.
MsChif found herself being tossed and kicked like a green and black soccer ball. A leaping double stomp couldn't get Wesna the three count caused Social and Busic to question the ref's counting ability. The champ slid through the incoming Busic's legs; dropping Wesna face first against the bottom turnbuckle. Wesna was in perfect position for MsChif's leaping double stomps to her back in the corner. MsChif couldn't get the three count off a neck breaker following the double stomps, or via Gateway to Annihilation. Busic prevented the Desecrator with a Samoan drop, but no new champion came from the attack. MsChif impressively turned the CB4 Driver into Code Green for another close near fall. "The Croatian Panther" quickly recovered, blocking the Desecrator before hitting a Ki Krusher … for a near fall!
Wesna, Social, or the crowd couldn't believe when MsChif got her shoulders off the mat to prevent being counted down. The champion took several forearms and a huge, running big boot, but refused to say die. MsChif jumped on Wesna's back after blocking another CB4 Driver attempt. A second Code Green by MsChif … only gave the champion a near fall!
Instead of letting Wesna get up on her own, MsChif dragged Wesna to her feet; finally hitting the Desecrator. MsChif jumped on top of "The Croatian Panther", successfully defending the SHIMMER championship one more time.
Winner: MsChif (14:50)
Is It A Classic: This was a knockdown, drag-out war between two of SHIMMER's best at the time. They really gave a great show an excellent main event that put this show a couple notches higher in comparison to a majority of the other Volumes up to that point.