Background: Following the vacating of the United States title, Magnum TA and Nikita Koloff were given the opportunity to wrestle for the title. But instead of just having one match, the two combatants were placed in a "Best of Seven" series. By the "Great American Bash '86" event, the score was three to zero in favor of Koloff. If Koloff won this match, he would win the title.
Great American Bash '86
Greensboro, NC
July 26, 1986
Nikita Koloff vs. Magnum TA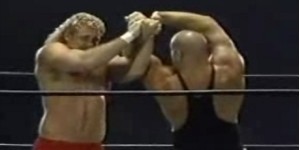 The bell sounded and Nikita motioned that he would clean sweep this series before a stern collar & elbow tie up resulted in both men struggling to gain some kind of advantage. The pace didn't take long to quick as Magnum propelled off the ropes to forearm Koloff on the jaw. Nikita exited the ring to get some advance from his mentor Ivan Koloff. Magnum actually muscled the big man around when they locked up, breaking clean when they tumbled into the ropes (he was an honorable wrestler). They tied up once again, with Koloff actually using TA's golden locks against him by grabbing Magnum's hair to spin him into a side headlock. It was a battle of wills and power breaking out when TA countered the headlock with a top wristlock. Using agility and flexibility, Magnum worked his way off the mat, hammerlocking Nikita until Koloff backed him against the turnbuckles. Koloff refused to break clean, shoulder ramming the air out of his opponent to a chorus of boos.
Koloff was in complete control, pounding away with body slams, punches and kicks. A few close two counts came from the referee following Koloff's attack, angering Nikita to the point he angrily pitched TA to the floor so he could win via count-out. Magnum refused to stay down, making his way onto the apron. Koloff didn't give TA a chance to recover, pounding him before tossing him outside again. This time, Ivan Koloff ran over to kick TA behind the ref's back. The fans were not enjoying what they were seeing as Magnum lay on the floor after having his face bashed on the steel ring steps. TA suffered a laceration above his eyebrow, but was still in this fight by using a hotshot to sling himself over the incoming body of Koloff. Nikita clutched the top rope to stop the pinning combination, only for the referee to kick his hands free and propel Koloff backwards. The referee counted Nikita down before he could realize what happened, giving Magnum his first pin fall in this series.
Winner: Magnum TA (7:28)
Is It A Classic: The dynamic was perfect as TA still didn't have a definitive answer regarding how to beat the Russian monster, only finding luck as his biggest help (and the referee, of course). Even though Magnum was now on the board, the belief is still strong that he can't beat Nikita, making the future matches rather unpredictable. A nice midway point in a fantastic, must-see series.