Background: Coming off a big win against his big brother in Bret Hart, Owen Hart looked to continue his winning ways (and also upset children by not giving them his shades) against the future Aldo Montoya/Justin Credible.
WWF Superstars
Bethlehem, PA
February 22, 1994
Owen Hart vs. PJ Walker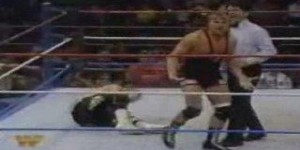 Walker actually overpowered Hart during the initial collar & elbow tie up before countering Owen's hammerlock-based offense. Showing uncanny agility, Hart flipped out of the situation, clotheslining Walker to a chorus of boos that transformed into, "We want Bret!" chants. But Owen refused to lose focus, working over the back of PJ via backbreakers and suplexes. Blocking a face slam against the top turnbuckle, Walker started turning this match around. Bouncing off the ropes was Walker looking for a high impact maneuver when he ran into that infamous spinning heel kick. Rather than go for the pin, Hart locked his opposition in the Sharpshooter for the submission victory.
Winner: Owen Hart (2:46)
Is It A Classic: A squash is a squash, but at least the future ECW champion got in a little offense. The point was to emphasize the littlest Hart's abilities in preparation for another showdown between Owen and Bret, and this was a perfect display of what Owen was capable when they clashed again.