Background: Two legends (one of the past and one of the future) did battle over Randy Savage's Intercontinental Championship in a first-time clash.
WWF Live
Boston, MA
January 3, 1987
Randy Savage vs. Bruno Sammartino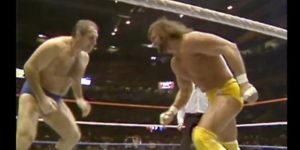 The champ initially refused to let Sammartino in the ring before hiding behind Ms. Elizabeth when the challenger did get near him. Slipping behind the champ, Sammartino got a hold of "Macho Man", forearm clubbing & stomping him to a huge ovation from the crowd looking forward to a new champion. Leaving the ring, Savage used Elizabeth for a distraction yet again. This time Savage was able to take advantage of the situation by blindsiding Bruno. Dropping the big double axe handle off the top rope rattled Sammartino. Climbing the ropes, Savage came down with another double axe handle. Shockingly, Sammartino got dirty with the villain by thumbing Randy in the eyes to punch his way to an advantage. The challenger's attack was very kick heavy, so Savage decided to utilize the same strategy when blocking a back body drop. Instead, the champ took a knee that put him on the floor. Savage was desperate, grabbing the timekeeper's chair to bash Sammartino in the back with a chair. Though the referee was staring directly at the illegal action it was Bruno who got counted out and lost. Sammartino got some revenge, locking Savage in the bear hug until the locker room emptied to stop Bruno from unleashing a post-match thrashing
Winner: Randy Savage (6:00)
Is It A Classic: That was an unexpected brawl with Sammartino showing glimpses of his previous greatness while Savage bounced around like a super ball for the legend. The ending definitely took something away from the match, as it was confusing considering the ref's positioning and the ability to give Bruno the win without Savage losing the title. I really would've enjoyed a longer match.