Background: After winning the WWF Intercontinental Championship months ago, The Honky Tonk Man set his eyes on another trophy – Ms. Elizabeth. Of course "Macho Man" Randy Savage took exception to the champ's claims and challenged him on what would become the largest viewed wrestling show on free television.
The Main Event
Indianapolis, IN
February 5, 1988
The Honky Tonk Man vs. Randy Savage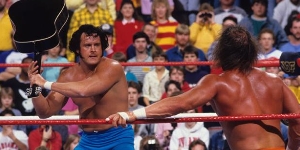 Savage was fired up, chasing the champion around the ring before elbowing and using that flying hot shot. HTM was reeling, especially after having his head bumped into his manager Jimmy Hart. Frustrated, Hart grabbed Savage's leg when he tried to reenter the ring, giving the champ a chance to bash his challenger from behind. Savage fired back, only to miss a flying attack in the corner. The challenger recovered, chasing a potentially interfering Hart. Hart slid into the ring, dropping his infamous megaphone as the referee forced him out of the ring. Before the ref could turn around, HTM hit his challenger with the megaphone!
Taking too much time playing to the crowd, HTM didn't successfully pin "Macho Man" after the illegal attack. The fans were rallying behind the challenger, and it worked as Savage blocked HTM's right hands to fire off some punches of his own. Big clothesline from the I.C. champ put Savage on his back again. The concerned Ms. Elizabeth found herself between an approaching HTM and a cheering Jimmy Hart and HTM's groupie Peggy Sue. "Macho Man" recovered in time to save his girl and drop the big double axe handle from the top. Elbows and axe handles from Savage brought Hart onto the apron. Savage avoided an incoming HTM, locking in the sleeper hold to a huge ovation!
Randy Savage's focus moved to Peggy Sue preparing to assault Elizabeth. Leaving the ring caused a fight on the floor between the champion and challenger to break out. Savage reentered the ring in time, winning the bout via a count out.
Winner: Randy Savage (8:35)
Is It A Classic: These two have had better. The match had the intensity of their prior clashes, but was more an abridged version of the greatness they could create.