Shortly after the passing of her aunt, guest writer Vickie Bullock wrote down a few of her precious memories of Aunt "Toot" Helen Morris.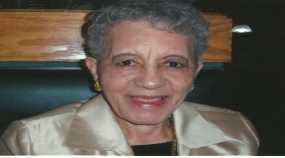 My early childhood memories of my Aunt Helen, ("Aunt Toot") were admirable and loving. I, and my cousin, Jerry ("Bubba"), were the youngest children at the time, and the last to start school, so we had a little more time at home with our parents and grandparents to terrorize. One day, somehow, I decided to get into a wrestling match with a roll of barbwire. I was actually entangled in wire, screaming, crying and a bloody mess. Out of nowhere, my Aunt Toot picked me out of the painful wire and I remembered that very moment when she picked me up and consoled me, the pain vanished.
When I began high school, I was so proud and impressed to see my Aunt Toot as the Study Hall Supervisor of Fluvanna Junior High School. My first thought was "oh boy, happy days are here again. My Aunt Toot is running the show". Somehow, Aunt Toot could always pretty much figure out what you were thinking. I would burst into study hall, run to the "fun table", which consisted of the Andersons, Lacy's, Hill's, Monroe's, Price's, and Shepherd's to wreak havoc. Then I would hear the old familiar voice, my
Aunt Toot calling, "Vickie, time to go". Time to go, meant a chair sitting right next to her everyday, as we did homework together. She made me realize the real meaning of Study Hall.
I vividly remember on my wedding day, I was upstairs getting ready. From the bottom of the steps Aunt Toot yelled up to me, "Vickie, it's time to go". As dark clouds of illness and time took over, on the morning of Thursday, August 15th, 2013, God told Aunt Toot "It's Time to Go". I can comfortably say, that approaching the "Eternal Gates", Aunt Toot was greeted by Christ, with words, "well done my good and faithful servant". Your father, Arthur, Mother, Ora and sister, Ethel is waiting. You can come on in.
I'd like to go back, as if I could, digging dirt and jumping off sawed wood. Back home, our nicknames and laughter have faded in time. But we all shared the love from Aunt Toot in the "Wildwoods".
To my cousins, Aretha ("Puddin"), Jerry ("Bubba"), and Arthur ("Beanie"), May God forever bless you with fond memories of your mother and our Aunt Toot".
Your niece, Vickie, ("Vicksy")