Shortly after the passing of her uncle, guest writer Vickie Bullock wrote down a few of her precious memories of Uncle Alphonzo "Al" Anderson.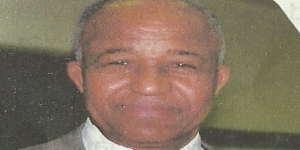 Cousins Al and Agnes were the Ward & June Cleaver of the community. Their home was always opened anytime for short or long visits. It indeed was my second home. Many times and more than once a day I would cross the train tracks to their house, spending the days with Cynthia. Never once did they ever make me feel unwanted or in the way. A good snack was always provided and Cousin Agnes was the only person that could make Watkins Kool-Aid taste delicious.
Al would always be doing something for anyone in need. He did so much in one day, especially during Saturdays, that I began to wonder if there were two Als. His dedication to his family, church & community was zealous. Al was a permanent fixture in the church, whether passing the collection plate or ushering people to their seats. He took great pride in the upkeep of his home, community & church.
Cousin Al also frequented the aid of the sick and shut-ins, and instilled in his children the significance of education and hard work. That feeling of assisting children into becoming great people expanded beyond his own offspring. One example happened one Sunday before service. Al greeted my son Jake with a smile before asking me, 'Does the boy have a job?"
I quickly informed my cousin, "No, Al, he's only nine years old!"
Jake adored Al for all his jokes, advice and stories. On one visit to Al & Agnes', Al showed that even at 87 years old he could still throw his leg up and touch his toe with his hand elevated as high as his head. From that moment on, Jake said that, "Al Anderson is the greatest man that ever lived."
Al was also a diligent & dedicated employee at UVA. When I worked at UVA I would always see my cousin moving almost like a blur in whatever direction he needed to go to completing whatever the task was at hand. But when it was time for lunch, it was time for my Cousin Al to have some fun. You had to be sure to eat first because he'd talk, joke and laugh your lunch hour away before you knew it and then ask you "time for you to go back to work isn't it?
On my many visits to Al's, I would encounter good old Sam, Al's brother-in-law. Sam's weather predications would often consist of the statement, "It's looking mighty cloudy, Brownie; I believe it's going to rain."
On Tuesday, Oct. 14th, 2014 Cousin Al weathered his final earthly storm. He now resides eternally in the land of the uncloudy day. Cousins Agnes, Cynthia & Alphonso take great serenity in knowing Al is no longer bound by earthly cares. As it says in Hebrews 13:16, "Do not forget to do good and to share with others, for with such sacrifices God is pleased."
That verse alone exemplifies how Cousin Al lived his life.