Background: Earlier in the evening, WCW World Heavyweight champion Lex Luger attacked Sting's left knee; putting him in the hospital. Even with the potential career-threatening injury, Sting rode an ambulance back to the arena to defend his United States Championship.
Clash of the Champions XVII
Nashville, TN
November 19, 1991
Sting vs. Rick Rude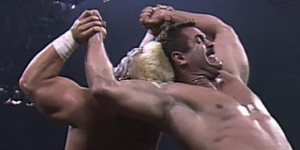 The fans were going crazy as Sting hobbled to the ring. Rick Rude met his opponent on the ramp, but took a gorilla press slam against the hardwood instead of blindsiding the champ. Sting was on fire as the action entered the ring. Back body drops, knife-edge chops and simple right hands were most of Sting's offensive repertoire until a big clothesline sent Rude scurrying to the floor. Sting went to follow, only for Rude to trip and slam Sting's hurt leg against the steel ring post. Sting, barely able to stand, was easily knocked down. With some fight still in him, Sting stopped the Rude Awakening. Right hand after right hand peppered Rude's head. The challenger collapsed, causing the ref to check and see if Rick Rude could continue. Behind the referee's back, Rude's manger Paul Heyman clobbered Sting in the back of his head with a 1980s sized cell phone. The ref turned to find Sting face down and Rude ready to pin him. Somehow, some way Sting kicked out before the three count!
Heyman returned to his position on the apron, getting grabbed by a hostile Sting. Before the champion could drop Heyman, Rude clipped him from behind, causing Sting's left leg to buckle. Cradling Sting, Rude grabbed a handful of tights to hold the champion down for the three count.
Winner: Rick Rude (4:52)
Is It A Classic: That's probably one of the most emotional five minutes of wrestling you'll ever see. It wasn't anything special from a grappling perspective, but the fans were into everything as Sting and Rude told a great story of someone falling thanks to surmounting odds.