Nine years and going strong, the men and women in Ring of Honor looked to provide a true alternative to what wrestling fans saw on TV every Monday and Thursday night. Having helped create stars such as CM Punk, Bryan "Daniel Bryan" Danielson, Samoa Joe, Austin Aries and many others, the company looked to set a new path as it entered its ninth year of existence.
Enter former World Wrestling Entertainment Tag Team champions Wrestling's Greatest Tag Team of Charlie Haas and Shelton Benjamin. The two were believed by many to have been held down in WWE; not given a chance to showcase their talents. In an effort to earn a ROH World Tag Team Championship match, WGTT would have to defeat the top team in ROH history, The Briscoes. Can Benjamin and Haas succeed where others have failed, or will Mark and Jay Briscoe prove why they are considered the greatest team in ROH history? Lets find out if ROH's "9th Anniversary Show" is a classic.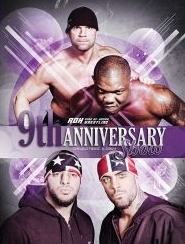 9th Anniversary Show
Chicago, IL
2/26/11

1. Davey Richards defeated Colt Cabana
2. Mike Bennett won a Four Corner Survival match against Steve Corino, Grizzly Redwood, and Kyle O'Reilly by pinning Corino
3. El Generico defeated Michael Elgin
4. Roderick Strong successfully defended the ROH World Championship against Homicide

5. Sara Del Rey defeated MsChif

6. The Kings of Wrestling defeated The All Night Express to retain the ROH World Tag Team Championship

7. ROH TV champion Christopher Daniels and Eddie Edwards wrestled to a 30-minute time limit draw, allowing Daniels to retain the title

8. Charlie Haas and Shelton Benjamin defeated The Briscoes to become the #1 Contenders for the ROH World Tag Team Championship
Right:
A Booming Wolf: At "Final Battle 2010", Colt Cabana asked for a match that would test his technical prowess after spending months brawling against the likes of Kevin Steen and Steve Corino. While he didn't request the same thing for February's iPPV offering, Cabana got a catch-as-catch-can battle that saw Richards avoid most of Cabana's antics that I thought would frustrate Davey by showcasing a style unlike anything seen on most North American independent wrestling events.
Davey focused on Cabana's left arm, using several cross arm bars as the match neared its conclusion, but Cabana refused to say die; bringing the red-hot crowd to its feet like they were witnessing the main event. In the end, Richards' arm work paid off as he forced Cabana to tap out in the cross arm bar following a falcon arrow slam attack. An incredible opener by two of favorites at that time that not only got Davey back in the ROH World title scene, but also showed how adaptable Colt Cabana was to any style; including the high impact-submission wrestling of Davey Richards.
Surviving On Potential: Definitely not one of the more talked about matches was the Four Corner Survival contest involving ROH's prodigy (Bennett), ROH's young gun (O'Reilly0, ROH's rehabbing babyface (Corino) and a lumberjack (hey, Redwood's a lumberjack everywhere he goes). Grizzly's heart came to play as he took several big moves, but kept coming back. Kyle O'Reilly really had a night to himself as he kicked, flew, and almost took the win with his strikes. "The Prodigy" Mike Bennett did a good job hanging in their with several flasher and more respected wrestlers by the company's fan base. And Corino proved he can continue to control his urges of using the illegal Thumb to the Bum attack when people were locked in the abdominal stretch.
Unfortunately for Corino, his search for moral redemption was what cost him as his wavering thumb and arm were wide open for Bennett to grab and yank "Mr. Wrestling 3" into Box Office Smash (Bennett's version of the Side Effect), giving "The Prodigy" his first win on iPPV. While the ten-plus minute match wasn't the smoothest, or the most exciting, it completed several tasks that helped everyone involved and kept the hot crowd into the show.
Power Vs. Speed/Only The Strong Survive: I could go on and on about El Generico going from main eventing one of ROH's biggest events of the all time just two months before this event to working the undercard against a somewhat unproven ROH commodity, but that would be a waste of time; and it'd also take away what this match did for Michael Elgin.
One of the most impressive sights of the event was Elgin stopping Generico's tornado DDT through the ropes to the floor by squatting and swinging Generico onto his shoulders. Before Generico could register what happened, Elgin used an Oklahoma stampede against the barricades on the other side of ringside. There was also a spot that saw Elgin power bomb Generico while carrying Michael's manager, Truth Martini, across his wide shoulders. Elgin's impressive power display only helped him put Generico on his back, but didn't stop "The Generic Luchador's" mind. Elgin eventually walked into a small package after failing to slam the masked man once again, allowing Generico to pick up his third straight iPPV victory in an impressive David vs. Goliath style match.
Generico didn't get a chance to celebrate as Elgin jumped him from behind before getting some beat down assistance from the ROH World champion and fellow Truth Martini client, Roderick Strong. After Generico was helped to the back, and Elgin was ushered out by Strong, the ROH champ cut a quick promo promising that he'd show Homicide how "a Florida pretty boy" can go thug in a No Disqualification environment. Before Strong could leave, Homicide slid into the ring. A stunned Strong walked around ringside, only to be taken down by a exhilarating tope con hilo by his opponent for the evening. To the surprise of everyone, it was announced that the ROH World title match was happening next!
In The Barrio, Streets Fight You: Homicide and Strong's fight immediately spilled into the crowd where the fans were enjoying a match many were demeaning before the bell rang. The back and forth brawl ended when the action entered the ring, and Roderick caught Homicide with a well-timed dropkick. Homicide took all the abuse Strong threw at him, including an insulting Three Amigos that gave the champ a near fall. Strong's momentum concluded when he was sent face first into a chair the champ wedged in the corner minutes earlier.
On fire was Homicide during his comeback, almost getting the win off a super Ace Crusher. Even a beautiful tornado DDT through a table Strong set up in the corner couldn't get Homicide the pin. Homicide believed the Lariat would win him the match, but the numbers game in the champion's advantage came into play during Homicide's near victory in the form of Truth Martini and Michael Elgin. Even though Martini took an Ace Crusher for his interference, a Elgin got disposed of rather easily, Homicide's distractions allowed Strong to recover and unleash the Sick Kick, followed by Death By Roderick (a suplex converted into a double knee backbreaker) that put Homicide down for the three count.
In the end, both men did an admirable job of delivering a match worthy of iPPV, but smartly placed on the card where it wouldn't be dragged down by high main event expectations.
Royal Blood Trumps Young Blood: The All Night Express of Kenny King and Rhett Titus expressed their want and need to prove they weren't just two young punks thinking about women all the time. To truly test their mettle, The ANX were allowed to take on then-ROH World Tag Team champions Kings of Wrestling (Chris Hero & Claudio Castagnoli. The opening minutes showed The ANX weren't joking as they went move for move with the champions. It wasn't until Titus tried to fight off both Kings did the challengers run into trouble – specifically Titus taking a pop-up European uppercut from Claudio on the ring apron.
But like two young lions with a need to survive in the fierce wild lands, The ANX refused to be stopped on talent alone. It would take something truly underhanded to put either man down. Suddenly, Hero's believed loaded elbow pad handed down to him by Japanese wrestling legend Mitsuharu that collided with Kenny's jaw as King set up for his Royal Flush finisher on Castagnoli. A barely conscious Claudio fell on top of the descending King, pinning him and retaining the championship for The KOW.
The look on Hero and Claudio's faces as they left the ring spoke volumes of what this match showed: Kenny King and Rhett Titus were the real deal in ROH. This was star-making match that stole the show to that point in the event; showing how far The ANX had come as a tag team and looking more and more like tag team wrestling's next big thing, while The KOW's continuing dominance couldn't be denied.
Time Wasn't the Only Thing They Drew: The rematch between two of ROH's most athletically gifted wrestlers definitely lived up to the hype set by their previous Television Championship match that saw a time limit draw almost end the contest before Daniels captured the gold in overtime. Unfortunately, Eddie Edwards didn't have the same opportunity here. Before that situation unfolded, Eddie Edwards and Christopher Daniels put on a clinic for almost fifteen minutes before turning it up a notch and had both men attempting to make the other tap out. When Eddie couldn't make Daniels submit in the Koji clutch, Eddie tried to knock Daniels unconscious. Instead, the champion hooked a running Eddie, cradling him for the first fall with a little over five minutes remaining.
Eddie paid Daniels back by countering the champ's attacks, forcing him to tap out in the Achilles Lock at the three minute warning. Then the match took a wicked turn in the last couple of minutes when "The Fallen Angel" felt a super hurricarana. Upon hitting the mat, Daniels' head collided with Edwards' boot, cutting the top of the champion's cranium. Eddie took the fight to the loopy Daniels, ending up on the floor. Eddie returned inside, looking for the count out victory when the time limit expired.
Eddie and the fans wanted five more minutes – just like Edwards gave Daniels a few weeks earlier on "ROH on HDNet". The doctors and Jim Cornette determined Daniels couldn't continue, taking Eddie's chance away of redeeming himself from the losses he suffered at the hands of Daniels on TV and from May 2010.
While there was reasonable disappointment that the match ended in a draw, the action in those thirty minutes was top notch. These two men have always had incredible chemistry, and it was in full display for thirty quality minutes as Daniels and Edwards continued a streak of show stealing matches.
Dreams Do Come True: It was main event time, and the bout many people considered a definitive dream match got its rightful spot on the card when The Briscoes and Wrestling's Greatest Tag Team (Charlie Haas & Shelton Benjamin) clashed for the first time. Like The ANX in the previous Tag Team Championship match, The Briscoes, while veterans in their own right, were regarded as a step below their opponents and former WWE Superstars. Rather than letting the talk and possible athletic disadvantage get to them, The Briscoes showed why they were the greatest tag team in ROH history by working smarter and harder than their opponents. Their speed and technique seemed to be on another level for this match, and it almost allowed the Delaware duo to do something only one team in ROH history had done in beating Haas and Benjamin.
That's not to say The WGTT were one step behind The Briscoes. They were giving the fight to Mark and Jay by using a slew of double teams and quick tags highlighted by their amateur wrestling skills and Benjamin's almost cat-like agility (seen when Benjamin ran across the ring, leaping to the top rope from the mat before belly to belly superplexing Mark). Mark, being the crazy younger brother that he is, tried to turn the match around by somersaulting on WGTT from the top rope into the third row when Jay took Haas and Benjamin to the floor. The Briscoes wanted to end this one like many of their other matches with the Doomsday Device.
Haas fought his way off of Jay's shoulders as Benjamin dropkicked a perched Mark off the top. Hoisting Jay off the mat, Haas held Jay for Benjamin's blockbuster topped off by Haas spine busting Jay when Benjamin grabbed Jay's head. Three seconds later and WGTT had earned their ROH World Tag Team Championship opportunity for "Honor Take Center Stage" in two months.
As good as Daniels vs. Edwards was for the TV title division, it's hard to deny that the main event capped off a memorable event in the best way possible. While it was hard for both teams to live up to the enormous amount of hype put on the match by the fans, WGTT and The Briscoes did their best to leave an impression the people watching live or at home would never forget.
Wrong:
Divas Of Honor: No, that's not a potshot at Sara Del Rey (who was awesome with her princess-like wave upon entering and winning) and MsChif. That's a shot at Ring of Honor for castrating what could've been a memorable Women of Honor match by giving two of the best female wrestlers in the world less than five minutes. It's understandable there isn't enough time for everyone to get ten, fifteen, or twenty minutes, but to only give Del Rey and MsChif four minutes was plain ridiculous. The women did what they could do with the time allotted, but this should've been the best Women of Honor match in ROH iPPV history.
Is It A Classic: The last three matches make this event memorable. You have a star-making tag team bout followed by an incredible Two Out of Three Falls bout that's somehow topped by the main event dream match. Add to that an excellent opener, a solid World title match, and David vs. Goliath 2011, and you've got nothing short of an event deserving of your time.