Ring of Honor was in a very interesting position in the summer of 2011. At the end of May, it was announced that Sinclair Broadcast Group purchased the wrestling company in hopes of turning it into more than just a small, independent promotion. Though the announcement seemed like the preverbal reset button, the stories in front of the camera hadn't changed.
The biggest evidence of that was the main event. Six months prior, Davey Richards unsuccessfully tried to wrest the ROH World title from former partner turned rival Roderick Strong. Fast forward three months and you find Richards' tag team partner, Eddie Edwards, pull off the seemingly unthinkable and succeed where his partner could not. From that moment on, Richards challenged his friend for a match to prove who was the best. Edwards reluctantly accepted. ROH was banking on this show to be the grand kickoff to a truly special time for the company. Lets find out if it truly is a classic.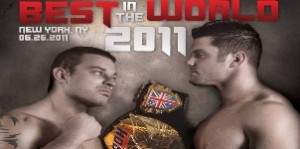 "Best In The World 2011"
New York, NY
June 26, 2011

1. Tommaso Ciampa defeated Colt Cabana

2. Jay Lethal defeated Mike Bennett

3. Homicide defeated Rhino in a Street Fight

4. Michael Elgin defeated Steve Corino

5. El Generico defeated Christopher Daniels to win the ROH TV title

6. Wrestling's Greatest Tag Team defeated The Kings of Wrestling, The All Night Express and The Briscoes to retain the ROH Tag Team title in an Elimination match; last eliminating The Kings of Wrestling

7. Davey Richards defeated Eddie Edwards to become the new ROH World champion
Right:

I No Laugh: Who better to get the crowd on their feet after a hype Jim Cornette speech than "Boom Boom"? Ring of Honor's biggest iPPV to date had an opener that didn't take itself too seriously. Well, actually Colt Cabana didn't take Tommaso Ciampa too seriously as he played his usual tricks to frustrate and almost defeat The Embassy's new "Crown Jewel". But it was Cabana's antics that also cost him as he walked into a clothesline after stomping Nana's unsuspecting hands.
Ciampa's methodical wrestling didn't excite the crowd, but the fans did rally behind Cabana enough to give him the momentum to mount a comeback. Everything was looking good for Colt until he lost the Billy Goat's Curse, missed the Flying Apple, and took a somewhat sloppy Project Ciampa (something I've always worried about when it comes to Ciampa using that move on larger opponents than a Kyle O'Reilly or Adam Cole) before being pinned.
While not the greatest opener ROH has delivered on pay-per-view, Cabana's connection with the crowd is undeniable. That connection allowed Colt to control a group of fans who might have sat on their hands if someone else was in Colt's spot during Ciampa's heat sequence. It was an enjoyable, yet somewhat forgettable match that no one would be mad about after viewing it.

Randy Savage Would Be Proud: "Black Machismo" entered Hammerstein Ballroom to a welcoming crowd. Actually, the fans were ecstatic to see Lethal back. Amidst the derogatory TNA chants, Jay Lethal focused on beating a man many ROH fans haven't taken kindly to in Mike Bennett. Lethal controlled a majority of the contest to the delight of the crowd. Unlike Cabana, it wasn't Lethal not paying attention to his opponent that cost him, but not being aware of his surroundings. To avoid being kicked into the barricades, Lethal lost sight of "Brutal" Bob Evans. Before Jay knew it, Evans hoisted Jay off his feet, sidewalk slamming Lethal across the apron. Honestly, that's one of the coolest I've ever seen a manager do to interfere on his wrestler's behalf.
Like Ciampa, Bennett used a methodical series of moves to keep Lethal grounded. Jay fought through it all, but took a superplex for his trouble. Bennett wanted so badly to not only defeat Lethal, but also to embarrass him by pinning Lethal off the Macho Man elbow. Lethal moved in time to avoid a flying Bennett before super kicking "The Prodigy" in position for his version of the big elbow drop, Lethal Injection.
From what I've watched thus far of Mike Bennett in ROH, this was his best showing to date, and one can thank Jay Lethal for that ability to work Bennett's style to produce something even the most cynical ROH fan can enjoy. I hate to say I told you crybabies who didn't like the match before it happened so, but…. You know what, I'll leave it at that.

A Latin Thug vs. A Man-Beast: The Embassy is known for having some imposing enforcers, but I don't think any of them has as much intensity as their latest – Rhino. Understanding this, Homicide took the fight to Rhino immediately; actually stunning Rhino long enough to beat him around ringside until they found themselves atop the timekeeper's table. Rhino reversed Homicide's Terry Funk impression by piledriving Rhino on the table by back dropping the former ROH World champion. Rhino gleefully abused Homicide with a ladder, cracking one of Homicide's ribs. But that same heart that made Homicide an ROH World champion helped 'Cide survive long enough to counter the Gore with an Ace Crusher.
Barely able to breath, Homicide grabbed a table in hopes of putting Rhino through it, but found himself being put in position for a Gore through the wood. In a great show of timing and agility, Homicide sunset flipped the incoming Rhino, using Rhino's tights to hold him down for a somewhat shocking three count. Unfortunately for Homicide, Prince Nana attacked him, leaving Homicide wide open for a Gore through the table. Rhino and Nana left with smiles on their faces as referees and wrestlers attended to Homicide's broken body.
Similar to the Lethal vs. Bennett, this one didn't have high expectations from a majority of the ROH fanbase. I honestly didn't understand why since the match stipulation allowed both men to do what they do best: brawl. And that's exactly what happened. The best part about this match was its intensity. Instead of making their match be about the plunder, Homicide and Rhino let their intensity be the focus; and it made the battle that much better because each ladder spot and the big table spot garnered great reactions. If this one went a few minutes longer, I don't think anyone would've been upset.

"Unbreakable" Happens in the Ring and Out: The largest audience in ROH history roaring in anticipation for Kevin Steen during Steve Corino's promo is something that needs to be seen. Corino didn't make them wait long as he introduced "Mr. Wrestling" – who moved from his hiding spot in the crowd to ringside. Before Steen could make it over the barricade, a Jim Cornette-led coalition of security, wrestlers, and referees stopped him. Shockingly, Steen didn't resist as he once would, offering a hand in peace to Jim Cornette. Cornette accepted Steen's handshake, giving Kevin Steen all the reason to willingly leave.
Even though he was distraught over Steen being removed from the building, Steve Corino fought off a charging Elgin after his sneak attack. Corino was so fired up after knocking Elgin outside that "The King of Old School" decided to fly. When Corino flew through the ropes, Michael Elgin caught Corino across his shoulders before Oklahoma stampeding Corino against the barricades and the floor. From that point on, Elgin's power advantage kept Corino from gaining any momentum. And when Corino finally did turn the match around in his favor, the numbers problem Corino feared occurred as Truth Martini stopped Corino's Eternal Dream. Jimmy Jacobs assisted in ridding Corino of the Martini problem, Jimmy couldn't save his fellow evil addict from taking three power bombs and being pinned.
The emotions displayed by Corino made this match, especially during the final sequence. Maybe it was the fact Steen made peace with Jim Cornette beforehand. Maybe the fans who absolutely hated him now cheering him the last time ROH was on iPPV in New York motivated Corino. Or maybe Corino just felt he had to win this one to prove his recovery is working. Many might not know it, but something special happened in that match because of Steve Corino. That's not taking anything away from Michael Elgin. I'm telling you right now that Elgin is the real deal. If everything works out right, and ROH doesn't push him too fast, Elgin could be the Batista to Roderick and Martini's Triple H and Ric Flair – except Elgin has more athletic ability. Entertaining match that set the stage for something even more entertaining.

"F*** Ring of Honor!": Instead of being satisfied with a victory for The House of Truth, Martini and Elgin assaulted and laid out Corino and Jacobs. But waiting in the wings stood another man of change. To an even bigger ovation than his unveiling, Kevin Steen slid into the ring, power bombing Elgin before super kicking Martini's lights out. Once again, Jim Cornette and a slew of individuals ready to rid the ring of Steen ran to ringside. Before anything could happen, Steve Corino grabbed the microphone to ask Cornette for a chance so Steen could talk. When that didn't work, Corino ordered the fans to chant, "Let Kevin talk!" The raucous crowd followed Corino's example, and Cornette backed down.
An emotional Steen took Corino's microphone to address everyone from the wrestlers, management, and everyone watching that he wanted to make things right. With that, Steen followed the example of his old friends and sponsors by telling us, "My name is Kevin Steen…" The slight pause between Steen formally introducing himself and the next statement felt like an eternity. With his eyes glaring up, and the crowd dangling on his every word, Kevin Steen screamed, "…and f*** Ring of Honor!" Kevin spun around, clobbering Jimmy with the microphone before low blowing Steve Corino to execute the Package Piledriver. The Hammerstein Ballroom came unglued as wrestlers and security alike carried a middle finger thrusting Steen out of the building like he had been crucified.
The "Ole!" chants turned back to "We want Steen!" when Jim Cornette declared on his mother's grave that Kevin Steen would never step foot in an ROH ring again. "Best In The World" went to intermission with a slew of wrestlers assisting a hurt, both physically and mentally, Steve Corino while Jimmy Jacobs tried to understand why Steen would do something like this.
What more can be said about what happened here? After six months of exile, Steen was welcomed back by the fans who Kevin did everything to make hate him last year. But the whole time, ROH refused to buckle on the match stipulation that forced Steen out of the company in the first place.
To see Steen prove ROH officials right is an amazing twist in the story not only involving Steen and his status with Ring of Honor, but also Steve Corino's recovery. Kevin Steen and Steve Corino are almost one in the same, and Steen proved that some people just can't change. Does Steve Corino, or for that matter Jimmy Jacobs, actually have the ability to change? Have they truly changed? All the questioning about Corino's intentions in recent months have been answered positively through his work. But through one moment, Kevin Steen ruined it all while producing one of the most memorable segments in ROH iPPV history.

A New TV Star is Born: In a promo shown during intermission (a nice way to keep the fans at home entertained, by the way), Daniels proclaimed that El Generico didn't deserve to be considered a Television champion when ROH has a true TV star in Daniels. Generico wanted to prove Daniels wrong, and did a great job in the opening minutes that saw Daniels reeling after being attacked from behind with a series of arm drags, leg lariats, and knife edge chops. Generico made the mistake of going for diez punches in the corner, only for Daniels to slip underneath Generico and drop him throat-first across the top rope. Daniels felt so pleased about his advantage, he threw in a Jeff Jarrett-style strut.
Slowly but surely, El Generico mounted a comeback that saw Generico hit the Brain Buster. Somehow, Daniels kicked out right before the three count. Generico had some other maneuvers in mind that he thought could end Daniels' night; including the somersault Van Terminator and the top turnbuckle Brain Buster. Unfortunately for Generico, Daniels stopped the second Brain Buster attempt, shoving him into a cameraman and the barricades. Daniels took the opportunity to strap the TV title belt around his waist for the BME. The referee warned Daniels, but the champion was already moving upward. Generico recovered in time to get his boot up, clocking Daniels in the mouth. Daniels stumbled across the ring, taking a yakuza kick-top turnbuckle Brain Buster. Generico quickly made the cover, earning his first ROH singles championship.
This was the match where the iPPV switched gears. The slow build of Generico fighting through a failed maneuver to achieve the biggest moment in his career moved the crowd unlike any match on the card thus far.

Elimination is the Solution: Four of the top teams in Ring of Honor today stood in the ring for a chance to win the ROH World Tag Team title – tell me that isn't hype. The initial feeling out process mostly involved the two more popular teams – the champs and The ANX. The Kings injected themselves in the action when they saw fit, but decided to sit out the majority of the first fall. When The Briscoes felt it was time to get their hands dirty, they did it at the expense of The ANX. For the last ten minutes of the first fall, The Briscoes were in complete control. Jay's hope to end The ANX's night by Jay Drilling Titus actually cost not only Jay, but Mark as well when King caught Jay with a spin kick and those shotgun knees. After pitching Mark to the floor, Titus and King hit the decapitation knee drop on Jay so Titus could pin and eliminate ROH's legendary tandem.
With The Briscoes gone (oddly calm during their exit, mind you), The KOW decided it was time to intervene and wear out Wrestling's Greatest Tag Team. The longest reigning ROH Tag Team champions in history did a great job isolating Shelton, almost eliminating him on several occasions with pin attempts. Unfortunately for The Kings, their plan went awry when King got the tag from Shelton. The ANX were on fire, beating the life out of Hero. Even when Hero fought back and hit that Rolling Elbow, he couldn't keep Titus down for the three count. Titus reversed the Ricola Bomb, catching the now legal Claudio in the One Night Stand thanks to King, but Sara Del Rey distracted the referee. Hero slipped into the ring as King ran after Del Rey and Hagadorn. Before Titus realized Hero was in the ring, Chris Hero knocked Titus out with his golden elbow padded arm. Claudio made the cover off his partner's illegal attack, pinning Titus; upsetting the incredibly pro-ANX crowd.
It was down to two teams who have become synonymous with each other over the past year. Haas made sure he and Shelton weren't getting screwed by grabbing Hero's elbow pad, tossing it into the crowd. Startled but not shaken, Hero pounced Haas. The KOW proved their mental strength hadn't waned as the match progressed, delivering a slew of combinations that almost put Haas down for good. Charlie refused to be pinned after taking a Cyclone Kill (that rolling big boot), the UFO, and that big swing into Hero's dropkick. Somehow, Haas turned the KRS One against the challengers, sending Claudio to the floor by head scissoring Hero into Castagnoli. Shelton ran in, helping Haas executed a double team spine buster to allow Haas the pin fall over Hero; once again proving their superiority over The Kings of Wrestling.
But the night wasn't over for the champs. The Briscoes rushed the ring, attacking WGTT with steel chairs. The Kings gleefully watched from their top turnbuckle seat as The Briscoes wore Haas and Benjamin's backs out with their weapons of choice. The only thing that saved WGTT from a further beating was The ANX.
Once again, ROH showed that Ring of Honor is where tag team wrestling is at on pay-per-view. While it wasn't the show stealer I predicted it to be, the match had several layers of build that concluded as most everyone expected it would. The length and story of this one warrants at least two viewings before you can appreciate what those eight men put together in forty minutes of action.
Not only did they deliver a great match, but the match also showed that the NYC crowd truly believe in The All Night Express. From the moment they arrived to the moment they ran The Briscoes off, the fans responded loudly for King and Titus. Even though I have no problems with WGTT winning (definitely the best move when it comes to the TV tapings), I would've loved to see The ANX win just for the crowd reaction alone. I honestly believe the sound would've rivaled anything we'd heard up to that point. But this night wasn't about The ANX, but WGTT securing their spot as the face of ROH's Tag Team division come August while setting up their possible first feud since winning the gold against The Briscoes.

A Dream Finally Realized: Over the past several years, the belief that storylines should build to matches has switched completely. Now, the storylines are the main focus. The matches are just used to advance those character conflicts, and progress the even bigger storyline moment. In Ring of Honor, however, the old way of presenting pro wrestling is alive and well. And there was no better example of that then the main event of "Best in the World".
In the ring stood The American Wolves, but not side by side. Across from each other, ROH World champion Eddie Edwards and Davey Richards surged with anticipation – as did the fans. The opening bell sounded and the two friends clashed. Better yet, they painted. Before the viewing public, in that 18×18 ring and beyond, Edwards and Richards created a masterpiece the likes of which I've never seen my twenty-two years of being a wrestling fan. The battle of two individuals who knew each other better than anyone saw them unleash ear-splitting chops; sternum-crushing kicks; painful submission struggles; a will to never say die – it's the American Wolves' way.
No matter if Eddie Edwards almost blew out his knee performing a tope, or Davey being double stomped through the timekeeper's table, neither could accept the fact their bodies couldn't take anymore. And even after nearly thirty minutes of fighting, Davey still held something back. Not because Richards was saving some energy for the homestretch. In his heart, Richards still didn't want to end Eddie's dream of being the man in ROH. Just like he demanded Richards accept his challenge, Eddie ordered Davey not to hold back; even when Eddie accidentally found himself stuck in position for the dragon screw leg whip in the ropes. The fans went from roaring with each near fall to waiting in buzzing silence. With each combination and following two count, the Hammerstein Ballroom crowd watched for the end. They knew that the next big blow would be the last, and they wanted to unleash all of their emotions when that attack happened.
Barely able to stand, Davey Richards hoisted Eddie Edwards off that mat after two buzzsaw kicks that almost turned his fellow Wolf's head backwards. Once more, Davey stared at Edwards, telling him, "You asked for this. But no matter what, you're still my brother." No, Davey, Eddie needed this. Edwards needed to prove that he could beat Davey with the ROH World title on the line. Sadly for Eddie Edwards, a man who proved everyone wrong, was wrong in thinking he had Richards' number on June 26, 2011. After taking a spinning back kick to the abdomen, a barely conscious Edwards collapsed to the mat. In front of Edwards stood a seething Davey Richards. In front of Davey sat the last roadblock in his way to finally become the ROH World champion. With an explosive, field goal of a kick to Edwards' head, Richards obliterated his final roadblock. Three seconds later, the dream of one man who many proclaimed for over a year as the "best in the world" finally came into fruition.
The crowd that sat in anticipation during the match's closing minutes exploded when the referee's hand hit the mat for that pin fall. The final ten minutes of "Best In The World 2011" saw Davey Richards express himself like never before in a wrestling ring. The written word can't do the emotion shown, not only by Richards, but also Eddie Edwards and the fans, justice. But there is something that can be typed out, and that's the final shot of everyone in the ring. At "Manhattan Mayhem IV", an enthusiastic Davey Richards sat on the bottom turnbuckle as Eddie Edwards celebrated the greatest moment of his career. Three months later, in the same city, the now former ROH World champion took his seat on that same bottom turnbuckle, dejected at the sight before him. Eddie Edwards needed this match with the thought that his dream wouldn't end at Richards' hands. Davey Richards accepted this match knowing he'd end Edwards' dream while realizing his own. One man had to be right following an absolute classic.
Wrong: None
Overall: I walked away (or I guess, pushed my chair away) from this event feeling emotionally drained; and I mean that in the best way possible. After Davey vs. Eddie, I sat back as if I experienced something from an award-winning, all-time classic movie; something that will stick with me for years to come. I can't say enough good things about the main event outside of it being worth price of admission alone. And yet, it's only one of two (maybe even three) must-see matches. The second half absolutely turned the show from a one-moment event into an instant classic. This show is the definitive pinnacle in the history of ROH.