Originally scheduled to be a regular live event, Ring of Honor officials decided that the company's debut in Providence, Rhode Island has a card worthy of Internet pay-per-view. The event would be headlined by an co-promotional match featuring ROH's World champion Kevin Steen taking on CHIKARA Pro's Grand Slam champ Eddie Kingston. The two actually had a heated confrontation at ROH's "10th Anniversary" event before clashing during CHIKARA's then-most recent Chicago show where they wrestled to a no contest. Not only would the fans see a potential memorable brawl, but also the final match of one of women's wrestling's greatest treasures taking on a former WWE Diva in an intergender tag team match. But shows can always look great on paper. Lets find out if "Boiling Point" is a classic event.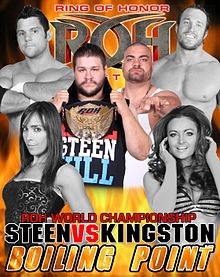 Boiling Point
Providence, RI
August 11, 2012
1. Roderick Strong defeated Mike Mondo
2. QT Marshall defeated Matt Taven, Vinny Marseglia, and Antonio Thomas to earn a ROH contract
3. ROH TV champion Adam Cole defeated Bob Evans
4. Charlie Haas defeated Michael Elgin
5. The Briscoes defeated Steve Corino & Jimmy Jacobs
6. Jay Lethal defeated Tommaso Ciampa in a Two Out of Three Falls match
7. Eddie Edwards & Sara Del Rey defeated Mike Bennett & Maria
8. Kevin Steen defeated CHIKARA Grand champion Eddie Kingston to successfully defend the ROH World title
Right:
Strong Has No Fear: This special challenge match courtesy of Roderick Strong actually saw the ROH Triple Crown champion having a hard time against "No Fear" Mike Mondo and his powerful chops in the early going. It didn't take long before dey started a clubberin', Tony! When the action spilled to the floor, Mondo busted the bridge of Roderick's nose with a head-butt that angered Strong enough for Strong to just knee Mondo's face to a point "No Fear" had no idea what was going on until Roderick rolled him back in. The back and forth action turned into full blown Roderick Strong domination thanks to Strong catapulting Mondo face first against the steel ring post that Roderick topped off with a suplex on that floor. Mondo made a comeback minutes later, using some Finlay-like tactics by tying Strong in the ring apron to stomp his prone head.
Everything was going well for Mondo when he used a head scissors into the barricades to set up a running shoulder tackle that saw Mondo get a head start from the entrance ramp. Sadly for "No Fear", he took the worse of the landing point as his elbow slammed against the barricades as Roderick's back did the same.
The ref wanted to stop the match, but Mondo refused to quit because of a hurt elbow, Roderick's follow up rolling elbow-backbreaker combination or in the LeBell Lock. The crowd was going crazy as Mondo showed some incredible heart and fortitude to not only survived the double knee gut-buster, but also another rolling elbow. Unfortunately for Mondo, his body wouldn't coincide with his mind when Strong exploded off the ropes with the Sick Kick to pick up the victory.An absolutely phenomenal opener that could've been a semi-main event with the pacing and crowd's enthusiasm. While many aren't too found of Mondo and his recent push, it's matches like these that will change everyone's perception of him in due time.
Fighting For The Right To Wrestle: Two relative unknowns, a former Heartthrob, and then-TV jobber Matt Taven. That truly doesn't sound like the makings of anything special. Long time ROH viewers remember the days when hopeful ROH talents would wrestle for ROH contracts. The opening minutes established that Thomas and Marshall had a problem with Taven and Vinny, trying to take them out early. In actuality, QT and "The Promise" Thomas left themselves open for the high impact maneuvers of Vinny and the dives of Taven. Like most ROH four way matches, the two heels worked together to isolate one man – in this case Vinny – until one went for the pin off of the other's big move. Thomas was the man who ended the relationship between himself and QT, suplexing Vinny will Indian death locking QT. During Thomas' pinning combo, Taven came sailing off the top rope to splash all three men!
Things started breaking down, with Taven in control the majority of the time. Taven did his best to down Marshall with the Beautiful Disaster kick, only to set up a dive for Vinny onto both Thomas and Marshall. Things were finally looking good for Vinny after his dive and sunset bomb on Taven. Before Vinny could capitalize, Marshall yanked Vinny groin first into the steel ring post. QT entered the ring, ducking the second Beautiful Disaster before finishing off Taven with the Glamour Shot to earn his ROH contract. While sloppy at times and didn't have the crowd interaction like the previous match, all four men did their best at trying to leave a mark. Both Taven and QT looked more like a stars than their opposition.
No Country For Old Men: After seeing clips of ROH Television champion Adam Cole besting "Brutal" Bob Evans in a tag match from a recent episode of ROH TV, Bob Evans entered the ring for this now "Special Challenge" match that was originally a Proving Ground bout (which could've given Evans a shot at Taven's championship) to speak on how Adam Cole is, "…a sweet little boy" that he'd humble because, "…you have a nice little mouth made for pounding." I kid you not. That was Bob's pre-match promo. Adam Cole did his best to chop down the larger, more experienced, and possibly more brittle Evans by working over Bob's left leg. Evans did the smartest thing by luring the ROH TV champion to the floor to drop Cole chest first across the guardrail and back first across the ring's edge. Evans spent the next several minutes showing his strength by dead lifting Cole into slams before becoming submission based in his strategy with Cole's back in mind. Similar to his battle with Kyle O'Reilly, Cole found his edge in a brawling situation. Evans, though still in control, lost a lot of his advantage as Cole kept fighting through the back pain and threw whatever he could muster every time Evans took a breather. The TV champion eventually swept Evans into the Figure Four Leg Lock, forcing Bob to submit.
After the match, Eddie Edwards and Sara Del Rey had to run off Mike Bennett and Maria when they went for a post-match beat down. This was a much slower paced match than you'd usually see in ROH, but it worked for what it was. Was it the most exciting thing in the world? Not at all. Was it a solid match that showed the battle of youth versus experience in its most primal form? Absolutely.
It's Breaking Down: Before the match, we got footage from ROH's then-recent Milwaukee event that saw Mark Briscoe show his craziness by diving off of a balcony some fifteen feet high to put Kevin Steen through a table in the ring. The crowd was fired up for Dem Boys, and stayed with Jay Briscoe and his little brother as they dominated Steve Corino and Jimmy Jacobs with their high impact offense and double teams such as Jay's leg lariat, Mark's kung fu after moonsaulting onto everyone on the floor, and The Briscoes' double shoulder tackle. Timing and teamwork helped turned things around for Jacobs and Corino when they used Jay's red-hot attacks against him by knocking the eldest Briscoe into a neck breaker-STO combo. The momentum for S.C.U.M. fluctuated when Jay dropped Corino face first against the turnbuckles before tagging out.
Unbeknownst to Corino and Jacobs after tossing Mark to the floor, the youngest Briscoe landed on his feet and was able to trip Corino into a side Russian leg swept against the barricades. Though Jacobs rallied back and almost pinned Jay with a springboard ace crusher, the end was near for Jacobs when Jay countered the Contra Code by hoisting Jimmy in position for the Doomsday Device for another Briscoe victory over S.C.U.M.
Similar to the opener, this bout was hot from bell-to-bell thanks to the action in the ring and the fans. Another exciting clash between four always-entertaining wrestlers.
Definition of a Man: The ongoing rivalry that mentally broke Tommaso Ciampa between himself and Jay Lethal was ready to come to an end in a Two Out of Three Falls environment. Before the match, Ciampa allowed his new manager Barrister RD Evans to shake hands with Lethal. The former ROH TV champion responded with a slap. When Ciampa went to blindside Lethal, things went bad immediately for "The Sicilian Psychopath" when his left knee gave out. Things suddenly halted as Lethal played with Evans' while the referee checked on Ciampa. Tommaso tried to walk off whatever was wrong with him, but reentered the ring proved horrible for Ciampa when Jay hit the Lethal Injection out of nowhere in the first two minutes. Tommaso valiantly kicked out, but one Lethal Combination later, and Jay was up one-nothing in this bout. The thirty-second rest period between falls allowed Lethal to soak in some crowd adulation while Ciampa tried to get his left leg working.
As announcer and former ROH World champion Nigel McGuinness noted how many times he remembered getting injured in the middle of a match (the bouts between Aries and Marifuji in NYC being two examples), Ciampa finally got something going by slamming Jay against the barricades. Though hobbling, "The Sicilian Psychopath" seemed to have the wherewithal to shift his weight during moves. This worked in Ciampa's favor when Tommaso countered a springboard maneuver with Project Ciampa by using only his right knee for the second fall.
The crowd watched intently while Ciampa noted how much he had left for this decisive fall. The slugfest that ensued as the match progressed seemed to favor Lethal, so Ciampa changed things up and by going for knee strikes with his right leg to set up an air raid crash. The first attempt at the air raid crash from the top rope failed, but after surviving Hail to the King, Ciampa was able to execute the debilitating maneuver across the apron. Unfortunately for Ciampa, he took too much time trying to recover to capitalize with a pin, leading to another fistfight. Things were breaking down as RD Evans jumped onto the apron so Ciampa could counter Lethal Injection with a low blow, only for Prince Nana to appear and take out Evans. Ciampa exited the ring, clotheslining Nana into the front row. With the ref's back to Jay and the reentering Ciampa, Lethal was able to pay Ciampa back with a low blow to set up a back flip into the Lethal Injection for the victory once again over Ciampa.
Tommaso Ciampa battled through a legitimate injury to give us an excellent display in fortitude and manhood. Ciampa was poised for victory, even with an injury, but once again, tonight was not his night for victory. Instead, "The Sicilian Psychopath" made a different name for himself and most likely gained a ton of respect from ROH fans everywhere by gutting out a near twenty-minute match on one knee in marvelous fashion. What a match!
The Queen Trumps The First Lady: Sara Del Rey and Maria both felt the need to be considered the top woman in ROH. But unlike Maria – who hides behind Mike Bennett and a heeled boot – Sara Del Rey dominated both men and women to gain her title as "The Queen of Wrestling". But the women played second fiddle to their male counterparts in the early minutes as Bennett and Eddie Edwards rekindled their rivalry with Eddie dominating "The Prodigy" thanks to his lightning-fast pace. Knowing the crowd wanted to see Del Rey, Eddie tagged her in so Sara could abuse Bennett with kicks as Nigel reminded us that men can wrestle women in this match. Maria decided she could get a shot in after an errant Irish whip from Sara, but her kicks were only hindrances, not debilitating to "Death Rey".
Things finally turned in favor of the announcer Kevin Kelly-dubbed "Team Sexy" when Maria tripped a running Eddie Edwards. Bennett ended up on the floor, recovering as Eddie ran the apron. A huge spear by Bennett took Eddie out of the sky and dropped him hard on the floor. The mix of Bennett's strikes and Maria's insulting kicks were enough to fire up Eddie as well as the crowd. Catching one of those Maria kicks allowed Eddie to trip his attacker so he could tag out to an eager Del Rey. Big boots and forearms from Del Rey had Maria rocked enough that Bennett had to tag himself in before Del Rey caught "The Prodigy" with the capo kick. Unlike her man, Maria saved herself by slipping out of the ring. Actually, Maria slipped underneath the ring. Del Rey gave chase under the ring, apparently ripping Maria's top off. The distracted and distraught Bennett was open for another Achilles Lock, and the submission in favor of Edwards and Del Rey.
After the match, the fans gave "Death Rey" a great moment in thanking her for all she's done for women's wrestling thus far. This match was completely different than anything seen on ROH iPPV, and played its part perfectly. You had a mixture of ROH action and sports entertainment that had the fans into everything. Outside of something like Del Rey-Amazing Kong III in ROH, this was a great way for Sara Del Rey to head off into the sunset after dominating both men and women in various companies.
Destroying The Dedication: Before his dedicated match to the late Larry Sweeney, CHIKARA's Grand Slam champion Eddie Kingston heard some tremendous news that his upcoming ROH World title match would have no rules. Immediately, Kingston went on the warpath, taking out both of Kevin Steen's stablemates in Steve Corino and Jimmy Jacobs before trying to kill Steen with a chair. Catching the incoming weapon, the defending champion yanked his fellow titleholder into a chair assisted-face buster that he topped off by hitting that somersault leg drop with the chair lying atop his challenger. But Kingston refused to go down so easily. After "Mr. Wrestling" set up a table beside the barricades, Kingston turned Steen's Irish whip attempt into a suplex through the table. For the first time in ROH history, Steen set up another table between the ring and the barricades with the legs facing upwards. Twenty seconds later, Steen power bombed him through the table!
Everything got incredibly serious as Kingston couldn't move and referees called for help. As "The War King" told former ROH company owner Cary Silkin, "I'm sorry," Kevin Steen went on a verbal rampage against the fans, matchmaker Jim Cornette, the people helping Kingston by carrying him around the ring toward the announce table, and the possibility of losing the internet feed because of tripping over some cables. Then Steen took things a little too far by telling his challenger that Larry Sweeney would think of Kingston, "…as a f***in' p**** right now." Oh no he didn't! Kingston staggered to the ring, almost taking the champ's head off with a clothesline. When the Spinning Back Fist to the Future didn't connect for Kingston, the challenger and CHIKARA Grand champion suplexed Steen on his head. The brutality both men were exhibiting by suplexing each other through chairs and tables scared Nigel and made the fans verbally wonder what it would take to finish either man off while they supported both men instead of just chanting for Steen as seen during the first half of the match.
The end came after Rhett Titus fought an intervening Steve Corino to the back and Kingston stopped Jacobs' attempt to stab him with that railroad spike via the Spinning Back Fist to the Future. Surviving a F-Cinq (F-5) and several chair shots to the back, Kingston boldly sat on his knees, telling Steen to give him everything he had. "Mr. Wrestling" followed his challenger's order, using the F-Cinq to drive Kingston through two chairs the champ set up near the ring's middle to retain his ROH World title.
While the outcome was pretty much a given at the time, the story that led up to the finish wasn't. Kevin Steen and Eddie Kingston delivered a great brawl full of highs and lows on an emotional and physical standpoint that got the fans to feel for Kingston when they originally wanted to see Steen wipe the floor with him. While it wasn't as barbaric or bloody as Steen's matches with Steve Corino or Jimmy Jacobs, the emotion and never-say-die attitudes here were the perfect way to end the night's action.
Wrong:
Strong's On Strike, Strong Has A Beer, Strong Likes Helping People Fail: When the action began, Elgin dominated Haas with his power and amazing agility. Things were going perfectly fine until Roderick Strong took a page out of his old Generation Next member Austin Aries' book by taking a seat at ringside with some beer in hand to watch the festivities (Strong had become upset with Elgin and their respective manager Truth Martini because Martini opted to give "Unbreakable" a title shot rather than Roderick). Elgin didn't take too kindly to Strong's return, only for Haas to clip Elgin's left knee from behind. Though Elgin powered Haas around, shortly after Haas targeting his leg, "Unbreakable's" ability to keep the momentum was lost when Haas simply tripped him.
Similar to the prior match, Haas' work on a single point of interest worked great until Elgin lured the former two-time ROH World Tag Team champion into a brawl. Elgin sacrificed his hurt leg to perform running attacks and suplexes. Michael Elgin, though hurt, called for the Spiral Bomb. Before "Unbreakable" could fully hook Haas, Roderick jumped onto the apron, spewing beer into Elgin's eyes right in front of the referee. Elgin, stunned, was wide open for a cradle from Haas, and the three count. After the match, Elgin teased an attack on Martini, but Truth left the ring before anything could happen between the two.
You had a potentially decent match marred by too much interference and a horrible finish. When it comes to any other company, the referee seeing blatant interference wouldn't be such a big deal. But this is Ring of Honor where your officials uphold the rules to the best of their abilities. There's no reason the ref should've counted Elgin down after seeing Roderick spit beer in Elgin's eyes. A little creativity could've seen the same ending without the referee's incompetence.
Is It A Classic? 
This wasn't a show made for a big event situation, living and dying on what it delivered in the ring. After an incredible opener, the next few matches struggled to keep the upward momentum. Then things finally turned around, delivering some emotional gripping match on purpose (the main event) and unintentionally (Ciampa vs. Lethal). There was now a little bit for everyone. It doesn't have any classic matches or feels like a must-see show, but "Boiling Point" 2012 is worth a viewing.