As the norm, Ring of Honor concluded another year of great wrestling with, arguably, it's biggest event of the year in "Final Battle". But this year was a little different than the rest. One year earlier, the team of El Generico and Kevin Steen was ripped apart by a single chair shot from Steen to his once masked friend. After a year of feuding, the conclusion was scheduled to come in New York under the rules of no honor – a Fight Without Honor where a mask and career were on the line.
Also at the event, Davey Richards – who had gained the ROH fan base's support over the past two years with his hard-hitting, never say die wrestling style – finally had his chance to rectify his coming up short in attaining the ROH World title several months prior. But unlike his first shot, Richards would have to wrest the title from long-time friend turned rival in Roderick Strong. So much was going to go down in NYC, but did any of it live up to the hype? Lets find out.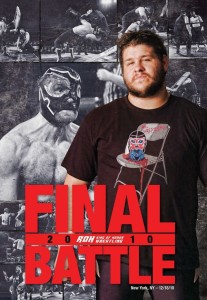 Final Battle 2010
December 18, 2010
New York, NY
1. The All Night Express (Kenny King & Rhett Titus) defeated Future Shock (Adam Cole & Kyle O'Reilly)
2. Colt Cabana defeated TJ Perkins
3. Sara Del Rey & Serena Deeb defeated Awesome Kong & Daizee Haze
4. Eddie Edwards defeated Sonjay Dutt
5. Homicide defeated ROH TV Champion Christopher Daniels in a non-title match
6. The Briscoe Family (Jay Briscoe, Mark Briscoe, and Papa Mike Briscoe) defeated The Kings of Wrestling (Chris Hero & Claudio Castagnoli) and Shane Hagadorn
7. Roderick Strong defeated Davey Richards to retain the ROH World title
8.: El Generico defeated Kevin Steen in an Unsanctioned Fight Without Honor, Mask vs. ROH Career match
Right:
The Young Guns Shine: While Kenny King and Rhett Titus had been around Ring of Honor for enough time so the fans could familiarize themselves with what they were about, Kyle O'Reilly and Adam Cole – dubbed "Future Shock – were just getting their feet wet in ROH at this time. With the talent involved, it was obvious the opening bout would be an athletic, yet formulaic contest; and for the first six to seven minutes that's exactly what this match was.
Then Adam Cole got the hot tag and they just went crazy. Cole and O'Reilly were throwing everything and anything they could think of through single attacks and impressive double teams (like a fireman carry into a super kick by Cole and O'Reilly). Seeing Cole and O'Reilly prove that they were ready to make names for themselves by actually coming close to winning was exactly what needed to happen. Even though The ANX won as expected with the One Night Stand, nothing could be taken away from Cole and O'Reilly's performance. They definitely did more than showcase here – they stole the first half of "Final Battle".
Scientific Struggle: Yeah, it was a struggle not to laugh. Colt Cabana was at his hilarious best in NYC as he took on TJ "Don't Call Me Puma" Perkins in a match dubbed a "Scientific Showdown." Cabana and Perkins lived up to that moniker as they exchanged holds – and compromising positions thanks to Colt's antics – so quickly it was hard to keep up.
In the end, Cabana pressed Perkins' shoulders to the mat after the two attempted to out-chain wrestle each other for a pin fall victory. I know a lot of people could find fault in a match like this mainly because it was used for humor, but like life, there needs to be fun. There needs to be a moment where the fans laugh and enjoy themselves without someone being bludgeoned (that'll happen later). This match allowed the crowd to catch their breath after that thriller of an opener with a few laugh-inducing moments for good measure.
Bringing A Little Straight Edge Back To ROH: The Women of Honor were in full effect for this event as Sara Del Rey and Serena Deeb took on Daizee Haze and Awesome "Amazing/Kharma" Kong. Even though they didn't get the amount of time many hoped for, the ladies did more than enough with the time allotted. Del Rey and Deeb did the smart thing and isolated the smallest women in Daizee to stop the menacing and highly favored by New York crowd Kong from doing what she does best – annihilating people.
When Haze finally tagged out after being beaten for several minutes, the fans in the Manhattan Center erupted. Like the opener, the four women went wild following the hot tag in hopes of downing one of their opponents. Del Rey and Deeb had the hardest time stopping Kong's onslaught that included a spinning back fist, Kong's Awesome splash, and of course, the Implant Buster. Daizee made a mistake by going after what she thought was a hurt Del Rey. "Death Rey" hoisted an incoming Daizee into Sara's Royal Butterfly finisher to gain a shocking near fall! Not far from Haze and Del Rey was Serena showing an explosive fire that helped her take Del Rey to the limit in SHIMMER by spearing Kong out of the ring! Following a second piledriver on Haze, Sara pinned Daizee to cap off another wonderful tag team match.
Looking For That Special Replacement: With Kenny Omega unable to compete as promoted, ROH brought former TNA star Sonjay Dutt in hopes of making up for the talent loss. While it was a slight blow to miss out on the classic Edwards vs. Omega could've been, Dutt and Eddie definitely held their own with a very good contest. Both went full blast from bell to bell with Dutt showing his proficiency at garnering pure hatred from the fans who went from apathetic to enthusiastic when Edwards hit a huge hurricarana. Showing great tenacity and heart, Dutt not only survived Edwards' impressive assault, but almost one thanks to a splash-shooting star press combo. Sadly for Dutt, he succumbed to a series of maneuvers that ended with the 2K1 Bomb to give Edwards the victory.
What this match might have lacked in psychology, it made up in athleticism and heart (sounds like a lot of ROH matches from 2002 to 2004). They tried hard and gave us a nice little battle that had the fans reacting to most everything they did
ROH Legends Collide: It was announced before the match that this battle between two of ROH's founding fathers – ROH TV champion Christopher Daniels and Homicide – would face the ROH World champion at the company's "9th Anniversary Show". With his hometown crowd behind him and the return of manager Julius Smokes giving him advice, Homicide was able to push Daniels back during the early going. Sadly for "The Notorious 187", the quickness of Daniels was able to turn the tides in his favor. Daniels kept the pressure on the former ROH World champion, but eventually it turned into a back and forth affair that ended with a referee bump.
Homicide pitched his t-shirt in Daniels' face to distract him for the Ace Crusher and win. Yes it was a little anticlimactic, and not very honorable, but it also made the Ace Crusher look dangerous again in that if Homicide hits it, the match could end just like that. A little post match situation occurred when Mike Bennett – who was watching from ringside and got a, "Who are you?" chant when entering as he had just debuted in ROH at the time – confronted and mocked Daniels for losing.
The Commoners Conquer Royalty: The Kings of Wrestling – Chris "Kassius Ohno" Hero & Claudio "Antonio Cesaro" Castagnoli – had not only bested Mark and Jay Briscoe to become the ROH World Tag Team champions, they also assaulted The Briscoes' father. Training Papa Briscoe, The Briscoe clan joined forces to take on The KOW and their manager in a six-man tag team match. While The Briscoes and The KOW did most of the heavy lifting during the early going, both Hagadorn and Papa Briscoe jumped in to lay in some shots or help in a few double teams. The NYC crowd was thoroughly against Papa Briscoe even though they supported his sons working over Hero and Claudio. But Papa Briscoe did get the crowd on his side when he unleashed a head scissor, took a Hero rolling elbow, and even hit the Stone Cold Stunner on Hagadorn. In the end, Papa Briscoe helped his sons gain a measure of revenge by executing their Doomsday Device finisher on Hagadorn to pick up the three count. While it was one of the weakest matches involving The Briscoes and The Kings since their feud began, The Kings of Wrestling vs. The Briscoe Family wasn't anywhere near the travesty a lot of people were predicting it to be.
The Best in the World Couldn't (Strong) Hold On: The official main event of "Final Battle" included two men who had countless memories together and just as many matches with and against each other. At "Final Battle, Roderick Strong and Davey Richards – with his protégé Kyle O'Reilly at ringside – hit the precipice of their rivalry in a match finally involving the ROH World title. The action started hot and heavy with a wonderful wrestling exchange on the mat. Davey actually had a distinct advantage during most of the match, but Strong did a great job of countering and saving himself from all of Davey's submissions while bringing out an onslaught of strikes that left Richards wobbly.
Strong smelled blood in the water and started thinking of bigger ways to disable Davey. Richards took some horrible bumps – including a big slam through the time keeper's table and a Gibson Driver on the floor that allowed Strong pitch Richards into the front row. The crazy thing is Davey refused to stop. Not only didn't Richards stop, he also fought back and almost pinned and submitted the champion. But Davey's wits and strength were waning as Strong caught him with the Sick Kick. While the Kick didn't halt Davey, it did knock away the last bit of fortitude and consciousness he had left. After thirty minutes of action, Davey passed out in the Stronghold.
The match was everything you thought it'd be and then some. But the "then some" was a little unbelievable. All the near falls and flash pin attempts boarded on the ridiculous side during the closing moments. Yes, it emphasized the need to win for both men, but John Cena could've kicked out of some of those final sequences. Even with that qualm, it's hard not to become utterly enthralled in this war of attrition.
Game Over: One year prior, Kevin Steen ended the tag team partnership and friends between himself and El Generico. The next twelve months saw Generico ignore his feelings to fight his old friend, Colt Cabana and Steve Corino choose sides in this battle, street fights, a Cage match, a Double Chain Tag Team match, the unmasking of Generico by Steen, an I Quit match, and an argument that this was not only the best rivalry of 2010, but also one of the greatest stories in ROH history. Steen was the first to realize that the company wasn't big enough for both competitors, challenging his old partner to a mask versus career Fight Without Honor. If Generico lost, he would have to unmask himself – bringing dishonor to his "Mexican" heritage. If Steen lost, he would leave ROH.
When the bell sounded, Generico and Steen – who entered with the Saw movie theme being a precursor to his usual theme song – poured out twelve months of hate and frustration into one brutal, bloody, almost sympathetic brawl. Bloody because Kevin Steen got busted open just minutes into the fight after taking a yakuza kick with a chain wrapped around his head. Generico felt the pain of a chair tearing his forehead apart after Steen ripped Generico's mask open by one of its eyeholes before somersault leg dropping the chair across Generico's head.
Brutal because Steen and Generico did everything to sacrifice their own bodies to hurt each other (like Steen frog splashing Generico with "The Generic Luchador" buried underneath several ROH metal barricade covers and Generico hitting a Brain Buster on the ring's steel and wooden edge). Sympathetic because it's obvious something damaging and irreversible happening to the former Steenerico and Ring of Honor.
"Ole" chants flooded the arena as Generico gave Steen his last stand. After using a turnbuckle Brain Buster for the first time in their feud, Generico stood before a kneeling, pleading Kevin Steen with a chair in hand. Steen, remorseful for the first time since this feud began, offered Generico the mask Steen removed from Generico's head at "Glory By Honor IX". Generico took his mask in a moment that made everyone take a deep gasp. Was Generico going to forgive Steen? Would he allow Steen to walk away after Steen tested his mental and physical boundaries over the course of twelve months? To paraphrase Tobin Bell's Jigsaw character from the Saw movie series, the real question was, "Kevin Steen, did you really think you'd walk away untested?"
Generico wound back before unleashing the most brutal chair shot of the match. Generico made the cover, and in those three seconds between the lateral press and victory, everything that occurred during their feud flashed before my eyes – like the end of a Saw movie. When the crowd erupted and Generico stood tall, it felt like a curtain had fallen. The fans were celebrating an epic, almost unreal theatrical moment that each and every person watching felt was an experience they'd never forget. This is a match that needs to be seen, as it is the definition of how a blood feud should end in these modern times.
Wrong:
Technical Difficulties: This show was plagued with technical problems when it first aired for those who saw it live. While that obviously didn't matter on the DVD release as every match that aired is here in full, the audio problems that occurred during the show wasn't improved. One obvious moment of this occurred during Daniels-Homicide when the commentary dropped out and never came back. Just a bad job by ROH's postproduction crew.
Is It A Classic: The final match is worth the price alone. Generico vs. Steen was the pay off everyone who followed ROH in 2010 needed. They wanted to see Generico get his revenge, or Kevin Steen prove the world right that Generico hides behind a mask because Generico's really a disgusting, human form of cancer. The rest of the show is pretty much icing on this cake of violence.
The World title match is incredible, if not somewhat unbelievable. The opener stole the first half of the show. The Women of Honor is the best women's match in ROH pay-per-view history up to that point. The six-man tag exceeds all expectations (as low as they were). And everything else is solid. This show demands to be seen.