Ring of Honor was at a turning point in the company's existence. Head booker and creative mastermind Jim Cornette left the company after fans blamed him for changing their once beloved product. Headlined by ROH World champion Kevin (Owens) Steen defending his title against fellow Canadian Michael Elgin, this event was meant to show the world ROH was getting ready to turn the corner. Were they successful in creating a classic? Lets find out.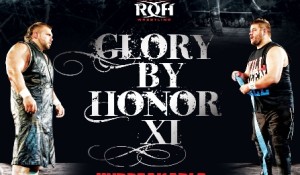 Glory By Honor XI
Mississauga, ON, Canada
October 13, 2012
Right:
Uncaged Hostility: Opening up the show was a rematch from Ring of Honor's return to Charlotte featuring The Bravados – who wore attire draped in the stars & stripes – and Caprice Coleman & Cedric Alexander. As announcers Nigel McGuinness and Kevin Kelly talked about The Bravados' new aggressive streak since returning from Pro Wrestling NOAH in Japan, The Bravados proved their dominance early by attacking Cedric and isolating him even when Coleman tried to turn the tides. Nigel enjoyed the Bravados' dominance that included smart portions off cutting off the ring and high impact maneuvers. Sadly for Harlem and Lancelot Bravado, a double team proved their dominance's demise as Alexander avoided Harlem's avalanche splash and clotheslined Lancelot before tagging out.
Coleman was on fire, rocking and northern lights suplexing both Bravados. The crowd was going wild as the dives commenced and Lancelot took a kick from Alexander that bloodied his nose. The back and forth momentum featuring big moves and near falls kept the fans on the edges of their seats. When their Ice Breaker double team didn't end Lancelot's night, nor did The Bravado Swing on Alexander, C & C finished off their fellow North Carolinians with Overtime. All in all, this was a very good match that opened the show in a perfect way.
Rape Isn't The Way: After several months of Mike Mondo antagonizing Mike Bennett and his girlfriend Maria by rape kissing Maria any chance he could, Bennett entered the ring with Mondo with the plan of immediately taking out Mondo. Instead, Mondo took the fight to Bennett in the opening minutes until he was power slammed, Irish whipped into the barricades, and speared on the floor. During this assault, Mondo seemingly injured his right ankle, fighting through great pain thanks to Bennett focusing on Mondo's back instead of attacking Mondo's legs. The action spilled to the floor, leading to an exchange that ended with Mondo back body dropping Bennett on the floor. In a jaw dropping moment, Mondo scaled the entrance truss after stopping the referee's count, diving some fifteen to take down Bennett while landing on his hurt leg!
Both men had to crawl toward the ring, with Mondo actually shoving Bennett into the ring. Mondo looked up to discover Maria on the apron, beckoning Mondo for a kiss. In the immortal words of Steve Urkel, "I'm breaking you down!" Sadly for Maria, he strategy didn't work as Mondo avoided Bennett's sneak attack, going for a roll up. When Bennett kicked out, Maria slapped the careening Mondo silly without the ref's knowledge, leaving him wobbly enough for Bennett to execute the TKO for the victory.
This was definitely not a match many were looking forward to, but Bennett and Mondo went out of there to turn heads and did just that. More impressively was Mondo working through a legitimate injury to deliver not only a good match, but also an insane dive. Very good match.
The BJ Express Runs Out Of Gas: On a then-recent episode of ROH TV, Rhett Titus found a partner in crime in BJ Whitmer to best Wrestling's Greatest Tag Team. To show they were out for revenge, Charlie Haas and Shelton Benjamin attacked their opponents during their entrance, leading to a ringside brawl that concluded with Whitmer being saved from Wrestling's Greatest Finisher. Things were looking good for Titus as he ran through Shelton as Haas rocked BJ on the floor, but the great timing of Haas allowed Shelton to turn the tides by running Rhett into Shelton's super kick. For the next several minutes, Titus found himself on the receiving end of a WGTT beating that almost ended his night several times.
Surprisingly, Titus turning this into a fistfight worked in his favor as both men were taken down by clotheslines before Titus was able to tag out to a fired up Whitmer. An exchange of forearms and middle fingers broke out between Haas and Whitmer that ended with a series of German suplexes and the Olympic slam from Haas for a two count. Things were going well for Titus and BJ until the final seconds when shoved Whitmer into the corner Titus was climbing, crotching him. A few seconds later, Haas and Benjamin finished off BJ with Wrestling's Greatest Finisher to avenge their loss from TV. Like the previous match, this wasn't something a lot of people were looking forward to, but turned out to be pretty good. Nothing truly spectacular, but much better than their TV match and a solid outing.
The Battle Of Wills: After showing what happened at "Killer Instinct" a weekend before between Kevin Steen, Jay Lethal, and the fallout of the match that ended with Lethal going crazy after Steen spit on Jay's mother following her soda assault on the champion, Jay Lethal entered the ring to speak his mind. Lethal blamed ROH for coddling Steen, as well as ROH asking Lethal to be more aggressive. That same aggression from Lethal put Jim Cornette in the hospital, bringing a loud chorus of cheers from the crowd. Though Lethal was angry, he had an outlet for his anger in Davey Richards tonight. The opening minutes were similar to their previous battles where both men did their best to find an advantage, but ended up in a stalemate. Uncharacteristically, Lethal slapped Richards during this feeling out process, infuriating Richards enough to drag him to the mat and eventually the floor.
As the fans chanted, "This is wrestling!" Richards did his best to keep Jay grounded. When Davey let Jay get some momentum by rising, Lethal executed a modified version of the Lethal Injection on the apron. What would've been a sure pin ended with Richards and Lethal meeting face to face in the ring's center. The match was starting to take a turn as high impact maneuvers and strikes became the focus. During their exchange, Lethal unleashed the Koji clutch for the first time since returning to ROH. Richards survived the submission, and eventually a big fall off of the top rope almost through the timekeeper's table that didn't break fully. The ebb and flow of the match was exhausting as the crowd rallied behind both men while they kicked out of several pins that could've been the match's conclusion against lesser opponents. Jay Lethal was going for broke, hitting all of his patented maneuvers, but unable to put a valiant Richards away. As everyone questioned what it would take to end Richards, Lethal executed the Lethal Injection. Little did anyone know, Lethal's finisher was only a set up to the Koji clutch. Richards, unable to regain his bearings after taking Lethal's finisher and being locked in a sick submission, passed out to give Jay the victory.
Hands down, this is one of the best matches seen anywhere in the U.S. from this year. Did they go a little overboard on the near falls at the end? Yes, but they never lost the crowd and everyone was waiting to see what really would end this great bout. To the shock of everyone, a submission that seemingly meant nothing midway through the match proved to be the deciding factor in who won and lost – a submission Richards knew all too well. This match was ROH action in its purest form and a great way to cap off the first half of this show.
Die Hard For TV: Eddie Edwards took Adam Cole under his wing after Kyle O'Reilly dumped Cole as a tag team partner earlier this year. The opening minutes of this battle for the Television title was very similar to Richards vs. Lethal as both men found themselves jockeying for an advantage, only to find themselves in a stalemate in the early going. The action picked up after a flash pin exchange with Cole trying to kick Eddie to stop the tope, but took the flying attack seconds later. When the action returned inside, both men were looking to work over the other's left leg. Eddie losing focus and wanting to chop Cole actually proved detrimental as Cole kicked Eddie onto the apron for a slingshot DDT that saw Eddie miss the apron and hit the floor!
Cole rolled Eddie into the ring, focusing on Eddie's neck with neck breakers. Though his neck was killing him, Eddie kept fighting through the pain and almost made Cole tap out in the Achilles Lock with some added stomps to the head. It was Cole's neck work that saved him in the submission as he kicked Edwards in the neck for freedom after spinning into the hold. Showing great ingenuity, Cole actually leg swept Eddie into the figure four leg lock, but his focus on Eddie's neck instead of his legs allowed Eddie to make it to the ropes without tapping out. In a scary moment, both men tumbled to the floor from the top rope when Cole elbowed Eddie's ear to stop a super face buster!
The fall spelled the end for Eddie as he was open for a pair of super kicks, an over the knee brain buster and Cole's Florida Key so Cole could pick up the victory and retain the title. This was an absolutely exhilarating, technical affair that didn't overstay its welcome. Both men came out looking great while leaving a question of doubt about whether Cole could've won without that fall, or if Cole's neck work actually helped Cole's game plan. Easily the best ROH TV title defense this year thus far.
Dem Boys Go For The Gold: At "Boiling Point", The Briscoes bested Steve Corino and Jimmy Jacobs one month before S.C.U.M. became the new ROH World Tag Team champions. The action started hot and heavy as everyone fought on the floor. During the ringside brawl, Jay Briscoe set up a piece of the guardrail near the entrance on an open chair in the aisle. After several minutes, the action entered the ring where Mark Briscoe worked over Steve Corino – who was wearing a Ken Pantera style singlet – before hiking up his trunks for some unknown reason. "Crazy" Mark Briscoe eventually felt Corino's Colby Shot, losing the momentum for his team for a short while. Jay entered, kicking and punching his opposition to the delight over everyone before calling for Mark's crab walk senton. With the referee trying to get Jay out of the ring, Corino was able to clobber Mark as he walked the ropes with a roll of quarters like he did on the ROH TV show.
Jay Briscoe found himself on the wrong part of town, getting worn out as ringside officials tried their best to revive Mark Briscoe. Mark recovered just in the knick of time after Jay stopped a Scummy End before tagging out. Things broke down fast as Corino and Jay spilled to the floor while Mark lit up Jimmy with some kung fu after taking an assisted Contra Code-Eternal Dream combination. Hoisting Corino up, Jay used the Death Valley driver to rattle Corino's spine on that guardrail he set up earlier. The crowd started to rise as Jay called for the Froggy Bow on Jacobs. Mark executed the maneuver, but somehow Jacobs kicked out right before the three count to a huge ovation. The Briscoes had one more trick up their sleeves, but so did Corino. Stopping Mark's portion of the Doomsday Device by shoving the referee into the corner Mark was in, Corino kicked Jay Briscoe low while the referee tried to recover so Jacobs could roll Jay up. The referee turned around, counting Jay down to allow S.C.U.M. to stay as the ROH World Tag Team champions.
This match was similar to their previous battles where you had four guys who know what they do best against each other and turn out a really good match. It's not a match you'll walk away from the show talking about, but you'll enjoy the ride from bell to bell. Plus, the ending worked as Corino and Jacobs cheated without getting caught or needed referee incompetence.
Unbreakable Nightmare: Kevin Steen entered the ring alone as the camera focused on Roderick Strong in the front row as promised (offering the child beside him beer) before Steen grabbed the microphone to tell everyone that his demands following "Killer Instinct" were met – including the reinstatement of the Package Piledriver – giving us our main event. The crowd was split in support of the first ROH World title match in history featuring two Canadians. The opening minutes symbolized the old phrase "the irresistible force meets the immovable object" as both men tried to plow through the other. So instead of trying to stand and trade blows with Steen, Elgin started tossing the 269 lbs. World champion around like a sack of potatoes. In amazing displays of strength, Elgin Boss Man Slammed, power slammed, and even delayed vertical suplexed the champion. It would take quick thinking and reflexes to save Steen, and that's exactly what happened as he kicked a turning Elgin into a DDT.
The fans started an, "Ole!" chant to rise the ire of Steen, but didn't take away his focus. What did take the champ's attention was Steen showing off in front of Roderick Strong. The back and forth action started wearing out Steen and empowering Elgin as the crowd sided with Elgin for a short while before splintering again. Things seemed to be going well for Steen after he executed the cannonball splash and stopped the tumbleweed when ended up on the floor. The somersault plancha by Elgin brought everyone on their feet and landed the challenge in front of Roderick. Elgin pulled his former partner out of the ring, tossing him to the back prior to power bombing Steen against the steel ring post to set up a successful tumbleweed splash in the ring. This was the turning point in the match as the crowd watched for the conclusion that could happen at any second.
The battle of the brutes saw Steen lock in the sharpshooter, Elgin utilize the crossface, the challenger driving Steen through the timekeeper's table to stop a sleeper suplex, a clothesline exchange, "Mr. Wrestling" power bombing his challenger, "Unbreakable" unleashing a series of knee strikes following a dead-lift German suplex, and enough action to not only put the fans on their feet, but also had Nigel McGuinness and Kevin Kelly losing their minds. Kevin Steen somehow survived everything Michael Elgin threw, executing the Package Piledriver. So sure this was the end, the fans threw streamers into the ring to celebrate Steen's successful defense, only to find Elgin had kicked out. The look of doubt on Steen's face was only outmatch by the fire in Elgin's eyes as he got a hold of Steen, power bombing him three times in various ways to gain a near fall of his own to a thunderous ovation. The fans didn't know who had this one in the bag as both men had gone for broke. Placing Steen on the top rope, Elgin called for something huge. Sadly for the challenger, that huge attack backfired as Steen bit Elgin before hitting a super Package Piledriver middle to retain his ROH World title.
Following the match, Roderick Strong hit the ring to Sick Kick Elgin to stop the adulation the would-be champion was gaining from the fans. As Elgin was being helped to the back, and Steen demanded his music to be played, Nigel McGuinness entered the ring to deliver a box to Kevin Steen a referee handed him. Steen stood dumbfounded over this turn of events until he opened the box to see its contents. Removing his right hand from the box, Steen revealed an El Generico mask to a thunderous ovation of, "Ole, ole, ole!" until the show came to a close.
This was an absolutely phenomenal way to cap off what was one of the best ROH shows in 2012. Not only did Michael Elgin have another Match of the Year candidate, but also Kevin Steen proved a lot of doubters wrong by delivering the best match in his title reign thus far. To top that off, ROH ended the show with a great twist that gave us a glimpse of what could be in Kevin Steen's future once again. Just an exceptional match that deserves all the praise it gets with an excellent aura and a big finish.
Wrong:
Truth Can't Handle His Men: Tadarius Thomas entered the building planning to face Roderick Strong. Instead, Strong came to the ring with his street clothes on. Strong – who looked like he stole his shirt from the back of Freddy Krueger's closet – explained to us that he was done with The House of Truth and planned to watch from the front row "Martini's boy" Michael Elgin lose tonight. Martini had a backup plan. Grabbing Rhino – who wasn't fully dressed to wrestle – was forced to take on Thomas. Shockingly, Thomas did a great job kicking and rocking Rhino until Rhino could fully tape up. To the shock of everyone, Thomas avoided the Gore, kicking Rhino into a roll up for the victory.
After the match, Rhino opted out of the House of Truth, press slamming Martini hip first into the barricades from inside of the ring. The impact ripped Martini's pants and left a deep welt running down his right hip. It was a sick bump. While Roderick's announcement would play in the show later, it really wasn't necessary for this show. It just felt like a TV storyline that should've happened on TV instead of wasting iPPV time. Really, this was the only bad part about this entire show and it lasted about eight minutes.
Results:
1. Caprice Coleman & Cedric Alexander defeated The Bravados
2. Mike Bennett defeated Mike Mondo
3. Wrestling's Greatest Tag Team defeated Rhett Titus & BJ Whitmer
4. Jay Lethal defeated Davey Richards
5. Tadarius Thomas defeated Rhino
6. Adam Cole defeated Eddie Edwards to successfully defend the ROH TV title
7. S.C.U.M. defeated The Briscoes to successfully defend the ROH World Tag Team title
8. Kevin Steen defeated Michael Elgin to successfully defend the ROH World title
Is it a Classic:
This was easily one of the best shows of 2012 for Ring of Honor, and one of the best "Glory By Honor" events in ROH's history. With that being stated, that's not to say this is a bona fide classic compared to the greatest events in ROH history. But that doesn't take away from the event being worth your time.