Under the shadow of a looming and "electrifying" "Wrestlemania 27", the men and women of Ring of Honor entered the legendary Center Stage (home of the World Championship Wrestling's classic "Saturday Night" program many years ago) in hopes of not only continuing the tradition of delivering some of the greatest action known to man during the biggest pro wrestling weekend of the year, but also produce a once-in-a-lifetime event that is meant to be seen. Were they successful in creating a classic? Lets find out.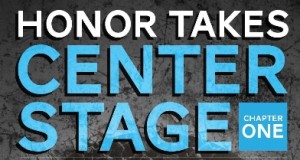 Honor Takes Center Stage Chapter 1
Atlanta, GA
April 1, 2011
Right:
Curse You, Black Scorpion: Crowd-deflating finish aside, the "9th Anniversary Show" rematch between El Generico and Michael Elgin (or "El Generico" according to the name graphic that popped up during Elgin's entrance) was the perfect opener to get the red-hot ATL crowd on their feet. The two didn't deviate much from what made their last match an entertaining one: David vs. Goliath, agility vs. strength. But unlike in Chicago, Generico was ready for several of Elgin's power-based counters used to stop the mask man's high flying. One of the most impressive sights from their first match was "Unbreakable" stopping the tornado DDT through the turnbuckles to the floor by Oklahoma stampeding Generico against the barricades.
This time, Generico stopped the stampede before hitting his always-impressive DDT to the floor. Then came the ending. Generico wanted to capitalize off his big DDT with a yakuza/Helluva kick. Before Generico could explode out of the corner, a man in black resembling the body of one of those Putties from the old "Power Ranger" episodes grabbed Generico's leg. This mystery man's distraction left Generico wide open for the Spiral Power Bomb that allowed Elgin to pick up his first ROH iPPV victory.Once again, crowd-angering ending aside, this match did nothing but help Elgin prove that his unique look and style (for ROH) would make him a big time player in the near future while setting up Generico for something potentially meaningful during this post-Steenerico era.
Beanie Siegel Would Be Proud: Four Corner Survival was back on ROH iPPV and this time one man had everything riding on it. That man was Caleb Konley – who confronted Truth Martini about joining The House of Truth. The Spanky look-alike (according to the fans) wanted to do everything in power to make sure Martini recognized his potential. Unfortunately for Konley, he was stuck in the ring with former ROH World champion Homicide and everyone's favorite funny man Colt Cabana as they worked together to not only down him, but also The Embassy's new "crown jewel", Tommaso Ciampa. One of those downing moments saw Homicide executing three tope con hilos on each opponent when he got them in position. Topping off his amazing display, Homicide finished off the House of Truth hopeful by dropping him on the head with the Cop Killa to win nothing short of a high octane FCS that earned its spot as the best in ROH iPPV history up to this point (which doesn't have a ton of a competition to go against).
Give Women a Chance: And guess what – the match went longer than four minutes! The always explosive, yet technical attacks of Ayumi Kurihara and Hiroyo Matsumoto were in full display, but Sara Del Rey was ready for everything the women threw before giving it right back. Serena Deeb added a unique perspective to the match by Americanizing it with her more Western style and incredible selling.The end came when all four women started throwing the big guns. Deeb got the worst of it when her spear turned into a clothesline from Matsumoto that left her wide open for Kurihara's Spinning Uranage. Oh no, they weren't done yet. Hoisting Deeb's limp body off the mat, Matsumoto dumped Deeb on her head via the Backdrop Driver before pinning Deeb to pick up the win before their date with SHIMMER Tag Team destiny in twenty-four hours.Under the watchful eyes of SHIMMER Tag champions Daizee Haze and Tomoko Nakagawa, the four women put on a tag team display nothing short of wonderful. The Women of SHIMMER Honor had a lot to live up to thanks to the growing popularity of SHIMMER, and with the action included in those ten amazing minutes, they did just that.
Puttin' the Boys in their Places: The Briscoes – who garnered a mixed reaction upon entering the building – had something to prove in Atlanta against another team that many were calling the future of ROH while disregarding the past accolades and future accomplishments of, arguably, the greatest tag team in ROH history. That doesn't mean The Briscoes ran through Adam Cole and Kyle O'Reilly. Cole and O'Reilly gave the former then-six time ROH Tag Team champions a fight worthy of an iPPV match. Even though The Briscoes were pulling out a few tricks from their "dirty bag" and Adam Cole couldn't stand the poor refereeing that allowed O'Reilly to get double teamed, Kyle hung in there long enough to find the opportunity to tag out so Cole could unleash on the brothers Briscoe.
The young fire that sat in Cole's belly during while waiting on the apron exploded all over The Briscoes when he tagged in. Like his partner, Cole's momentum ended at the hands of Jay Briscoe, and he had to make his way to his partner. Kyle tagged in, and the four men turned it up another notch.Kicks, chops, dropkicks, double dragon screw leg whips, rightly declared, "This is awesome!" chants, and pure, unadulterated hatred spewed from the crowd every time Jay Briscoe took it upon himself to stop something either opponent had in mind by breaking up pins and yanking either man off the apron. When Cole found himself alone, he fell (more like flipped) to the Doomsday Device, and The Briscoes had some retribution over this rising generation of ROH tag teams.But one of those teams weren't going away that easily.
That team was The All Night Express. With tapped fists, Kenny King and Rhett Titus came out of the crowd, giving the fans a preview of what could happen at the next event by brawling in and around the ring with The Briscoes. In the end, The ANX stood tall, showing all of Atlanta that King & Titus weren't the future; they were ROH's present. Incredible stuff all around from the match and the post-match activities.
Redemption:That's what the next match was about – the rematch from their "Final Battle 2010" classic where Roderick Strong beat Davey Richards into unconsciousness. Early in the contest, during one of their patented strike exchanges, Richards took a good shot that bloodied his mouth, adding a great sense of brutally and realism to the match that no other matched on the card. That doesn't mean the entire match was about who could knockout whom. Actually, the first fifteen minutes or so was a classic mat battle showcasing some of the best technical wrestling I've seen all year anywhere. But when the action shifted from wrestling to striking, so did the heat of the contest. Knife-edge chops saw sweat fly into the crowd. Big boots brought spit and blood that touched the sky. The pain etched on each man's face as the other unleashed combination after combination – like Strong's elbow-clothesline-sidewalk slam sequence.
As the match neared its conclusion, Strong had a lot of momentum going that put Davey in position for the Gibson Driver. Somehow, Richards kicked out before the three count. The Sick Kick from Roderick earned him another near fall. No matter what Strong did, Davey refused to stay down. When the pins didn't work, Strong tried to make "The American Wolf" tap in the Stronghold.Ultimately, this proved to be Strong's demise as Richards countered Roderick's submission with one of his own, the Ankle Lock. After a superplex was converted into the falcon arrow, Richards grapevined the left leg of Strong, forcing him to tap out to a huge ovation.
Both men came in looking for redemption while looking to outdo their previous effort. While the match lacked that "big match" feel of their title bout months ago, they still delivered a phenomenal encounter that might be one of their best matches together ever. This is truly a forgotten gem in ROH history.
Retribution: While the previous match was about two men trying to redeem themselves from their previous failures, the first of two ROH World title matches of the evening was about Wrestling's Greatest Tag Team getting that sweet retribution for what happened at "Glory By Honor IX" when The Kings of Wrestling cheated Charlie Haas and Shelton Benjamin from winning in their first ROH match with the help of Chris Hero's "loaded" elbow pad. The challengers quickly proved they were here not only to win, but also to make sure no one questioned their tag team superiority. That might sound redundant because winning a championship would prove your superiority over someone, but there's a huge difference between winning and absolutely beating/smoking your opponents.
That would work against some okay team, but not against the team that were only a couple of days away from their one-year anniversary as ROH World Tag Team champions. The Kings used every advantage they had (including seconds Shane Hagadorn and Sara Del Rey) to keep Benjamin grounded after Castagnoli spent the early portion of their rematch getting his left leg worked over. Benjamin held on long enough for Hero to make a mistake and get hit with the dragon whip kick, allowing Shelton to tag out to "Mr. TNT" himself, Charlie Haas. With the help of his weakened partner, Haas hoisted both Kings across the top rope, allowing Benjamin to drop all of his weight across The Kings. The champions made a roaring comeback after unleashing a huge double team big boot on Charlie, but the athleticism of Benjamin saved Haas while helping him put Claudio in position for the Haas of Pain.
Déjà vu ran through Atlanta when Del Rey distracted the ref so Hagadorn could hand Hero the infamous elbow pad. Hero scaled the ropes, preparing to drop an elbow on the unsuspecting Haas just like he did at "Glory By Honor IX". Thankfully for Charlie, Benjamin ran across the ring, leaping to the top rope before belly-to-belly superplexing Hero across the ring. Barely three seconds later, Claudio tapped out, making WGTT the new ROH World Tag Team champions.
While arguably not as emotional as their first two encounters (mostly thanks to the fans being tired after Richards vs. Strong), it still was a very exciting piece of work that capped off a long running rivalry that proved Haas and Benjamin were made for ROH competition.
Champion Versus Champion: Over two hours had passed since the first bell rang to start the show and it was main event time with the ROH World title on the line. Ever since the ROH TV title was created, Ring of Honor waited for a champion vs. champion match on iPPV. Thirteen months after Eddie Edwards became the first TV champion, and four months after Christopher Daniels defeated "Die Hard" for the title, and less than two weeks after Eddie Edwards did the unthinkable and became the ROH World champion, the fans were finally getting another champion vs. champion match in ROH.
Like their previous contests, both men tried to outwrestle and catch the other in several pinning combinations for a quick victory. Barely two minutes into the match, Daniels disrespectfully slapped Eddie after being knocked to the mat by a shoulder block. Throughout the match, more and more mannerisms from the Television champion showed a man growing frustrated with his inability to defeat an individual who couldn't beat "The Fallen Angel" during their previous battles.Just as everything seemed to be going well for the challenger, Daniels got caught on the top rope in position for that backpack chin breaker that would've ended with both men on the floor. Daniels desperately fought out of the dangerous predicament, tossing Eddie with an uranage that sent Eddie through the timekeeper's table!
With "Die Hard" favoring his back after two huge blows directed at that region (the second was a slam across two opened chairs), Daniels went after the torso like Jaws to a woman in a bikini (wow, real outdated pop culture reference). Like fellow his "American Wolf", the ROH World champion refused to stay down no matter what Daniels threw or hit. Koji Clutch? Eddie clawed and scooted to the ropes. A series of palm strikes? "Die Hard" took them before throwing some right back. In a crazed rage, Daniels just started throwing right hands until he thought Edwards was out cold. But Eddie Edwards wasn't unconscious and fought Daniels from his perched position on the top rope to hit a super 2K1 Bomb topped by another before ending his losing streak against Daniels with a pin fall victory. When both men staggered to their feet, Eddie confronted his fellow champion with his hand extended. After much contemplation, Daniels left instead of following the Code of Honor.
Even though Daniels tried to sour Edwards' moment, nothing "The Fallen Angel" did could take away from the fact he and Eddie Edwards tore the house down and delivered a match worthy to headline any show in any venue. Not only was the match great, but the enthusiasm from the crowd, and their support of "Die Hard" showed that ROH World champion Eddie Edwards was one of the best things to happen for Ring of Honor during that time. An absolute ROH classic between two of the best ROH has ever seen.
Wrong:
None
Results:
1. Michael Elgin defeated El Generico
2. Homicide a won Four Corner Survival match against Colt Cabana, Tommaso Ciampa, and Caleb Konley by pinning Konley
3. Hiroyo Matsumoto & Ayumi Kurihara defeated Sara Del Rey & Serena Deeb
4. The Briscoes defeated Kyle O'Reilly & Adam Cole
5. Davey Richards defeated Roderick Strong
6. Wrestling's Greatest Tag Team defeated The Kings of Wrestling to win the ROH Tag Team title
7. Eddie Edwards successfully defended the ROH World title against ROH TV champion Christopher Daniels
Is It A Classic? 
Ring of Honor came to Wrestlemania weekend with a show that trumped everything any company could deliver. Three very good matches set the course for four incredible battles that had me – and probably everyone else watching – on the edge of my seat. Buy the DVD at ROH's website. And even buy one for a friend. This show was and still is the definition of Ring of Honor and what a pro wrestling mega event should be.