It Takes More Than Luck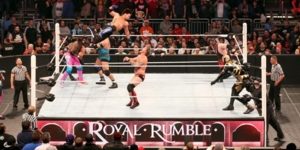 January is one of the best months for any wrestling fan as WWE holds its annual "Royal Rumble" pay-per-view event featuring a gigantic battle royal style match of the same name. The thing that makes the Rumble match special isn't just the rules, potential first-time interactions, or even the shocking entries, but the fact the winner gets a World title shot usually in the main event of WWE's biggest show of the year, "Wrestlemania". And throughout the match's existence the belief that almost anyone can win it usually proves to be based not only on talent, status or size & strength, but also the sheer luck of the draw. While there have those who have started at the very beginning of the usually hour-long match by picking the number one or two entry spot out of thirty (or at times forty) wrestlers, the majority of the time it's the person who gets a number in the latter half that pulls out the big win. Men like Hulk Hogan, Bret Hart, Steve Austin, Triple H, The Rock, John Cena, and The Undertaker all have Rumble wins on their resumes – wins that came from entering the battle latter than half of their competition.
Ironically enough, life is very similar to the over-the-top nature of WWE's marquee match, as one never knows the type of lot he/she will draw, but must make do. Like those Rumble winners, the luck of the draw is only a small reason for the success they attain. It doesn't matter how lucky you are – if you don't have the will to fight you'll never succeed. Even if you're stuck with the figurative number one entry and have a foot swinging dangerously close to the edge, don't give up. Remember both feet have to touch the floor before it's all said & done – and you have it in you not to let that happen because you are a showstopper!