Background: In an effort to add some international flair to the first ever "Bound For Glory" pay-per-view, Total Nonstop Action officials signed a dream match for the event featuring legendary junior heavyweight grappler Jushin "Thunder" Liger taking on one of wrestling's hottest stars in Samoa Joe.
Bound For Glory
10/23/2005
Orlando, FL
Samoa Joe vs. Jushin "Thunder" Liger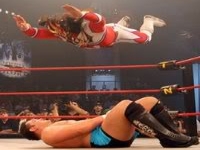 For the first time in his career, Joe showed his dancing skills with his fire dancing family.
Liger gets an even bigger pop, with the crowd giving him streamers galore. Definitely a big match feel as Simon Inoki, son of Antonio Inoki, was shown and the crowd went absolutely wild during and after Liger's entrance. The fans were split down the middle during the initial collar & elbow tie up where Joe easily shoved the masked man around. "Thunder" shocked Joe with a drop toe hold-dropkick combo after being shoulder blocked off of his feet. The junior heavyweight legend sent his opposition to the floor for a huge dive off the top rope!
The high flyer's tactics didn't pay off a second time when Liger went for a cross body off the top rope, only to get Samoan dropped. Samoa Joe was taking his time, relishing the fact that he could hit Liger from any position and put him on the mat. Big knee drop from Joe earned him the first near fall of this match. When Liger tried to fight back, "The Samoan Submission Machine" was ready; catching him with maneuvers like that snap power slam. But Joe's attacks started getting predictable, giving Liger the chance to avoid a running knee strike in the corner to capo kick the Samoan into his brain buster … to gain a near fall!
Joe had to power out of "Thunder's" lateral presses, ducking a palm strike seconds later before almost clotheslining his head off. It seemed Joe was on the verge of winning when Liger slipped away from his Muscle Buster-perch to power bomb and palm strike Joe … for another two count!
Scaling the ropes, Liger was possibly looking for the frog splash. Before Liger could dive, Samoa Joe spring off the mat to catch him with an enzuguri kick. Stunned, Jushin Liger was prone to the Muscle Buster! Joe opted not to go for the pin, but lock in the Coquina Clutch.
Winner: Samoa Joe (7:27)
Is It A Classic: Actually, it's a disappointment. Not because of the talent, but due to the fact Liger vs. Joe was one of the most highly anticipated matches on the show, yet barely got seven minutes. These two men could've had a near classic, if not one of the greatest matches in the company's history. It was a great opener and the men did an incredible job with the time allotted, but the thought of what could've happen if given more time is still an intriguing dream rather than a piece of historical reality.