Background: Former ROH World champion Samoa Joe made a return to the company that made him a household name during his twenty-one months as World champion to take on a potential (and eventual) ROH World champion Kyle O'Reilly on ROH TV.
ROH TV Episode 184
Baltimore, MD
March 7, 2015
Kyle O'Reilly vs. Samoa Joe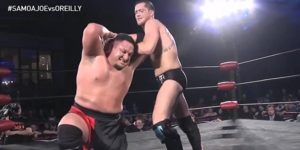 What an ovation for "The Samoan Submission Machine"! Streamers galore for the former ROH World champion before the bell and a following of the Code of Honor. Rather than lock up immediately, the two grapplers had a quickly feeling out process featuring some clinch action and a judo style hip toss from Joe that had the current ROH champ rolling to the floor to get some advice from tag team partner Bobby Fish. Fish wanted O'Reilly to stick and move, but Kyle seemingly needed to test himself as a striker by going toe to toe with his larger adversary. When Joe felt confident enough to grab a limb he did so by going after O'Reilly's arm. Working his way to freedom was the ROH World Tag Team champ, but the end result was Kyle almost getting his head kicked off as the fans chanted, "This is wrestling!"
Joe had O'Reilly pinned against the turnbuckles, landing a barrage of punches to set up that back elbow-enzuguri combo that put many a wrestler in position for some face washing with Joe's boot as a washcloth. The show headed to a commercial break after Joe gave the fans what they wanted: another face wash for O'Reilly.
The tide had turned into O'Reilly's favor when the show returned as the action spilled to the floor. O'Reilly wanted to give Joe a little taste of his boots when he was punched in mid-run. "Ole!" chants started ringing out, giving Joe motivation to hit his infamous Ole Kick that bounced O'Reilly's head off the barricades. Bobby Fish smartly got in Joe's face to distract "The Samoan Submission Machine" so Kyle could not only recover, but also send Joe's left shoulder first against the floor. Rolling Joe into the ring, O'Reilly unwisely tried to suplex his opponent. Samoa Joe blocked the attack, only to be kneed in the face and driven into the math by his arm again. Mixing kicks and holds was O'Reilly into Joe turned an arm whip into a leg sweep that put O'Reilly in position for a slew of offense topped by his senton splash. Power slam landed for Joe … to give him a two count!
Joe's arm wasn't allowing him to power bomb O'Reilly from a grounded position. O'Reilly thought he found a way out, but ran into the power bomb instead. The Tag champion was stuck on the mat in Joe's STF. Thankfully for O'Reilly, he was close enough to the ropes to save himself. Joe signaled for the end, looking for his Muscle Buster. The weakness in Joe's arm allowed O'Reilly to slip free and turn a guillotine choke into a Fujiwara arm bar. Like Kyle O'Reilly, Joe's closeness to the ropes saved him. Samoa Joe smartly left the ring, but the ROH World Tag Team champion was right on top of him following that flying dropkick off the apron that targeted Joe's left shoulder! Joe could barely push off the mat when he was tossed into the ring, giving O'Reilly the chance to not only kick his opponent's prone arm, but also lock in his Armageddon Arm Bar. "The Samoan Submission Machine" positioned himself near the ropes during his struggle to block the submission, eventually forcing the referee to break the hold.
Joe was ready for the Killer Kick Combo, countering with a knee strike. O'Reilly staggered into the ropes, looking for a Jawbreaker Lariat. Joe took the weak blow, responding with an enzuguri that put both men on their backs. Samoa Joe got up throwing bombing knees until Kyle was wobbly on his feet. Hoisting O'Reilly onto the top rope, Samoa Joe executed his Muscle Buster to a huge ovation and a three count seconds later.
Winner: Samoa Joe (15:15)
Is It A Classic: The match was everything you'd want it to be with the names featured as they mixed blistering striking with high-end grappling in front of a red-hot crowd that couldn't get enough of what they were seeing. Joe & O'Reilly had a must-see match to state the least.