Background: By defeating Scott Steiner's brother Rick to become the United States champion, Booker T. challenged the WCW World Heavyweight champion in what would become the first and final WCW "Monday Nitro: Night of Champions".
Monday Nitro
Panama City, FL
March 26, 2001
Scott Steiner vs. Booker T.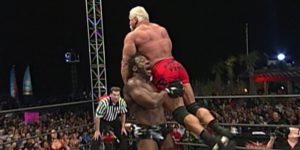 The fans were fired up as the two competitors locked up for the first time. Steiner wanted no parts of wrestling and Booker T. had no problems bringing the fight to the World champ as he ducked a clothesline to land the spin kick. Steiner muscled his way off the canvas, rocking the challenger until Booker caught him with not one, but two clotheslines. Mounting Steiner in the corner, Booker rained down punches until "The Big Bad Booty Daddy" pushed him out of the corner for the power bomb. Grabbing his infamous lead pipe when Booker fell to the floor, "Big Poppa Pump" missed a homerun swing that would have crushed his opponent's skull. When the action returned inside, Steiner not only landed the big elbow, but also a belly-to-belly suplex that allowed the champion to cinch in a submission while he insulted the fans. Steiner found himself having to stop Booker from fighting back, but ended up taking a dropkick and the Scissor Kick for his trouble. Utilizing the spinaroonie to get back up, Booker waited for Steiner to rise in preparation for the Bookend. Countering, the World champion executed a northern lights suplex to gain a two count. Steiner was looking for another power bomb when Booker countered with the Bookend to put Scott Steiner's shoulders down for the three count to become the new WCW World Heavyweight champion!
Winner: Booker T. (5:09)
Is It A Classic: This match means more for its historical significance than the action itself. That doesn't mean it was a bad or disappointing match – it was a fun sprint that happened in front of a very hot crowd who were fired up for everything. A great way to end an era.