SHIMMER's twelfth event/Volume saw the crowning of the company's first champion. During the course of the evening, eventual tournament winner and champion Sara Del Rey clashed with one-half of the Minnesota Home Wrecking Crew's Lacey in the finale. In an effort to secure another shot at the championship, Lacey challenged the new champ to a tag team match. Can Sara Del Rey assert her dominance over Lacey once again, or will the new champion's first show with gold around her waist end in heartbreak? Lets find out if the main event and the bouts beforehand make SHIMMER Volume 13 a classic.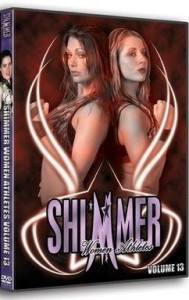 SHIMMER Volume 13
June 2, 2007
Berwyn, IL
Right:
Breaking the Streak: Serena Deeb was unable to make it to Berwyn for the SHIMMER Title Tournament, being replaced by Alicia on short notice. Both women suffered losses at "Volume 12" and needed a big win during this volume. The women started off slow and steady, looking to gain an advantage via the collar & elbow. Alicia, who was a little too apprehensive for her own good, almost succumbed to defeat early until she used Deeb's attempt to moonsault against her by shoving her into the tree of woe. Alicia took control of the bout, methodically mixing illegal chokes with rear chin locks. The fans rallied behind Serena and gave her the energy to fight back with Virginia jabs prior to unleashing a breath-taking Spear for the three count. While nothing spectacular or amazing, it was a very solid opener that set the tone perfectly for the rest of the night while starting to build some momentum behind the hot prospect in Serena Deeb.
Struggling with Experience: During a Fatal Four Way bout at "SHIMMER Volume 10", tempers flared between Josie and Malia Hosaka; resulting in the two fighting to the backstage area after the match. The two picked up where they left off three shows ago, brawling around ringside until Hosaka tried to find haven on the floor. Josie started going submission crazy when she got her hands on the legendary grappler, going from arm bars to bear hugs until Hosaka simply boxed her ears. Malia's momentum didn't last long, giving Josie the belief she could whip Hosaka around the ring without a care in the world. Malia proved her opponent wrong, catching her with a frankensteiner after rebounding off the ropes for a surprise three count.
Another solid match that the fans really enjoyed even though things got a little sloppy in the end. The ladies definitely could've used more time so the match didn't feel so rushed, but it worked for the type of match they delivered.
Paint it Black: "The Jezebel/Indy-riffic" Eden Black had the chance to follow Josie in taking on a wrestling veteran, Lexie Fyfe. Unlike Josie, Black bided her time and refused to take the fight to her opponent until Lexie insultingly slapped her. Black, known for her "indy-riffic" offense, displayed crisp, British style grappling and defensive measures to catch the stunned Fyfe off guard. It seemed Eden was going to make short work of Lexie when Fyfe simply clotheslined her in position for several back-based submissions like the seated Japanese stranglehold following some sidewalk slams and a power bomb. Black, paying close attention to her ring positioning, was able to turn Fyfe's attacks against her; resulting in "The Jezebel" executing her Garden of Eden submission to force Lexie to tap out.
Like the match beforehand, the women packed a lot in a little bit of time (around seven minutes). It's sad Eden's career came to an end so quickly due to injuries as it was obvious she was the prototype of women wrestlers coming down the pike – having the ability to mix it up with rookies and veterans alike to produce very good matches.
Screaming for Laughs: Little Portia Perez didn't know what she got herself into as the bell sounded and the Scream Team of her opponent MsChif and MsChif's manager Daffney screamed the ever-loving bejebus out of her before playing mind games via the test of strength. After several moments of comedic interaction, MsChif got serious and started picking Perez apart with holds and her patented maneuvers. All Portia could do was cheat by thumbing MsChif in the eyes whenever she needed a way to throw some kicks and her "School's Out" STO. But the painful end was inevitable for Perez when she was driven into the mat face first with Obliteration for a relatively quick victory in MsChif's favor.
A match unlike any other on the card thus far; heavily rooted in comedy before the action picked up and MsChif picked up a relatively easy win. Nothing bad about mixing things up, that's for sure.
Cheerleader Beats Princess Every Time: Following an in-ring promo featuring Alexa Thatcher promising to return from a foot injury and Alicia attacking her, Cheerleader Melissa made her way to the ring for a match with "Portuguese Princess" Ariel – leading to a pained response from the fans where they heard her music because of the inevitable demise it seemed Ariel was about to suffer. Shockingly enough, Ariel proved to be no pushover; going toe to toe with one of wrestling's hardest hitters. For every strike Melissa threw, Ariel responded in kind. The rattling offense by "The Future Legend" did take its toil on Ariel and left her struggling to complete bigger and bigger comebacks. Ariel's waning fortitude allowed Cheerleader Melissa to execute some of her most devastating maneuvers such as the Curb Stomp.
Believing the end was near, Melissa opted to go for her Air Raid Crash. Ariel was still aware enough to not only block the maneuver, but also counter what Melissa had in mind to set up flash pinning combinations and face-based attacks that actually resulted in some near falls. Ariel's momentum would get the better of her as she scaled the ropes for something big. Rather than fly, Ariel was caught on her perch and slammed to the mat with Melissa's Air Raid Crash for the three count.
The best match of the event thus far as Melissa looked like an absolute killer. Ariel, who was incredibly underrated, held her own, fired back when others would've struggled and eventually succumbed to the inevitable.
Lucha Not So Underground: In another battle of the SHIMMER Title Tournament non-finalists, "Dark Angel" and future "Sarita" Sarah Stock took on Hornswoggle's favorite women's wrestler, Daizee Haze (the leprechaun could be seen dancing in the front row during Haze's entrance). Following an early exchange of lucha libre inspired maneuvers, the ladies started getting a little heavy in their submission and striking offense. Slipping around Haze, Stock moved from Daizee's legs to her torso as points of attack. The fans were mixed in response to Sarah's back-based attacks, slowly rallying behind Haze as she struggled to get her feet moving underneath her.
For several minutes, Stock did everything in her power to stop Haze from completing her goal of getting up and turning the match in her favor. It seemed the end was coming for "The Haze" when Stock got a little predictable. Being able to counter what Stock had in mind (a superplex), Haze finally accomplished her intent by blocking the superplex and missile dropkicking the stunned Stock to set up a flurry of offense that left Stock in prime position for Daizee's debilitating Yakuza Kick. Ducking at the last second, Sarah executed a nasty tiger driver to put Haze's lights out for a pin fall victory.
And the show just keeps getting better and better. Not surprisingly, the two women of similar stature and styles worked incredibly well together and produced a highly entertaining affair that set the stage for a rematch between SHIMMER champion Sara Del Rey and the woman she beat to win the title in this match's victor.
Dog Gone Dirty: At "SHIMMER Volume 12", the war between Allison Danger and Cindy Rogers reached new heights when a Street Fight turned into a post-match lashing thanks to Rogers and a steel chain. Danger had no choice but to challenge Rogers to a rematch where both women could use the chain because the opponent would attach it to their respective necks in a "Dog Collar" match where the winner would have to touch all four top turnbuckles without interruption.
It didn't take long before the chain became hindrance to both women's plan to end this one relatively quickly; resulting in a full-blown brawl featuring Roger's attempting to choke the life out of her enemy before showing her technical prowess could be implemented while chained. Allison survived the onslaught, looking for every opportunity to pay Rogers back for the choking while positioning herself near the corners. The fans rallied behind Danger as every movement seemed to be more painful than the last. Rogers, realizing how close her opponent was to winning, eventually took the fight to the floor and set off a series of events that would play into the match's conclusion.
By slamming Danger's face into the steel ring steps and bashing her with the chain, "The Definition of Technician" lacerated Allison's forehead and left her woozy enough to carry Danger around the ring to easily walk her way to victory. But Roger's plan was almost for naught when Allison utilized the piggyback ride as a way to tap the turnbuckles right after Rogers. It came down to the final turnbuckle when Danger freed herself of Roger's grip and slammed her head first into the middle turnbuckle with her STO prior to slapping the turnbuckle. The referee signaled for the bell, only to inform Danger that Roger's tapped the turnbuckle before Allison during her fall, making Cindy Rogers the winner.
While not the classic Dog Collar in the same vein as Roddy Piper vs. Greg Valentine, the two women battled unlike anything seen before in SHIMMER. The conclusion really capped the match off in a big way. Danger looked to be coy and rather sneaky, only to cost herself the win with her actions. Rogers picked up a fluke victory, but that was only after dominating and bludgeoning Danger for several minutes.
Wrecking Angels: At "SHIMMER Volume 12", "American Angel" Sara Del Rey defeated Lacey the to become the first SHIMMER champion. But before Del Rey's victory, Lacey's tag team partner Rain was forced from the ringside area by Nikki Roxx to prevent further interference – giving the fans a battle featuring for time team of Del Rey & Roxx taking on The Minnesota Home Wrecking Crew, Lacey & Rain. The size and strength advantage of the champion-led team allowed Roxx & Del Rey to get the early advantage and even stop some patented double team maneuvers. Just when it seemed the inexperience duo would best the undefeated SHIMMER tag team, Nikki took her eyes off the prize by going after Rain on the floor. Lacey distracted the referee as Rain tossed Nikki into the guardrails; turning the tides in The MHWC's favor.
Roxx found herself on the wrong part of town, being twisted and tied by two women whose voices rang out frustration every time they could gain a submission or pin fall victory. Sara realized she had to take matters into her own hands, creating some space so Roxx could recover and finally tag out. "Death Rey" came in like a house of fire, actually beating up both opponents until Roxx could help muster some offense. The end result was a quick succession of attacks by Sara and Nikki that allowed both women to hit their respective finishers for a double pin in their favor.
While rather formulaic, the match worked incredibly well to provide a strong main event. One big note is that Lacey wasn't pinned by Sara Del Rey, giving room for a title rematch in the near future.
Wrong:
 Nothing
Results: 
1. Serena Deeb defeated Alicia
2. Malia Hosaka defeated Josie
3. MsChif defeated Portia Perez
4. Eden Black defeated Lexie Fyfe
5. Cheerleader Melissa defeated Ariel
6. Sarah Stock defeated Daizee Haze
7. Cindy Rogers defeated Allison Danger in a Dog Collar Chain match
8. Sara Del Rey & Nikki Roxx defeated The Minnesota Home Wrecking Crew
Is It A Classic: The original SHIMMER formula came out to play for this event. The first half or so of the card showcased some solid, yet forgettable action. Then the second half kicked in and you had not one, but four very diverse and enjoyable matches. It's hard not to recommend a SHIMMER show, and Volume 13 definitely lived up to that legacy.