SHIMMER's twelfth event/Volume saw the crowning of the company's first champion. During the course of the evening, eventual tournament winner and champion Sara Del Rey battled TNA's future "Sarita", Sarah Stock. The dream match resulted in a pleading from many to see a rematch. Stock worked her way back into title contention, gaining her much-wanted clash. But rather than having a simple singles battle, a stipulation was added where the winner would have to defeat their talented opposition two times. Can Sara Del Rey assert her dominance over Sarah Stock once again, or will a new champion be crowned in a Two Out of Three Falls match? Lets find out if the main event and the bouts beforehand make SHIMMER Volume 16 a classic.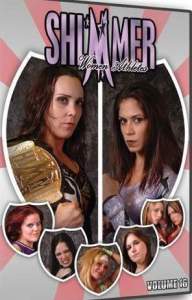 SHIMMER Volume 16
October 13, 2007
Berwyn, IL
1. Lorelei defeated Amber O'Neal
2. Ariel & Josie defeated Nicole Matthews & Portia Perez
3. Alexa Thatcher defeated Ashley Lane
4. The Experience (Lexie Fyfe & Malia Hosaka) defeated Allison Danger & Serena Deeb
5. Cindy Rogers defeated Daffney
6. Daizee Haze, Eden Black & MsChif defeated The International Home Wrecking Crew (Rain, Lacey & Jetta)
7. Amazing Kong defeated Cheerleader Melissa
8. Sara Del Rey defeated Sarah Stock in a Two Out of Three Falls match to suffessfully defend the SHIMMER Championship
Right:
A Materialistic Win: The sixteenth event in SHIMMER history kicked off with two women desperate for a win in Amber "Material Girl" O'Neal and Lorelei Lee. The opening minutes were rudimentary in nature; both women trading holds and trying to get an early advantage. Lee eventually quickened the match's pace, almost pinning Amber following a monkey flip-dropkick combination. Furious over Lee's dominance, Amber O'Neal took the low road and took her opponent down before stomping and choking a stunned Lorelei.
O'Neal tried to keep the action simple, switching between chokes and Irish whips into the corner/attacks. But Lee's surprising speed was what kept her in the match, as she was able to turn potentially dangerous predicaments into favorable maneuvers like an Irish whip reversal becoming fodder for her handspring back elbow. With Lee taking more damage than her opponent, Amber recovered from each attack quickly before executing one of her own. O'Neal's strategy seemed to be working until she was yanked into an Oklahoma roll up for the surprise three count.
A nice opener that the fans truly enjoyed; especially when Lee overcame O'Neal's fury of offense in the match's final minutes.
Blame Canada: After a pre-taped promo at the beginning of the event, the new team of Portia Perez and Nicole Matthews looked add their names to a list of famous Canadian tag teams like The Hart Foundation. So who better to start off their trek toward greatness than by facing another makeshift team of Josie (Sojo Bolt) and the Portuguese Princess Ariel? Not only were Perez and Matthews overwhelmed by the willingness of their opponents to take the fight to them, but also an anti-Canada crowd. Nicole Matthews, stepping up for her team, took the initial brunt of her opponent's offense until she scurried for haven in the form of the utterly jacked Perez. Rather than use technical wrestling or take honorable measures to turn the momentum in her team's favor, the apron-standing Perez waited for Nicole to lunge forward in an attempt to free herself from Ariel's waist lock. Ducking as she neared the ropes, Matthews sent Ariel face first into an illegal Portia knee.
Cocky and brash, the Canadians took their time utilizing suplexes, dropkicks, and even rope-assisted chokes before mocking Josie by waving Ariel's hand at her tag team partner for a "tag". Though this was the first time Perez and Matthews teamed in SHIMMER, it seemed the two had a familiar idea of how to accentuate the other's strengths. Perez would corner Ariel so Matthews could unleash a dropkick. Nicole dropped her opponent across the ropes for Portia's knee choke. The fans eventually rallied behind Ariel, giving her the will to catch a cross body block-attempting Matthews for a body slam before tagging out to the fired up Josie.
Josie entered the ring throwing right hands and delivering suplex variations on the legal Portia Perez. It seemed unwise for Josie to tag in her partner so quickly for a double team as the strategy almost cost herself following a blind tag team Matthews. Things were breaking down and getting confusing until Josie helped Ariel execute a Blockbuster Hart Attack on Nicole for the pin fall victory.
Another solid match that the fans really enjoyed even though things got a little sloppy in the end. A little shocking that the future Canadian Ninjas lost, but they'd turn things around sooner than later.
Spirited Effort: Alexa Thatcher, who almost saw her career end thanks to Cheerleader Melissa's Kudo Driver, entered the ring with the debuting Ashley "Madison Rayne" Lane. The girls were evenly matched in the early going, trading arm drags and arm bars until Lane decided she wanted to jack the somewhat larger Alexa's jaw with dropkicks. Ashley's want to hit & run cost her as she ran into a sidewalk slam. Thatcher's offense continued to bounce Lane's body off the mat until she simply kicked Ashley in her back. Desperate, Lane had to sacrifice her own safety in an attempt to turn the match in her favor. Lane's cross body block from the top rope missed, giving Thatcher a chance to kick the stunned Lane square in the face for a knock out and the subsequent three count.
Though the match was a little rushed, the ladies did a good job with the time given. Thatcher showed a little bit of an edge not seen in her matches, using said-mental change to take advantage of the debuting Lane.
A Dangerous Experience: The veteran duo of Lexie Fyfe & Malia Hosaka entered their latest SHIMMER event to take on the new team featuring fellow mat veteran Allison Danger and potential company main eventer Serena Deeb (to form announcer Dave Prazak-dubbed "Dangerously Deebious"). The match actually had some history as Deeb surprised Hosaka by defeating her in a singles match two events prior. Hosaka seemingly hadn't forgotten that night, willingly entering the ring as the legal women after her partner was somewhat humiliated by the counter wrestling of Allison Danger. Growing frustrated over Serena being her superior again, Malia simply tripped her opposition and started kicking her in the left leg.
The attack, while elementary, worked perfectly as Deeb found herself on the mat, being worked over by both members of The Experience. Danger rallied the fans behind her one-legged partner, giving her the will to not only take a few double teams, but also counter one before tagging out. Danger ran in, being the proverbial house of fire until she was almost caught with the Double Team Gourd Buster. Deeb saved her partner as the referee lost control. Before entered the ring, Serena tagged herself in, leaving a confused Allison unable to stop her partner from feeling the Double Team Gourd Buster before The Experience's three count.
Another good tag team bout that was crisper and better rounded than its predecessor. The concluding story of Deeb being too excited for her own good, leaving her partner in the dark about what just occurred (a tagging of her out of the ring) gave their experienced opponents a chance to attack and finish off the weak link of the team. Formulaic, but it worked.
An International Incident: The Minnesota Home Wrecking Crew (Lacey & Rain) decided to go beyond the SHIMMER locker room when it was announced they'd face the team of MsChif, Daizee Haze (Lacey's longtime rival) and the British standout "Jezebel" Eden Black. After doing some research, Rain and Lacey found a perfect partner in Black's least favorite wrestler in Jetta (thus giving birth to The International Home Wrecking Crew). The anxious crowd were up in arms after the first few minutes when the IHWC was too busy trading a pair of goggles to avoid MsChif's green mist attack, playing rock-paper-scissors and taking water breaks. Even a Benny Hill style chase broke out. When the action finally started (the first collar & elbow tie up caused a huge ovation), all three members of The Crew found themselves scurrying for haven because of MsChif's screams, Haze's grappling and Black's willingness to kick people in the back before setting up her Garden of Eden submission.
Forgetting how close she was to the Home Wrecking corner, Black left herself wide open for a brutal stomp to the head by Lacey when she almost choked Rain out. Black became the fan favorite in peril, stuck on the wrong part of town as her opponents worked her over with a mixture of hard strikes and submissions. Rain even unleashed a super back rake though Black was wearing a basketball jersey. Never one to be less-than-confident, Rain didn't pull Black back to her side of the ring after the "Jezebel" countered her Rain Drop finisher. Rain's inaction allowed Daizee Haze to finally tag in, leading to a cluster of maneuvers that allowed all three members of Team Screaming Black Haze to dive on their opponents. The Benny Hill chase sequence cost Jetta as she ran into the ring and was taken down by Haze's Heart Punch-Yakuza Kick combo for the three count.
Though the shenanigans during the first third of the bout left a little to a lot to be desired (depending on who you are) the follow up action was stellar work from all parties involved. The match neared the half an hour mark, but didn't feel like it went that long at all.
She Ain't Playin' Now: Amazing "Kharma" Kong was coming off her first loss in SHIMMER during a SHIMMER title match against Sara Del Rey; and the lady was definitely in a bad mood. But Kong's opponent wasn't someone not ready for a battle. Cheerleader Melissa took the fight to her much larger opposition even though the crowd believed Kong would decimate her; throwing forearms and dropkicks aplenty. It seemed the aura of invincibility Kong had created with her multiple wins was starting fade with each successful attack. Then Melissa suddenly collided with Kong's stationary body; being slammed to the mat in the process. With Melissa stunned and grounded, Amazing Kong took great pride in choking the cheerleader, gouging her face and actually using some submission maneuvers like the camel clutch.
Growing more confident with each successful attack, Kong let herself be overtaken by rage and a will to hurt. Missing a wild and illegal chair shot gave Melissa the chance to recover and stop the Amazing Splash with a super hurricarana. Melissa was showing a mix of determination and strength unlike anything seen thus far in SHIMMER involving Kong; actually power bombing the woman off the middle rope. Melissa, believing the end was near, actually went for her Kudo Driver finisher. Easily breaking free of Melissa's grip, Kong used a spinning back fist to knock Melissa in position for her Amazing Splash. The pin fall was elementary at that point in favor of Amazing Kong.
A true David vs. Goliath style battle where Melissa took a ton of abuse while fighting through the pain and actually using uncharacteristic maneuvers (like the 'rana) in an effort to slay the beast. The fans, who believed Melissa had no chance in the early minutes, became more enamored with each near fall until Cheerleader Melissa ultimately failed. This was a really good semi-main event.
Send Me An Angel: At "SHIMMER Volume 12", "American Angel" Sara Del Rey defeated the "Dark Angel" Sarah Stock on her way to becoming the first SHIMMER champion. Stock recovered with a pair of wins over perennial main eventer Daizee Haze, earning her right to face "Death Rey" for the gold in a Two Out of Three Falls match. It didn't take long for the challenger to realize she was at a distinct strength disadvantage, giving the champion an innate ability to counter pinning predicaments and holds by simply muscling her way off the mat before putting Stock in whatever she had in mind. The ladies traded holds and pinning combinations for the majority of the first fall, both attempting to work of a single body part before losing their grip. Eventually, Stock saw her only way to beat Del Rey was by upping the match's pace. Though the first fall ended with Sarah's attempt at a wheelbarrow bulldog being countered into a bridging suplex pinning combination that gave the champ one fall to none, the challenger's strategy was starting to work.
Little by little, Sara Del Rey let Stock stay on her feet instead of outwrestling her on the canvas, the challenger a chance to flip, hit and run. Irish whips became a weapon against the champion as Stock would bounce off with a successful attack. Before Del Rey knew it, Sarah had yanked her to the mat with a sunset flip for a shocking pin. The champ couldn't believe she had been beaten by such an elementary maneuver, angering her in the process. The third fall saw a somewhat desperate champion throw herself into the challenger's submission maneuvers, pinning combinations and even a head scissors. But the high flying style eventually came at a price as Sara was able to catch Stock as she had done the champion minutes earlier, pinning her tough challenger to win the third, decisive fall.
A beautiful match featuring such an incredible story. The challenger found herself at a big disadvantage for the majority of the first fall, realizing that what brought her to the dance (her lucha maneuvers) would be the determining factor in how she'd defeat the champ. Stock's game plan would pay off after it seemed her strategy failed in the first fall, stunning everyone watching by being only the second person in the company's history to pin Del Rey. Realizing how close she was to losing it all, Sara turned up the intensity and literally beat Stock down until she became as desperate and predictable as the champion. Just a fantastic match.
Wrong:
Screaming in Defeat: Daffney, who hadn't picked up a win in SHIMMER thus far, entered the ring with a target – her bum left knee. Even though she could've been put in a dangerous position thanks to her knee, Daffney enjoyed screaming at/scaring the referee before posing to the crowd. Cindy Rogers didn't take kindly to Daffney's antics, beating the life out of her until the rising Daffney's leg gave out on her. For the next few minutes, "The Definition of Technician" Rogers worked over the leg of Daffney. But the former WCW competitor had some fire left. And that's where the match went downhill as Daffney started using the Matrix, jumping and throwing kicks like Roger's leg attacks didn't affect her. To top that off, Rogers eventually won the match not with a leg lock, but the neck-focused dragon sleeper. What could've been a solid little match turned into an unfocused disappointment.
Is It A Classic: The original SHIMMER formula came out to play for this event. The first half or so of the card showcased some solid, yet forgettable action. Then the second half kicked in and you had not one, but three very diverse and enjoyable matches. It's hard not to recommend a SHIMMER show, and Volume 16 definitely lived up to that legacy.