In November of 2009, Dave Prazak's all-female wrestling organization, SHIMMER, entered its fourth year of life – something almost unheard of at the time. During those four years, the women and men of SHIMMER in the ring and behind the scenes gave just reason to make wrestling fans understand that no matter the gender, good wrestling is good wrestling. So to celebrate its four years of existence, SHIMMER brought in one of the world's most recognizable female wrestling stars in Ayako Hamada. Not only that, but women like Jessie McKay, Nicole Matthews, and Nikki Roxx gained a chance to prove themselves in a main event level situation. Lets see if the show four years in the making is worthy of such a monumental anniversary.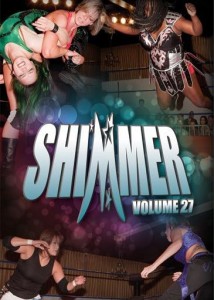 SHIMMER Volume 27
November 8, 2009
Berwyn, IL
1. Malia Hosaka defeated Tenille
2. Allison Danger defeated Kellie Skater
3. The International Home Wrecking Crew defeated Daffney & Rachel Summerlyn
4. Cat Power defeated Ariel
5. Melanie Cruise & Wesna Busic defeated The Ohio Girls
6. Cheerleader Melissa defeated Nicole Matthews
7. Sara Del Rey defeated Jessie McKay
8. Amazing Kong vs. Lufisto ended in a double count-out
9. Ayako Hamada defeated Mercedes Martinez
10. MsChif defeated Nikki Roxx to successfully defend the SHIMMER title
Right:
Experience Wins Out: For the first time in a while, wrestling veteran Malia Hosaka found herself riding alone in SHIMMER. Well, actually Malia wasn't alone as she had a cardboard cutout version of her partner Lexie Fyfe on a stick. Facing the veteran was up and comer Tenille – who was trained by Lance Storm. The opening moments saw Tenille actually dominating Hosaka. Understanding that her technical abilities weren't up to par against Tenille, Hosaka decided to cheat her way to an advantage by yanking the young woman's hair. Tenille had to fight off everything Malia threw, but ended up succumbing to Hosaka's version of Colt Cabana's Colt 45 when Tenille's onslaught of jabs, elbows, and cross body blocks couldn't get the job done.
A solid opener that got the fans into the show while displaying the undeniable ability of Tenille.
Breaking A Rate Tank: Allison Danger entered the building looking for a chance to get even with SHIMMER Tag Team champion Portia Perez after Perez tried to give Danger a forced abortion during Danger's pregnancy a few Volumes ago before beating her down when Danger made her post-pregnancy return. Instead, Danger found herself face to face with "The Rate Tank" Kellie Skater after Perez sent a video stating she couldn't compete thanks to the Swine Flu. Skater immediately went on the rampage, beating Allison Danger down with a series of chops, punches, and forearms. Danger eventually turned the tides and the heat got a little too much for Skater, causing her to slow the match down by taking Danger to the mat with rear chin locks.
Danger eventually worked her way off the mat, starting a chop exchange that thoroughly displayed the toughness/insanity of Skater. Though she was hurt, Skater almost picked up the victory before succumbing to the Old School Expulsion and a three count in this impromptu bout. This match was Skater's early coming out party as Kellie not only hung with a highly respected veteran and the woman many consider the matriarch of SHIMMER, but came very close to beating her.
Friends Don't Tag, Friends Just Leave: Over the past few months, former WCW and TNA wrestler Daffney took Texas-based grappler Rachel Summerlyn under her wing. In a true test of partnership, Daffney and Summerlyn had the opportunity to take on the International Home Wrecking Crew of Rain and Jetta. During the introductions, Daffney's body language emphasized her lack of excitement about tonight's festivities, opting to let Rachel start this match. Little did Summerlyn know that she'd be working the entire match by herself. After an impressive display of striking and quick attacks like avalanche splashes in the corner, Summerlyn got tripped by the third member of the Wrecking Crew, Lacey, from ringside. Daffney spent her time on the apron, rallying the fans behind her partner/student.
Daffney's actions worked well as Summerlyn fought through the IHWC's double teams, crawling her way to Daffney. Right when Summerlyn reached for the tag, Daffney turned her back to Rachel, clapping at the crowd in support of Rachel instead of taking the tag. Summerlyn, not realizing what Daffney just did, went for the tag again after she avoided Rain's moonsault that saw Rain land face first against the canvas. This time, Daffney jumped off the apron, leaving Rachel high and dry. To Rachel's credit, she was doing a great job fighting off both of her opponents until Jetta hit the stranglehold backstabber before making Summerlyn tap in the Japanese stranglehold.
This tag team match deteriorated into a handicap match when the bell sounded without us even knowing it. Yet, it was one of the best handicap/tag team matches you could find featuring a great twist that would eventually lead to a student vs. teacher rivalry.
Take A Cat Nap: At SHIMMER Vol. 18, Ariel defeated the debuting Cat Power (not the singer). Almost ten Volumes later and Power was still stewing over the loss. Power cut a disturbing promo before the match about her love of tasting fear that including her licking interviewer Amber Gertner's face. Also before this match, SHIMMER veteran Daizee Haze announced she'd play special referee for this match because she refused to let an injury force her to miss this show. Haze called it right down the middle as Ariel did her best to make lightning strike twice with a quick assault that ended when Power stopped a big splash by getting her knees up. Though Ariel had a few bright moments and a comeback that almost saw her hit the Dariel Cutter, Power ended up putting Ariel down with the Cat Nap to avenge her loss. This was another solid outing similar to the opening that wasn't spectacular, but kept the consistency of good wrestling the show had displayed thus far.
The International Twin Towers: After failing to gain any momentum or wins in SHIMMER, "The Croatian Panther" Wesna Busic decided to sell her wrestling services to Annie Social. Social – who'd recruited the tallest woman in SHIMMER, Melanie Cruise – immediately put the hard-hitting Busic alongside the large powerhouse to form a team that could be future SHIMMER Tag Team champions. Starting almost at the top, Cruise and Busic found themselves taking on the former SHIMMER Tag Team champions The Ohio Girls of Ashley "Madison Rayne" Lane and Nevaeh following The Girls' title loss to the Canadian Ninjas.
It was obvious early that the former champions had a distinct advantage as a unit, almost ending Cruise's night early by isolating the big woman while beating her down with quick tags. Sadly for Nevaeh, Busic used an illegal kick to turn the tides. Taking a page out of the former champions' playbook, Busic and Cruise isolated Nevaeh to the disappointment of the crowd as they tried their best to get Nevaeh back into this match. Using the crowd as her energy, Nevaeh not only tagged out, but also helped her partner execute their finisher – a yakuza kick-STO double team that actually helped them attain the SHIMMER Tag Team title.  Unfortunately for Lane, Busic was there to save her partner before pitching Nevaeh outside. Lane bounced off the ropes, running into a double team Cruise Control, allowing Cruise to pin the TNA star.
Another very good match that really put over the potential dominance of SHIMMER's version of the Twin Towers in the Tag Team division.
Proving Ground: One half of the SHIMMER Tag Team champions Nicole Matthews found herself in a great position to move up the card by facing a SHIMMER legend in Cheerleader Melissa. The sad part about Nicole's first chance to break through at the main event is it didn't start off too well when she tried to use some dirty tactics like hair pulls; thoroughly angering Melissa. The angry cheerleader rattled Matthews' brain with strikes and her body with slams. Matthews ended up realizing during a failed strike exchange that the best way to stop Melissa is to take her legs out. Melissa missed a running big boot in the corner, getting her legs hung in the ropes long enough for Matthews to kick the life out of the limb.
Matthews continued working over Melissa's left leg and back, bringing forth screams unlike anything we'd heard from Melissa since her SHIMMER debut. The fans rallied behind Cheerleader Melissa, making Matthews actually play to the crowd and mock their hero. During the heat of the moment, Matthews' arrogance got the better of her by allowing Melissa to recover and fire off a slew of forearms to set up the Samoan drop. Though she was on one leg, Cheerleader Melissa was on fire as she unleashed her patented maneuvers like the curb stomp and the Air Raid Crash. Though Matthews was hurt, she refused to say die like a valiant hero even though she was easily one of the most hated women in the building that day. Matthews focus on Melissa's legs is what cost her as Melissa caught the champ's incoming arm to stop a chop block, executing the deadly Kudo Driver to dash Matthews' hopes of breaking through to the main event with one victory.
This is a fantastic, coming-of-age style match that saw Nicole Matthews wrestle a main event level wrestler in a main event level bout. This is definitely one of the best SHIMMER matches featuring both women to this date.
Everyone's Favorite Giant Killer: "Everyone's Favorite Girlfriend" Jessie McKay was in the same position as Nicole Matthews as she hoped to make a case of being a potential main eventer in SHIMMER by taking on someone on SHIMMER's top tier, the first SHIMMER champion Sara Del Rey. It was obvious quickly that McKay had a fire in her that wouldn't be stopped as Del Rey used her size advantage to ground and pound McKay following Jessie's initial flash pinning combination strategy. "Death Rey" became engrossed with McKay's left arm, wrenching it over and over again in horrible angles that no shoulder socket should put in.
Yet, McKay kept fighting every time she got some breathing room even if a series of right-handed strikes or head scissors ended with her taking a boot to the chest. The fans rallied behind their favorite Australian wrestler, giving McKay the encouragement to duck a second big boot, executing the School Girl Crush to gain the closest two count possible. Everything seemed to be going great for McKay when Del Rey stopped the Boyfriend Stealer, locking in a cross arm bar to make Jessie submit.
This is the match that officially put Jessie McKay on the map in America. McKay's David vs. Goliath battle with the first SHIMMER champion not only made her because of how well she wrestled against someone the caliber of Del Rey, but also provided one incredible contest that made her look like a genuine main event talent. It was hard to believe someone could match or even top Melissa-Matthews, but this match made a strong case.
A Battle Between Anime And Amazing: "The Super Hardcore Anime" Lufisto had a chance to attain the SHIMMER title on a previous Volume, but fell short. Still hoping that she could become the next SHIMMER champion, Lufisto tried to make a case for another title shot, only to be confronted by a mute Amazing Kong (WWE's Kharma) and special referee for the evening Daizee Haze. Haze made a match between the two with title ramifications in place. Not surprisingly, Kong's weight and height advantage allowed her to bounce the shorter-than-average Lufisto around the ring like a super ball. Though the sight of Kong tossing, slapping and splashing Lufisto over and over again, only for Lufisto to get up was awe-inspiring. The want for Lufisto to fight back and gain an advantage was necessary. That moment came when Lufisto kicked out of the Implant Buster and avoided the Amazing Splash to German suplex Kong! The action eventually spilled to the floor, leading to a double count out when Kong and Lufisto fought all the way into the kitchen.
While not up to the level of the past two matches from a technical standpoint, it didn't need to be. This was a spectacle featuring Kong's patented destruction and Lufisto's fire. Before the next match started, they fought from the back, to ringside, back to the locker room. Seeing this almost battle of the titans moment is what made the match feel special and different; and there were few who could pull if off better than Kong and Lufisto.
Now That's A Debut: Joshi star Ayako Hamada (TNA's Hamada) made her SHIMMER debut at this show against one of the women who represented SHIMMER better than anyone in Mercedes Martinez. It was obvious immediately that this would be a clash of epic proportions as both women tested each other's strengths. It didn't take long when the grappling exchange turned into a full-blown assault where both women started throwing bombs like Hamada's missile dropkick and Martinez's brain buster.
Back and forth the momentum swayed as Martinez and Hamada did their best to land that finishing blow while the crowd became engrossed with everything they were witnessing. The near falls became numerous after Hamada finally gained a solid advantage thanks to a sickening buzz saw kick to the back of Mercedes head, yet couldn't put her away with moves like the sit-out power bomb. It was Hamada's onslaught that helped chip away the perseverance of Mercedes when the action started winding down. Grabbing Martinez on the top rope, Hamada executed a super ace crusher to pick up her first victory in SHIMMER.
And the show continued to go up as Hamada and Martinez gave one of the best examples of the American Joshi style at that time. It wasn't about just big move-kick out-finisher-kick out. The women told a story where Hamada took as much punishment as she dished out, but Ayako was able to hit her stuff more consecutively, wearing out Martinez's reserves before Hamada could fall herself. What a way to make a debut!
A Challenger's Journey: Nikki Roxx had the privilege of finally getting a SHIMMER title shot after gaining a few wins and being in the company since day one. Another woman who had been in SHIMMER since the start, the SHIMMER champion MsChif had the chance to shatter Roxx's dreams in one match. Not so shockingly was the fact MsChif had a rough time actually stopping Roxx's strength and height advantage. Realizing that she couldn't trade with MsChif in the strength department, MsChif grounded Roxx via a Jack Brisco style roll up after almost being pinned several times.
When Roxx made it to her feet and took a break on the outside by grabbing a fan's refreshment, Roxx turned up the match's pace by luring MsChif into a forearm exchange that set up her Cutie Special exploder suplex. The advantage swayed from champion to challenger for several minutes until MsChif executed her Call From the Grave to gain a two count. Though it didn't secure her the victory, MsChif's huge rolling Death Valley driver off the middle rope rocked Roxx enough that the challenger couldn't complete her Barbie Crusher finisher when she had the chance. But MsChif did execute the Desecrator moments later, successfully defending her title.
While not as epic as the previous matches, MsChif and Roxx ended the show on a perfect note with two fan favorites doing what they do best with the time allotted. Probably the biggest flaw with the match is the fact it could've used more time. They did very well with the time they had, but an extra five more minutes could've put it over the top.
Wrong: Nothing
Is It A Classic: While there's not a single wrong on this show, this isn't the perfect show; but it's pretty close. While the first few matches are good, when Melissa-Matthews hits, everything about this show turns up a notch ("The SHIMMER formula" as I like to call it where the first half of a good show is followed by a blockbuster second half). But that's what makes this show wonderful – there's nothing you need to skip during your first viewing because it's bad or horrendously mundane. This is one of the forgotten classics in SHIMMER history and should be seen by wrestling fans whether you're into women's wrestling or not.