With only six months under its belt as a wrestling promotion, SHIMMER was plugging along quite nicely by the spring of 2006. The all-women's wrestling company had not only attained a consistent following in its home area, but also started garnering attention from wrestling fans looking for something different in their women's wrestling.
Thanks to exciting, in-ring-based rivalries such as Allison Danger vs. Rebecca Knox and MsChif vs. Cheerleader Melissa, the future of SHIMMER looked bright. Speaking of those rivalries, the culmination of both wars would conclude in very different ways. Danger and Knox would have the chance to prove who is the superior wrestling in a match where the purity of wrestling's rules would be upheld. While in the main event, those rules enforced in Danger-Knox would be thrown out of the window as Melissa and MsChif face off in a Last Woman Standing match. Can these matches and many more help make SHIMMER Volume 6 a memorable one? Lets find out.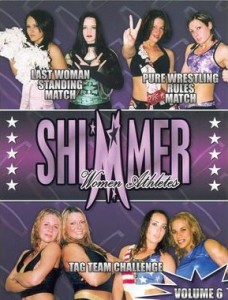 SHIMMER Volume 6
May 21, 2006
Berwyn, IL
1. Serena Deeb defeated Amber O'Neal
2. Amazing Kong, Lexie Fyfe & Malia Hosaka defeated Cindy Rogers, Ariel & Josie
3. Nikki Roxx defeated Lorelei Lee
4. Daizee Haze defeated Nikita
5. Rebecca Knox defeated Allison Danger in a Pure Rules Wrestling match
6. The Minnesota Home Wrecking Crew defeated Sara Del Rey & Mercedes Martinez
7. MsChif defeated Cheerleader Melissa in a Last Woman Standing match
Right:
Second Times the Charm: Serena Deeb entered this Volume following a loss to Amber O'Neal during Vol. 5 when O'Neal used Deeb's tights against her to pick up the pin fall victory. Deeb came in looking to dominate the prissy O'Neal, but found herself pretty evenly matched. The rookie mistakes Deeb made like ducking her head too soon allowed O'Neal to take control of the match and almost choke her out. But the heart of Deeb shown through and allowed her to explode with a spear. Moments later, Deeb gained a huge measure of revenge by pinning Amber with a small package to counter O'Neal's attempt at a suplex. Solid opener that got the fans into the rest of the show.
An Amazing Experience: The Experience of Lexie Fyfe & Malia Hosaka bested Ariel and Josie at the last SHIMMER event. Amazing "Kharma" Kong debuted on SHIMMER Vol. 5, beating Ariel's on/off partner Nikki Roxx. Kong, though menacing as always, actually danced a little during her entrance prior to tearing into Ariel before she could tag out to Josie; who immediately tagged in Cindy Rogers. It would take a double dropkick from Rogers and Ariel to stop the onslaught of Kong, but the damage had been done and the entering Malia Hosaka was able to take advantage of the situation Kong created by working over Rogers, then Josie. The Amazing Experience isolated Josie for quite a while until Hosaka made the mistake of letting Josie get off the mat and fight back.
Josie inevitably tagged out to a fired up Rogers and Ariel, who cleaned house until they ran into the force known as Kong. Kong, with the help of Fyfe, knocked Ariel and Rogers to the floor so Kong could assault them and The Experience had the chance to finish Josie off with the double team gourd buster to pick up the three count. In the end, you had the Amazing Experience show what experience and unadulterated killing power could do to a group of three potential breakout stars. The match itself, while a little on the long side, provided something different than the rest of the show and was very easy to get in to.
Washing the Stank Off: Nikki Roxx entered Vol. 6 looking to rebound following her hard-fought loss with Amazing Kong. Lorelei Lee was similar to Roxx – an up & comer looking to make a name for herself. The two women had a back & forth babyface bout featuring Roxx and Lee trading holds to prove their grappling superiority. Sadly for Lee, her inexperience hindered her from capitalizing on situations a veteran would easily recognize – like Roxx's arm drags that were obviously coming.
Lee showed great tenacity, firing back whenever she had the chance; and even gained a couple of near falls following some slick countering and avoidances. Coming down to the home stretch, Nikki had Lee rocked following a suplex. No matter how hard Lee tried to fight, Nikki stopped her before finishing the scrappy competitor with the Barbie Crusher. Another solid encounter that gave Roxx another reason for bigger competition while putting over Lee's potential and toughness in defeat.
Winter Goes Up in Smoke: The future Katie Lea Burchill/Winter entered SHIMMER with a ton of hype, earning a victory in her debut over SHIMMER main eventer Lacey. Someone who also defeated Lacey was Daizee Haze – one of SHIMMER's and independent women's wrestling's top stars. The fans were rightly buzzing over this bout as the bell sounded and both women did their best to gain an advantage on the mat. Nikita found herself being outmaneuvered and outwitted at every turn. Though she seemed okay with what was going on, frustration was starting to flow inside Nikita until it eventually boiled over and she attacked Haze from behind following a handshake.
The crowd immediately turned on Nikita for her dishonorable actions, but she didn't care as she gleefully worked over Daizee's back. Nikita beautifully mixed her attacks between submissions to high impact backbreakers. Just when you thought she had done the worst of the worst, Nikita curb stomped Haze into near unconsciousness. The fans quickly rallied behind The Haze, giving her the energy she needed to fight through the pain. Understanding how well the uranage backbreaker worked for her earlier, Nikita became incensed on using it to put Daizee away. This would prove to be her waterloo as Haze countered the attack with pinning combinations until a jackknife cradle put Nikita's shoulders to the mat for the three count.
Absolutely fantastic match. Nikita turned it up like many hadn't seen before, and Haze was Haze – the plucky girl with a heart as big as her whole body and the toughness of a two-dollar steak. They complemented each other quite well; and it's sad there was no rematch.
Restoring Purity: After seeing and experiencing the dirty tactics of Rebecca Knox, Allison Danger looked to bring purity back to SHIMMER by challenging Knox to a Pure Wrestling Rules match where usage of closed fists could cause disqualifications and each wrestler got three rope breaks apiece. The opening minutes – hosted by Dave Prazak and a debuting Daffney – saw both women do their best in out-grappling the other as the fans watched in quiet awe until Knox gained some momentum and they could boo. The reason the somewhat pro-Knox fans booed her? Because of Knox's usage of closed fists behind the referee's back. When Danger responded in anger, she ended up punching Rebecca right in front of the referee. This caused Danger to lose a rope break and go insane with forearms to Knox's chest and jaw – forcing Rebecca to the ropes to save herself.
When Knox got up, she avoided an incoming Danger before clipping her leg from underneath her. For the next several minutes, Knox did everything in her power to make Danger submit while cranking on her knee. Before she knew it, Danger had used up all three of her rope breaks. Somehow, Danger fought through the pain and actually hit a STO that made Knox use her second rope break. Minutes later, after some fighting on the ropes, Danger hooked Knox in the Muta Lock for another loss of a rope break. Danger ended up moving from submission wrestling to high impact attacks; including a cross body block off the top. Shockingly, Knox took the cross body, using the move's momentum to roll through and cleanly pin Allison.
Just a great match – Pure Wrestling Rules or otherwise. Not only do you have strong action and psychology, but also Knox proved herself big time be beating one of the company's top names clean in the match she chose! Great stuff all around.
Wrecking An Unstable Partnership: Since Volume 1, Sara Del Rey and Mercedes Martinez battled over who was the best wrestler in the company. Following two bouts that ended with Del Rey victorious and a time limit draw respectively, Del Rey and Martinez looked to settle the score. But Lacey had other plans in mind, challenging Martinez to a tag match that saw Del Rey step up to be her rival's partner.
Shockingly, Del Rey and Martinez proved to be a force together as they dominated the long-standing team of Lacey and Rain – The Minnesota Home Wrecking Crew. The mutual respect between Del Rey and Mercedes allowed them to ignore any personal animosity and work incredibly well as a unit. But the cunning experience and dirty tactics of Lacey and Rain was something the rivals-turned-partners weren't ready for; allowing MHWC to turn the tides after Lacey distracted the ref so Rain could illegally attack Del Rey.
Sara ended up being caught between a rock and a hard place as the MHWC worked over her back and choked the life out of "Death Rey" while Mercedes unwisely tried to enter the ring, only to be forced out by the ref. After taking several double teams from the MHWC, Del Rey caught Lacey with a power bomb that had her crawling to Rain. Unfortunately for the fresh Rain, Mercedes was there to greet her with clotheslines and slams. Things were going great for Martinez until she took a double team lung blower combination that left her out on her feet. When Del Rey went to save her partner, she ended up kicking Mercedes into Lacey's Implant DDT that gave MHWC their first SHIMMER victory as a tandem.
Another very good match and easily the best tag bout of the show. While formulaic, everything worked perfectly to set up the eventual third clash between Martinez and Del Rey while establishing the MHWC as a potential force in the company.
Last Woman Standing: It all began at SHIMMER Vol. 1 when MsChif bested Cheerleader Melissa in their first bout. From that moment on, their rivalry spread beyond the confines of the ring when they ended up fighting in the streets during Vol. 4, and even moved into other companies like Ring of Honor. To finally put an end to this barbaric feud, it was announced the two would face each other one more time in a Last Woman Standing match. MsChif refused to let an advantage slip by her when she attacked Melissa before the in-ring introductions could occur.
The women picked up where they left off in their Vol. 4 Falls Count Anywhere match by taking the fight to the floor and whipping each other against the barricades. The crowd witnessed the brutality first hand as Melissa and MsChif slammed each other against the back walls until they finally returned to the ring. Just when Melissa thought she had everything in control, MsChif executed the Code Green to put her down for five of the necessary ten seconds needed to win a Last Woman Standing match. Melissa would pay MsChif back minutes later with a Samoan drop that left her down for half the ten count as well.
Sick forearms and submissions became staples of this bout as it progressed until they left the ring again for some crowd brawling. But unlike last time where the focus was to slam each other against walls, Melissa came up with the idea to use a chair she was sitting in to camel clutch MsChif. With MsChif barely mobile, Melissa dragged her to the ring in an effort to finish her off once and for all. Melissa hoping to execute the Kudo Driver on a steel chair proved fruitless as MsChif turned the attack into the Desecrator on the chair that left both women down. Somehow, MsChif got up right before the ten count, winning this incredible contest.
This was the perfect way to end the feud as they mixed and matched spots from their previous bouts, added new stuff no one had ever seen before, upped the intensity and brutality, and left the fans standing in appreciation for what they put themselves through.
Wrong: None
Is It A Classic: At this point, SHIMMER was still gaining its footing in the wrestling world, but it was obvious the women and men behind SHIMMER knew they had something special. The SHIMMER formula of solid undercard matches and strong main bouts is displayed here in full as the last four matches are worth going out of your way to see. SHIMMER Vol. 6 is definitely a forgotten gem in the early days of the company.