With so much aural greatness flooding the airwaves or running through various electronic devices, it sometimes proves to be difficult to branch out and explore other musicians through their works. Once a month, an album released during that month (from any potential year) is reviewed and given an answer of whether or not it's worth listening to. For this month, I look at Alicia Key's debut album, "Songs in A Minor".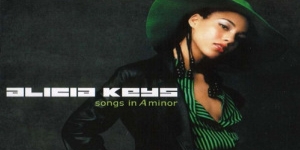 "Songs in A Minor"
Released: June 5, 2001
Genre: R & B/Neo Soul
Label: J
Number of Tracks: 16
It seemed like there was a grand search going on during the late 1990s and early 2000s for that next R&B (or "neo soul" according to Kedar Massenburg) female sensation to shake up the musical landscape like so many greats before this unknown commodity – just like Billie Holiday to Aretha Franklin to Erykah Badu had done over the past several decades. Floating throughout New York and music contracts/labels was a classically trained piano player impressing anyone who had the privilege of listening to her. Seeing great potential in this potential prodigy, Clive Davis took the young girl under his wing after signing her away from Jermaine Dupree's "So So Def" label. Davis, known for his work with musicians like Whitney Houston and Janis Joplin, went out of his way to help the eventually christened "Alicia Keys" explore the depths of her creativity without his alleged heavy handed producing input.
Leading to the release of her first LP, Alicia Keys found her music gracing radio stations and music channels alike. It was almost impossible to not hear the album's initial single – the James Brown-sampling "Fallin'". Thanks to the aforementioned song's strength, the hype heading into the album's release was almost unparalleled for a mostly unproven artist in the then-current landscape of R&B. The same anticipation that had Alicia Keys fans both new and relatively new alike clamoring for June 5th grabbed a hold of me and stayed with yours truly until the day I picked up the album not long after its release. There were definitely some concerns about the overall package. During the days before reviews were posted on the Internet almost at the stroke of midnight on release day (if not a little earlier), most record/CD buyers would purchase their piece of desired music without much knowledge of what to expect.
Somewhat shockingly, the record doesn't start off with a potential hit to follow the successful "Fallin'" or "Fallin'" itself, but a modest introduction by the piano-playing singer herself. It's during the first few seconds of the album that the listener is introduced to not only the skilled hands of Alicia, but also a natural, New York swagger barely displayed during morning talk show interviews. As Keys' introduction segues into the next track, it becomes obvious there's more hip-hop influenced action waiting to be had. This isn't just a contemporary R&B album featuring a singer utilizing her piano, but a record that reaches far and wide to mix multiple genres of music to make them her own.
"Songs in A Minor" continues on, showcasing the multi-faceted artist as she settles into a grove. The church choir style sound used to make (Prince cover) "How Come You Don't Call Me" toe-tapping good music doesn't attempt to hide the sultry, almost hypnotic voice/pied piper strumming the listener along with tales of love, potential, and heartbreak. Then there are moments of absolute beauty extending beyond anything heard on the record thus far. "Butterflyz" arrives during the album's final quarter and could possibly leave the biggest impression on the listener about how versatile Keys is at this point in her music career. Though the song's topic of being around that special someone who makes your heart skip a beat/put you on cloud nine is rather ordinary for the genre, the atmosphere created through a mix of Alicia's singing/piano playing and Gerald Flowers' acoustic guitar work (not to mention the dynamic, harmonized ending) is anything but typical.
One of the best things about "Songs in A Minor" is the album's track list. Never do you feel down for too long as a emotionally draining, though uplifting song like "Troubles" is followed by the jazzy sounds of "Rock Wit U" (a song that could easily be implanted in a slick blaxplotation film). Just when you're connecting with the music on a poignant level, the album switches gears and provides something to groove and smile to.
If there's one true weakness in "Songs in A Minor", it's the album's rather elementary lyrics and the content thereof. Look no further than the first "real" track of the album, "Girlfriend". The song's lead character (Keys herself) is struck with paranoia thanks to the belief her boyfriend is cheating on her with a mutual friend. The story eventually creates a simplistic, almost eye-rolling hook ("I think I'm jealous of your girlfriend/ Although she's just a girl that is your friend.").
Even her hit "Fallin'" is nothing more than love-sick cry by our songstress over a destructive/depressing relationship she refuses to let go because of how emotionally connected she is to her (as seen in the music video) incarcerated boyfriend. To counteract the lacking lyrical content, Keys' natural ability to inject powerful emotion into every line makes you forget that most of the subject matter you're listening to has been utilized, repeated, and remixed to say the exact same thing over and over again for decades (no better example occurs during "Never Felt This Way").
In a musical world full of great vocalists putting out albums that sounded too similar to one another, Alicia Keys followed in the footsteps of Erykah Badu and Jill Scott by creating a body of work that mostly differentiated itself from the rest of the pack through musically artistry alone. Though Keys' debut album has some shining gems (tracks that she [or anyone else for that matter] would have a hard time outdoing), "Songs in A Minor" still feels like an introduction to something greater. The album is a true auspicious start to a career of daring and experimental concepts (both musically and aesthetically) that followed. And in truth, that is all one (be it the listener or the artist himself/herself) can hope for in crafting something made for audiences both uncompromising and mainstream alike. Definitely give this album a try.
Standout Tracks: "How Come You Don't Call Me", "Fallin'", "Troubles", "A Woman's Worth", "Never Felt This Way", "Butterflyz", "Why Do I Feel So Sad", "Caged Bird", "Lovin' U".