This is the second article I wrote for a very prominent wrestling magazine that never got published (long story). So, for the first time ever, here it is for the world to see.
Strong Style Epiphany
How One Moment Changed Roderick Strong's Destiny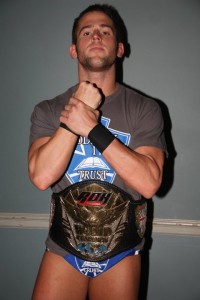 Every person who has strived for success in their field of choice, be it in business, teaching, sports, or professional wrestling have all had that one moment where they realize their current path hasn't placed them on their intended direction. That one moment opens their eyes to the real path that'll lead them down the road to greatness; or so they think. Unfortunately for quite a few wrestlers, their moment of epiphany doesn't lead them as they were to believe. In 1988, "Million Dollar Man" Ted DiBiase realized that he couldn't beat Hulk Hogan for the coveted WWF Heavyweight title. So DiBiase did the next best thing and hired Andre The Giant to do his dirty work before being handed the title from Andre. The bad news for Ted was the championship being taken from him immediately, and vacated until Randy Savage won the title in a tournament-last defeating DiBiase ironically.
In a more recent show of an epiphany gone wrong, look no further than Samoa Joe. A little more than a year ago, Samoa Joe had that life changing moment when confronted by the Main Event Mafia, and a wad of cash. Instead of keeping to his principles and continuing to be the no nonsense, hardnosed grappler that TNA fans fell in love with, Joe took the money, and a MEM membership card. In the end, Joe moved further and further away from the TNA World title picture. The force known as Samoa Joe became nothing more than silent backup for a group of men who were took scared to fight him.
But not every epiphany has led to failure in wrestling. The Rock is a great example. Only a couple of months after his debut as Rocky Maivia, the fans turned on him. When he finally realized the person he was wasn't the person the people wanted to see, Rocky Maivia became The Rock; and the rest is history. Even under not-so-bright lights of Ring of Honor can come an epiphany that catapults someone to their destiny. CM Punk witnessed his epiphany in 2004 by siding with Ricky Steamboat against Generation Next (Alex Shelley, Austin Aries, Jack Evans, and Roderick Strong), becoming a fan favorite, and gaining the unwavering support of Ring of Honor fans in his quest to become ROH World champion. In 2010, Roderick Strong's epiphany smacked him right in the face during his ROH World title battle with Tyler Black over Black's championship at ROH's annual Supercard of Honor event.
Strong's Ring of Honor tenure had been marred by disappointment due to his lack of winning the company's top prize no matter how many times he wrestled for it against a variety of champions. CM Punk, Bryan "Daniel Bryan" Danielson (three times), Takeshi Morishima, Nigel "Desmond Wolfe" McGuinness, Jerry Lynn, Austin Aries, and Tyler Black all crushed Roderick's dream of each individual title shot being the one. No matter what he did, no matter how hard he fought, Strong continued to come up short when the ROH' Holy Grail was on the line. Looking back at the event, Strong's typical World title shot ending came with something greater than he ever imagined. Strong's loss was followed by a much needed career epiphany.
During the final moments of Strong's match with Tyler Black, three referees were knocked out, and Roderick had Black pinned for several seconds without a person to count Black down. Unofficially, Roderick Strong beat the ROH World champion in front of everyone. The original referee regained consciousness at the worst possible time for Roderick as Black unleashed a knockout super kick. Everyone stared at the horizontal Strong after Black was declared the winner, never realizing what just occurred in Roderick's mind. When Strong got to his feet, he proclaimed to everyone within the sound of his voice that he'd been cheated, "Tonight, it took three referees to screw me. Tyler Black, you can't beat me, and you know it. In the end, only the strong survive." And sometimes, to survive, you need some help. Or in Roderick's words, "Someone who'll show me the truth."
Enter Truth Martini-the manager of Josh Raymond and Christian Able, The House of Truth. If you don't know about Truth Martini, all you need imagine is a longhaired, baritone voiced, living, breathing, walking, talking infomercial/self-help guru. In Martini's clutches sits his self-published "bestseller", The Book of Truth. On the July 12th edition of ROH on HDNet, Roderick introduced Truth Martini as his, "Life Intervention Expert." Truth explained his ability to get Roderick on the road to truth that would lead him to the moment he's been dreaming of since he entered Ring of Honor. In Truth Martini's words that hot, summer night in Philadelphia, "Roderick knows the truth. And the truth will make him the ROH World champion."
Seemingly, Truth Martini's "exorcism" of Roderick's mind for the negative failures of his past worked because Strong went on a roll with wins in singles and tag team competition. After aligning with Truth Martini, Roderick Strong was able to defeat one of the most gifted wrestlers in the world today in the form of Christopher Daniels. Roderick Strong survived the ROH World title number one contender Toronto Gauntlet at Death Before Dishonor VIII with some help from Martini's "Book of Truth". And Roderick retained that top contender status by pinning the man many ROH fans felt would dethrone Tyler Black, Davey Richards. Strong's epiphany to find someone to show him "the truth" was working out perfectly. But none of that soul…truth searching would mean a thing if Strong couldn't win the ROH World title when his chance came.
Strong's most important World title shot in ROH arrived on September 11th, at Ring of Honor's Glory By Honor IX. Just like Supercard of Honor V, Roderick Strong stood in the Manhattan Center as the challenger against the same champion who Strong deemed inferior four months earlier, Tyler Black. But the Roderick Strong in the ring with Black that night was a different Roderick than the Roderick Black fought in May. This Roderick had a crisper snap to all of his moves. Strong's pace was noticeably quicker in September compared to their May battle. This "enlightened" Strong was the Roderick everyone always believed he needed to be if he were to win the Ring of Honor's greatest prize. When the final bell sounded, this new Roderick Strong could be called something the old Roderick Strong only fathomed of becoming: the new ROH World champion; and that's exactly what happened. Roderick Strong's epiphany to seek the truth finally led him to his dream. Roderick Strong's epiphany brought him a glory many declared he'd never attain. But like every first-time champion, Strong will quickly realize being a champion is entirely new arena.
Roderick conducted an interview with Right After Wrestling after his ROH World title victory, and, unknowingly, summed up his whole ROH career in one sentence, "Don't expect something until it's happened." In 2006, Roderick expected to finally defeat Bryan Danielson after two failed tries, but didn't. In 2009, Roderick expected to prove the doubters wrong by winning the ROH World title from either Jerry Lynn or Austin Aries, but neither of those tries worked out. In 2010 and beyond, Roderick Strong expects his ROH World title reign will start a new chapter in Ring of Honor lore that'll deem him as one of the greatest. We'll have to wait and see about that one. An epiphany can be a powerful, unexpected delight if understood and followed. Just ask the truth-filled new ROH World champion, Roderick Strong.