Make sure you read Part 1 and Part 2 to fully grasp the enormity of the Summer of Punk.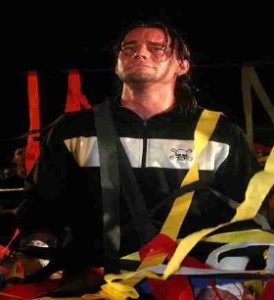 In the main event of ROH's return to Dayton, OH in the middle of August, CM Punk entered the ring to face his three toughest opponents at one time. In a Four Way Elimination match, Punk would have to go through Christopher Daniels, James Gibson and then-Pure Wrestling champion Samoa Joe. Thankfully for Punk, the men gunning for Punk had problems with each other as well. Joe and Daniels soured history caused dissension when they could've worked together in eliminating Punk. The champ took advantage of brawls breaking out to bash Gibson in the head with a chair to bust him open similar to what Punk did at "Fate of an Angel".
And just like that night almost a month earlier, Gibson fought through the pain, the bloodshed, and the assault of Punk after the champ helped eliminate Daniels by stopping a rope break that would've saved him from being pinned, and pinned Joe with a small package. The fans couldn't believe what was happening as Punk looked to enter his hometown of Chicago as the champion by finishing his final challenger with the Pepsi Plunge. Somehow, Gibson turned things around on the top rope, hitting a super Gibson Driver (a double underhook power bomb) to actually pin Punk! James Gibson became the savior of honor that no one expected.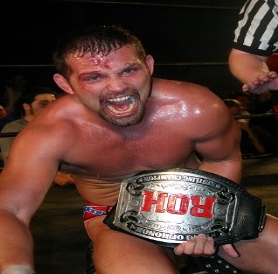 With the fans going crazy around him, and his foes standing over him with the locker room in celebration, CM Punk smiled at the victorious Gibson. At that moment, it seemed Punk not only accepted his fate, but finally understood the truth of his mission. In a lot of ways, the ROH World title belt was an item that granted Punk absolute power. And as everyone knows, absolute power corrupts absolutely. For a man who doesn't drink, smoke, or do drugs, the ROH World title became his greatest addiction. After losing the belt, Punk was exercised of his demons and could enjoy the sight of what was before him – a man, like himself, that people doubted finally getting opportunity to be where he deserved. In truth, "The Second City Saint" wasn't meant to be a destroyer of honor, but the monster who the new honorable superhero Punk claimed he wasn't after winning the title could vanquish.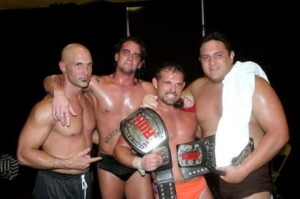 One night later, CM Punk, with tears in his eyes, a boyish smirk on his face and The Bouncing Souls "Night Train" sounding out rather than Punk's usual entrance themes of either "Cult of Personality" or AFI's "Miseria Cantare", faced his best friend, tag team partner, and greatest rival Colt Cabana in a Two Out of Three Falls match. Punk's trainer and fellow ROH competitor Ace Steel took a seat at ringside; as did Punk's fiercest ROH rival and very good friend Samoa Joe.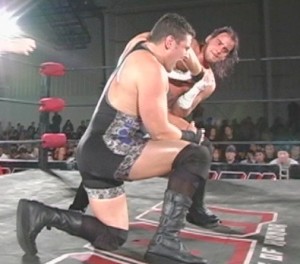 For those watching live or at home on DVD weeks after the show concluded, the match itself felt like a lucid dream. Our teary eyes dotted as these two men danced the greatest dance possibly known to man. The images that would become engrained in everyone's minds grew more and more profound as Punk and Cabana split the first two falls. It seemed Punk would go two for two in winning his believed swan song in ROH, but ended up being pinned instead thanks to a slick counter of Punk's roll up pinning combination.
As the fans' chants turned from, "Thank you, Punk!" to an even louder ovation for the company that Punk helped build and, likewise, helped make him, the locker room emptied out to take a knee for the man they had the utmost respect for. After asking everyone to stand up and being drenched in his drink of choice (Pepsi) thanks to Cabana, CM Punk put the spotlight on everyone and everything but himself before simply showing gratitude to what made him who he was, is, and forever will be, "Thank you, Chicago."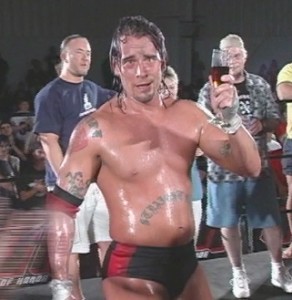 So for all you fans who never experienced this Summer of Punk, go ahead, visit the Ring of Honor wrestling website and order the "Summer of Punk" DVD. Though you'll watch the entire video and marvel in awe of how it played out on your screen, sadly, you'll never truly know what it felt like during that time; a time where one man held the Ring of Honor fan base in the palm of his hand. Actually, a more appropriate analogy would be stating how he played us like marionette puppets only to let us go with the simple, unspoken, "Thank you for being a part of my most precious work to date."
And in response, we said, "Thank you for letting us be a part of greatness."