With so much aural greatness flooding the airwaves or running through various electronic devices, it sometimes proves to be difficult to branch out and explore other musicians through their works. Once a month, an album released during that month (from any potential year) is reviewed and given an answer of whether or not it's worth listening to. For this month, I look at Rage Against the Machine's third full-length album, "The Battle of Los Angeles".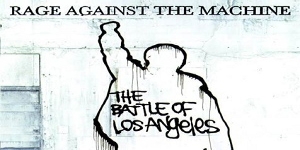 "The Battle of Los Angeles"
Released: November 2, 1999
Genre: Funk Metal/Alternative Metal/Rap Rock
Label: Epic
Number of Tracks: 12
1991 would prove to be a turning point in the life of guitarist Tom Morello when he left one band to discover another. In front of Morello stood a freestyle rapping Zack de la Rocha during one random night. Eventually the two would become associates and friends through music. Both men would go our of their way to recruit two respective personal friends – Brad Wilk and Tim Commerford – naming themselves "Rage Against the Machine" (a name created by de la Rocha during his writing for a punk band called "Inside Out").
It didn't take long after their first public performance did the quartet start putting together what would become their first album while gaining the attention of Epic Records. Given the chance to retain creative control, Rage's "Rage Against the Machine" album became an international hit; eventually attaining triple platinum status in sales. Their second album ("Evil Empire") would follow suit, setting the stage for what would become their most highly anticipated album to date – "The Battle of Los Angeles".
The opening track is a little startling for those unprepared, but is the perfect introduction to the ignorant about what is in store for a listener over the course of the next forty-five minutes or so. "Testify" kicks off with the swirling sound of Tom Morello's guitar (similar to a spiraling plane descending to the ground) as Brad Wilk uses his drums to build the anticipation of what is about to come. And before you know it, the smooth bass of Tim Commerford kicks in as de la Rocha simply, yet excitedly grunts, "Uh!" Zack's contribution might not sound impressive, but it's the perfect reaction to the album's first twenty seconds. Like de la Rocha and his crew, this is pure, almost exhausting energy coming out of their bodies for the world to hear. Rather than use that energy to create nonsense, they rock while referencing the themes of George Orwell's novel "1984" (overbearing and omnipresent government surveillance, the history of wars being written by the victor rather than be given a truth account, constant public manipulation through propaganda).
And the social enlightenment doesn't let up during the call-to-arms style song "Guerrilla Radio" or "Calm Like a Bomb" The first three songs feel like a left hook-right hook-uppercut combination that literally floors you before you can figure out what just happened; it's exhilarating, yet damaging because the music demands to be heard from the mountain tops. Morello's whammy pedal usage is in rare form, causing a reverb sound in "Testify". Then there's Commerford strumming along, creating a perfect groove for a listener to wave to before dropping out so you can hear exactly what they want you to in hopes of learning something very valuable. And just when you think Wilk has gotten lost in the sea of Zack's vocals, he blasts through to build the perfect crescendo for each aforementioned song.
"The Battle of Los Angeles" doesn't feel like a revolutionary's dream throughout with blistering sounds and de la Rocha's voice. Slowing things down after the hip-hop influenced "Mic Check" (where Morello somehow becomes a record-scratching DJ by using only his guitar and having no records to scratch) and the high-octane "Sleep Now in the Fire", the album has a chance to breathe (as does the listener). Yes, Zack still screams, but it's not constant – as is the band's calmer playing rather than a constant barrage of sounds. "Born of a Broken Man" is methodical in nature, yet eerie; showcasing just how heavy the band can be even when not utilizing the sound many have become accustomed to. The tempo completely accepts what was started during "Born of a Broken Man", giving a mixed bag of songs depending on what sound you're looking for when it comes to RATM. Thankfully the lyrics don't lose their luster. From topics such as the imprisonment of Mumai Abu-Jamal during "Voice of the Voiceless" and fascism ("Ashes in the Fall"), Rage shows diversity musically while sticking to their roots lyrically in grand fashion (especially when singling out Morello's incredible guitar work that sounds like Jimmy Page and Jimi Hendrix are possessing him at the same time).
But "Battle" isn't perfect. The "Rage sound" isn't much different here than it was during the first two albums. There is a formula to their songs that creates a sameness to several tracks for first time listeners that might cause one to get confused to what song is which (especially during the second half). And when things slow down, the album starts to lull a little bit simply because one has become accustomed to the musical "insanity". For those who aren't looking for social or political commentary in their music won't enjoy this album at all because of what has been stated earlier when analyzing several songs. And even those who enjoy what Rage is giving you lyrical, it can become too much if you're not prepared to research and find the meaning behind what they are dishing out. In truth, a lot of this supposed faults can be found in all three of RATM's albums; so if you've heard one, you'll likely have a good idea what to expect from the others.
It's hard not to deny Rage's impact on a generation of people trying to understand the plight of society, let alone the music scene at the time. Certain people will never enjoy what Rage Against the Machine is offering, but if there was ever an album that might change a person's perception, it's this one. It glows with banging tracks; thoughtful lyrics and some of the best music made by a band that many fans wish would put out another album. Add it to your library if you even think you could like Rage Against the Machine, or give it a try if you've never heard what the rocking quartet can do.
Standout Tracks: "Testify", "Guerrilla Radio", "Calm Like a Bomb", "Sleep Now in the Fire", "Born of a Broken Man", "Born as Ghosts", "Voice of the Voiceless", "Ashes in the Fall".