Background: After chasing The Dudley Boyz out of the ring with a chair, Balls Mahoney talked about the lack of opponents he'd faced in ECW because everyone was scared of his chair shots. Begging for an opponent, Mahoney got his wish in the form of former ECW World Heavyweight champion The Sandman after offering a prize: a nice, cold can of beer.
Hardcore TV
Monaca, PA
May 24, 1997
The Sandman vs. Balls Mahoney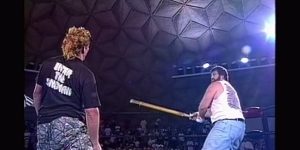 We got a good old-fashioned standoff featuring Mahoney and his steel chair swatting away the Singapore cane of The Sandman. The former champion made a crucial mistake by rushing in, getting crowned with the chair. Placing the steel across Sandman's face, Balls dropped a big leg … to earn a two count!
This time, Balls put the chair atop Sandman's chest, elbow dropping his opposition to earn another two count. The Sandman had blood leaking out of the back of his head. Countering a suplex, The Sandman utilized a DDT that didn't give him enough time to recover in hopes of stopping Mahoney's intended onslaught. The action spilled to the floor where Balls had The Sandman pinned against the guardrails and prone to some stabbings via the timekeeper's "hammer". Rolling The Sandman back in, Balls wanted to try out the cane. Ducking a wild swing, The Sandman not only avoided the shot, he also kicked Balls into another DDT for a two count of his own. One Singapore cane shot to the head of Balls did drop him, nor did two more. But the strikes did put Balls on the floor. Before a now bloody Mahoney could get up and reenter the ring, The Dudley Boyz struck. The referee had no choice but to call this match off as a three-on-two brawl broke out that resulted in the former opponents feeling the Dudley Death Drop. Eventually Tommy Dreamer, Stevie Richards, Louie Spicolli and ECW Heavyweight champion Terry Funk got involved that resulted in Richards standing tall after super kicking Funk.
Winner: No Contest (6:12)
Is It A Classic: Nothing really special; just two guys clobbering each other for our sick entertainment. The post-match antics were more memorable – which is unfortunate as these two could've had something special with more time.