(Make sure you read part one) It's been over twenty years since I can remember the first time I saw Matt Groening's "crudely drawn" family of five deal with the almost surreal problems that life seemingly presents on a daily basis. From that moment I laid my eyes on "The Simpsons" I became enamored and, eventually, a life-long fan (more than likely I'll be re-watching episodes when I'm old enough to shout at clouds). During my time as a "Simpsons" viewer I've discovered many relatable life lessons that I plan to share with you. Welcome to "The Simpsons Life Lesson" series (season four – part two).
An Iguana Can Be a Better Kid (Episode 13: "Selma's Choice")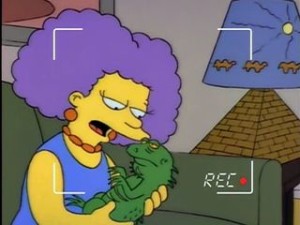 Death certainly has a way of making someone understand what's missing in his or her life. For Marge's sister Selma, the passing of her great aunt Gladys Bouvier (who had the facial features of Marge's twin sisters and was confused for being a man by the minister performing the eulogy) reminded her just how similar she was to the woman she and her twin Patty unknowingly modeled their lives after. Aunt Gladys never married, had children, and eventually died with nothing to show for her life but a collection of potato chips that looked like celebrities, her iguana "Jub Jub" and a message for her nieces, "Don't die like me. Raise a family and do it now!"
Selma quickly went on an adventure to find that special someone that she could have a child with, be it in the supermarket or even at work – leading to a date with the mutant-like creature everyone had come to know as "Hans Moleman". Things just didn't work out for Selma, but she did have a chance to test out her parenting skills when Homer ate himself sick and couldn't take his kids to Duff Gardens (an entire theme park based around the idea of promoting Duff Beer. Yes, children were allowed to enter). Selma was in over her head to state the least.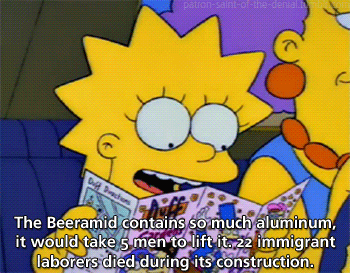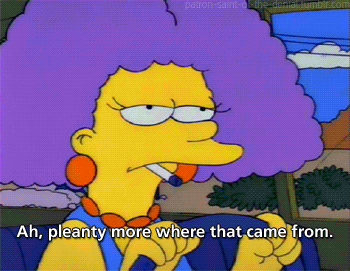 After Lisa took a sip of the water during their riding of "Little Land of Duff" (the show's take on Disney World's "It's a Small World") and started hallucinating prior to stripping and declaring herself the "Lizard Queen", Bart got stuck on a roller coaster not meant for children under the height of four feet; having to be rescued. Distraught and disappointed, Selma settled for taking care of Jub Jub a la "Murphy Brown has a Baby". Sometimes having kids just isn't all that it's cracked up to be; especially when you take the rambunctious offsprings of a glutton to an alcoholic-themed amusement park.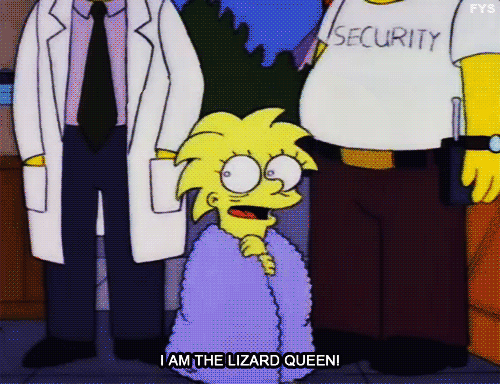 Be Careful Who You Choo-Choo-Choose (Episode 15: "I Love Lisa")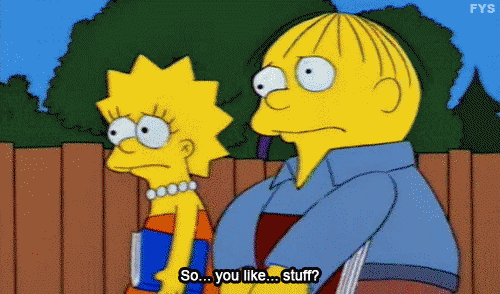 Valentine's Day had arrived and the children of Springfield Elementary had the opportunity to either showcase affection or ostracize their fellow students by handing out Valentine's Day cards. After creating paper mailboxes to store the cards ("Isn't that just pointless busy work?" – Lisa Simpson; "Bull's-eye," – Lisa's teacher Ms. Hoover in response) and handing out cards to their current interests, Lisa turned to find Ralph Wiggum – son of Springfield's incompetent police chief – card-less and crying. Lisa felt sorry for the poor boy who had glued his head to his shoulder minutes earlier, offering him a card that depicted a train blowing out of its smokestack the phrase, "I choo-choo-choose you."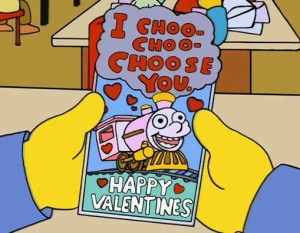 Lisa's sympathetic action set off a chain of events that featured Ralph displaying his newfound affection for his valentine by doing simple tasks like walking Lisa home to convincing his father to buy two tickets to Krusty the Clown's "29th Anniversary Show". During the historic televised event, Krusty actually pointed out the two "lovebirds", questioning their relationship status. Before Lisa could deny her non-existent love, Ralph blurted out his future intentions with his valentine, "…when I grow up, I'm going to marry her!"
Lisa would finally find the courage to truly express herself and explain why she gave Ralph the card, destroying any potential romantic future (followed by Lisa giving Ralph a second card stating "Lets Bee Friends" featuring the picture of a bee to reinforce Lisa's statement). Be careful whom you give a Valentine's Day card to because you might have to crush a poor kid's heart if you really don't have feelings for that person. And on the other hand, don't put too much thought or feelings into receiving a Valentine's Day card. You might wind up being embarrassed and having your heart broken on live television for the world to see.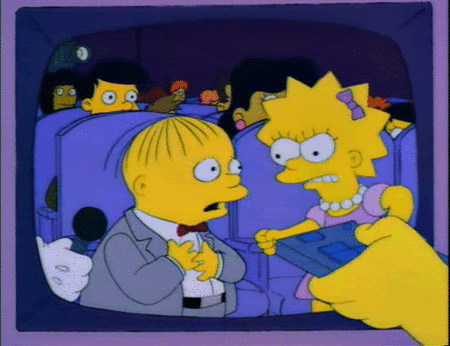 Appreciate Your Wife (Episode 2: "A Streetcar Named Marge"; Episode 7: "Marge Gets a Job"; Episode 21: "Marge in Chains")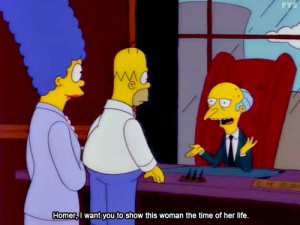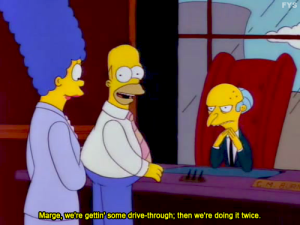 Marge had a rough time during the series' fourth season. The family's matriarch seemingly never had a chance to really enjoy herself without some kind of conflict. Look no further than the season's second episode where Marge had the chance to audition and star in the musical version of "A Streetcar Named Desire". Homer, having not listened to a word his wife had said about auditioning for the play, started unintentionally antagonizing Marge until she turned a simple practice season into a full-blown stabbing of her neighbor and fellow cast mate with a broken bottle.
Not long after, the Simpson's' home would find itself sinking thanks to a cracked foundation. Marge took advantage of the retirement of someone at her husband's workplace, Springfield Nuclear Power Plant. Distraught over his wife working alongside him, Homer did everything in his power to convince his wife to find a job elsewhere. Homer's plan failed and Marge was eventually fighting off the advances of their mutual boss, Mr. Burns.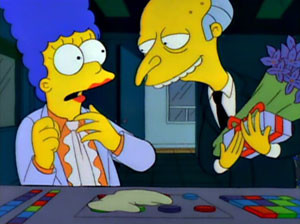 Then there was "Marge in Chains". Marge, overwhelmed with the deafening and unruly requests from her family, found herself accidentally stealing a bottle of bourbon at the local Kwik-E-Mart. Marge was forced to serve thirty days in the Springfield Women's Prison as Homer had to take care of the house alongside his children – an action that resulted in the house becoming a pigsty.
There were other minor moments throughout the season such as Marge being forced to testify in court regarding her husband's gluttony, trying to stop the city from collapsing under the weight of a shoddy monorail, and Homer needing a triple bypass to fix his damaged heart. The running theme of each episode was Homer finally learning (and eventually forgetting) his faults when it came to appreciating his wife.
Husbands out there, appreciate all the little and big things you wife does for you and your family before you end up home alone with a crew of kids and stuck wearing Halloween costumes because you've run out of clothes.