In 2005, Total Nonstop Wrestling was riding high thanks to the transition between weekly pay-per-view events and the company's signing with Fox Sports Net to broadcast an hour-long television show, "Impact". Replacing the weekly PPVs was a monthly three-hour event featuring TNA's best. And for many fans, the best thing TNA had to offer was the X-Division. Planning for the March event, TNA decided to produce an all-X-Division show topped off with an Ultimate X match.
Sadly for the excited fans, TNA backed out of putting the X-Division front and center for a pay-per-view, opting to stick to what had become the norm in recent months – featuring former WCW champions in the main event looking to take down NWA World champion Jeff Jarrett. For this month, the five-year-old rivalry between Jeff Jarrett and Diamond Dallas Page was reborn – giving DDP his shot at the gold. Did this change actually help or hurt the show? Lets find out.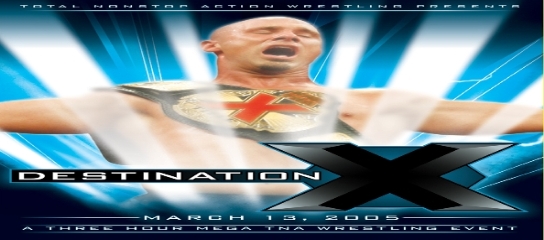 Destination X
March 13, 2005
Orlando, FL
1. Team Canada (Petey Williams, Eric Young, A-1, and Bobby Roode) defeated 3Live Kru (Konnan & BG James) and America's Most Wanted
2. Chris Sabin defeated Chase Stevens
3. Dustin Rhodes defeated Raven in a Bullrope match
4. The Disciples of Destruction defeated Phi Delta Slam
5. Monty Brown fought Trytan to a confusing decision
6. Jeff Hardy defeated Abyss in a Full Metal Mayhem
7. The Outlaw defeated Kevin Nash in a First Blood match
8. Christopher Daniels became the new X-Division champion by defeating AJ Styles, Ron Killings and Elix Skipper in an Ultimate X Challenge match
9. Jeff Jarrett successful defended the NWA World title against Diamond Dallas Page in a Ringside Revenge match
Right:
Getting Them On The Card: The opening contest for this event featured an eight-man tag team match that was simply here to get people on the card. Outside of Team Canada being hated because they're anti-American – thus being enemies of America's Most Wanted – no one really had any problems with each other. Thankfully, that didn't take away from the energy of the crowd and the wrestlers themselves. BG James and Konnan were the stars of the match in the early going with James doing his Shake, Rattle, & Roll combination of punches on Roode before Konnan unleashed the barrio shoe throw on Young. Chris Harris lost the momentum for his team when he was sent shoulder first into the steel ring post.
It didn't take long for Harris to turn the tides in his favor by hitting a flying clothesline prior to tagging out to Konnan so he could become the house of fire. Everything started breaking down soon after, causing the action to become too much for a single referee to handle. Using the numbers game and Scott D'Amore to his advantage, Roode caught Konnan with the northern lariat after Konnan slammed an attempting intervening D'Amore. Three seconds later, Roode picked up the victory for his team.
Fast, energetic opener that really got the fans into the show. Though Team Canada winning somewhat took the breath from the crowd, it was still a fine way to kick off this one.
It's That McDonalds Guy: Another random match on the card to get people on the show was the second match featuring Chris Sabin and Chase Stevens of The Naturals tag team. With his partner Andy Douglas and mentor Chris Candido in his corner, Stevens was forced to step it up a notch when taking on the former X-Division champion. Sadly for Stevens, one notch wasn't enough in the early going as Sabin zipped around the ring, using head scissors and planchas to down Stevens at any given moment. It would take some quick ingenuity to help Stevens, and that came with a kick to Sabin's groin.
Stevens continued to control Sabin for a minute or two until Chris made his comeback and had to start fighting off not only Stevens, but also Chase's seconds. Sabin found himself at a disadvantage, but turned it around in his favor by using the momentum of Stevens' roll up against him when putting Chase's shoulders down for a flash pin.
After the match, a masked man ran in to save Sabin from a three-on-one beating. This man turned out to be Mexican wrestling superstar Shocker – who is known more in American for his appearance in a McDonalds than his wrestling. The reaction was almost nonexistent for Shocker's unmasking; coupled by announcers Don West and Mike Tenay doing their hardest to put him over as, "…the guy from the McDonalds' commercials!"
Mediocre ending and sad debut aside, this was another solid match that the fans really enjoyed. So far, so good.
The Final Assault: Being the hardcore, highflying madman that he is, Jeff Hardy took it upon himself to prove he was better than "The Monster" Abyss in his own world – Hardcore. During the weeks leading up to this match, Hardy abused Abyss both physically and mentally. Now Abyss has a chance to settle things in a match. The fight spilled into the crowd and backstage quickly, leading to Hardy actually hitting the Swanton on Abyss to drive him through a table less the five minutes deep. Sadly for Hardy, his attack took a lot out of him and left Jeff weary even though he was in control. Abyss turned the tides in his favor when a chair came into play and Hardy felt the power of Abyss' brawling technique. When everything looked to be going downhill for Hardy, "The Charismatic Enigma's" ingenuity came to play as he turned the Earthquake Splash against Abyss by driving a chair against his groin.
Back and forth the men battled in an attempt to either knock the other out or put someone through a table. Eventually, Hardy's body felt the sting of breaking a wooden table via a super power bomb after Hardy attained a ladder he was intending to use. Somehow, Hardy fought through the chokeslam moments after being power bombed, hitting a Twist of Fate on the ladder to pin "The Monster".
Upset over his loss, Abyss used the Black Hole Slam on Hardy to slam him on a bed of thumbtacks. The match itself was everything you'd expect with two men willing to sacrifice their bodies like no other. They did some unique things and it was fun for as long as it lasted. 
This Challenge is Ultimately An X: To add something different to the Ultimate X match, TNA put together four men in a tag team match where the person who was pinned or submits was eliminated from the bout, turning it into a triple threat match. The second fall would see another elimination until the final two were left and able to battle over the belt in an Ultimate X match. On one side were Christopher Daniels and Ron Killings. The other team featured Daniels' long time rival AJ Styles and "The Fallen Angel's" former Triple X partner Elix Skipper. It was obvious in the early going that Styles and Skipper didn't get along, leading to miscommunications and momentum swings at the worst times. When things were going well for Killings, Daniels even went as far as to attack his own partner to save Skipper. This led to the defeat and elimination of "The Truth" minutes later when Skipper pinned him following the Sudden Death.
Reforming their partnership seemed like a good idea for Skipper and Daniels as they double teamed Styles for several minutes until Daniels realized Elix was the weakest opponent and attacked him. The three-way bout progressed with Skipper using his ingenuity to use the ropes holding the X-Division title belt above their heads to execute a reverse hurricarana on Styles. Not to be outdone, AJ and Daniels followed suit by hitting a shooting star press and a moonsault off the cables respectively. Just as Skipper was about to pin Styles following the Sudden Death, Daniels rolled him up for the second elimination.
With it down to Daniels and Styles, the fans watched as the two rivals battled back and forth in hopes of grabbing the belt first while the other played defense and yanked his opponent down. The closing moments saw Daniels pull off a trick of ingenuity after the referee got knocked down and Styles retrieved the belt. When Styles jumped down with the belt to celebrate, Daniels grabbed him, hit the Angel's Wings and took the belt. As the referee work up, he found the belt in Daniels' possession, declaring him the winner and new X-Division champion.
Easily the Match of the Night featuring, high impact, highflying, innovative action only the X-Division could bring. Not only was it a good match, but also showed just how cunning Christopher Daniels could be in big time situations. 
Wrong:
Just As Bad As Before: A month earlier, Raven cheated his way to victory over Dustin Rhodes by putting his feet on the ropes to pin him. To avoid this from happening a second time, Rhodes challenged Raven to a Bullrope match where both men would be connected at the wrists by a bullrope. Using the roped connection to his advantage, Rhodes whipped and slammed Raven into the ring spots and guardrails. Rhodes made a huge mistake by scaling the ropes, getting yanked to the floor. Raven introduced a chair into this bout minutes later, looking to drive Rhodes' face into steel with a bulldog into the bull rope's cowbell. Rhodes changed the position, slamming Raven face first against the chair with his own bulldog, picking up the win to even the score in this rivalry.
After the match, Team Canada jumped Dustin for no reason. America's Most Wanted soon followed because cowboys have to stick together. Just an overall bland match that was actually worlds better than their first encounter (which should tell you how bad that was). Nothing to see here; move along.
Battlin' Fo' 'Fection, Baby: Traci Brooks and Trinity, being the women that they are, decided they wanted to battle for the affection of head honcho Dusty Rhodes; becoming his assistant in the process. Rather than wrestle each other for superiority, the women hired two male tag teams to do their dirty work. Trinity hired two obese men dubbed "Phi Delta Slam" to take on the bikers known for their time as The Blues Bros., The Harris Bros., and various other gimmicks, The Disciples of Destruction.
For the next ten minutes, these two teams battered each other so ineffectively that the fans start to grow quiet to the point you'd think it was an empty arena if the cameras were turned off and the announcers were muted. The end came when the twin brothers switched, giving whatever Harris a chance to play possum and big boot Big Tilly into a pin fall. Yes, Big Tilly lost; and so did the fans and people watching at home who had to sit through this.
What Just Happened: For weeks, a mysterious man named "Trytan" was terrorizing Monty Brown. Brown wanted to fight this Trytan, and had his chance here. Trytan proved earlier that he's just a big guy who is green as grass as he almost dropped Brown during a power slam attempt barely a minute into the match. For the next few minutes, Brown – who isn't a ring general at all – did his best to carry Trytan through a "clash of the titans" style match that ended with Brown defeating a masked man who interfered midway through. No, the new masked person wasn't Trytan. It was just some random guy who appeared, attacked, got Pounced, and took the pin for Trytan. I don't know who came up with this idea to have Brown legitimately pin someone not even involved in the match, but they need to be clubbed in the head. Not only that, but the match was horrible.
Big Daddy Blood Lust: A month earlier, The Outlaw (Billy Gunn/Kip James) made his TNA debut, attacking Kevin Nash while trying to reconcile with BG James. Somehow, this feud got so heated that it warranted a First Blood match in their first encounter. Outlaw and Nash came in with their fists taped and ready to throw down. The fistfight didn't entice the fans to react at all, nor did The Outlaw trying to stab Nash with a screwdriver. Seriously, no reaction for a man almost being stabbed in the head. So they brawled some more with teases that both men had been busted open thanks to chair shots when the referee got taken out.
As the ref tried to recover, Outlaw was busted open by the exposed top turnbuckle. Before the referee could see what happened to The Outlaw, Jeff Jarrett clobbered Nash with the NWA Heavyweight title belt to cut his forehead. With a bleeding Nash lying there, Jeff Jarrett sent his personal lawyer and doctor to clean up Outlaw. When the referee came to, he saw the aftermath of Jarrett's destruction, allowing Outlaw to win.
After the match, Nash Jackknife Power Bombed The Outlaw while falling down. To make things even funnier was announcer Mike Tenay blaming the blood loss for Nash's imbalance, but he was barely bleeding.
Another long brawl that the fans didn't care about, and nor should you. Move along quickly.
It's Time: So Diamond Dallas Page made his TNA debut a month earlier in hopes of doing what Kevin Nash, Monty Brown, Jeff Hardy, and many others couldn't do – beat Jeff Jarrett for the NWA World title on pay-per-view. To make sure this happened, Dusty Rhodes added a Lumberjack match stipulation to the title bout. The opening bell sounded and we were off to the races with a brawl between the former WCW World champions. When Jarrett tried to run, he was confronted by his past challengers and beaten back into the ring. This went on for several minutes until Jarrett used a low blow to change the momentum in his favor.
During the homestretch, bodies started piling up thanks to the interference of several wrestlers; including a returning Sean "X-Pac/1-2-3 Kid" Waltman. Suddenly, Monty Brown entered the ring to save DDP from the two on one assault about to occur. Next thing you know, Brown hit the Pounce on DDP, giving Jarrett the chance to pin another would-be champion. To the shock of everyone, Brown had joined the dark side – thus ruining any chance of TNA making the red-hot babyface Brown a World champion.
The match was okay, but the ending took it down several levels. This was the worst idea TNA could come up with for Brown as everyone loved him, believed in him, and thought he could beat Jarrett for the title even though he was cheated out of winning a couple of months earlier. Like any okay story that is dragged down by a crappy ending, say hello to this main event.
Is It A Classic: Middle of the road as you can get. And even the high points aren't necessarily that high. The best match was the X-Division title match and that isn't must-see by any means. Skip this show and you won't regret it at all.