Total Nonstop Action's X Division became one of the most important factors in the early success of TNA. But as the years progressed, the stars that made TNA's premier division moved onto bigger things including the TNA World Championship. Men like AJ Styles, Samoa Joe and even Olympic gold medallist Kurt Angle have their names associated with the division and the top tier talent that made up TNA's main events. Looking to follow in the footsteps of his figurative forefathers was the longest reigning X Division champion in history, Austin Aries. To become the World champion, Aries opted to sacrifice his reign – vacating the title that almost a dozen individuals would attempt to battle for – to fight the defending champion Robert Roode. Can Austin Aries trump the champ to achieve a dream no one saw him attaining, or will "A-Double" just be another notch in Robert's belt? Most importantly, will TNA's" Destination X 2012" be a classic?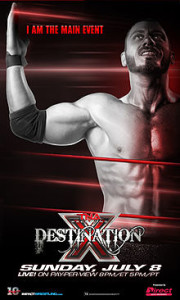 Destination X 2012
July 8, 2012
Orlando, FL
Right:
Last Chance: With the X-Division title vacated by the actions of Austin Aries, TNA put together a series of matches that would lead to an ultimate finale with the "Ultimate X" match. Having been impressed by certain talents, it was decided by TNA management that a few wrestlers would get a second chance at qualifying for a qualifying match that would occur directly after the opening match featuring the winner taking on former ECW Television champion Kid Kash. The fighters were Mason Andrews (Scorpio Sky on the Pro Wrestling Guerilla and independent wrestling scene), Lars Only (another PWG then-regular who goes by the name "Johnny Yuma" everywhere else), Rubix (one of Chikara Pro's standout stars) and the son of Demolition Smash/Repo Man, Dakota Darsow.
It didn't take long for things to heat up as the fans watched with wide eyes while Andrews and Rubix traded early pin attempts before taking to the sky (no pun intended). The crowd started rallying behind the masked man in Rubix as he performed some death defying dives before Mason tried to ground his fellow high flyer. Only and Darsow refused to be forgotten about, leading to a Tower of Doom superplex spot that would help Lars set up the finishing sequence. After Rubix utilized the coast-to-coast dropkick to knock Darsow out, Only caught Rubix with his version of the Code Breaker. With two men down, Lars went in for the kill on Andrews when Mason countered his attack with the TKO/fireman's carry ace crusher to pinned the stunned Lars.
This was the standard crash & burn type of X-Division match where all four wrestlers went a mile a minute and seemed to be hitting maneuvers left and right without "proper psychology". The end result was a high-octane opener that wasn't necessarily pleasing to the fans due to its outcome (Rubix gained a lot of support during the match), but perfectly set the stage for the action to come.
Cashing Out: Former X-Division champion Kid Kash ran to the ring to kick-start the first official tournament match by attacking the man who just went through a tough match seconds earlier. Andrews tried his hardest in the first few minutes to flash pin the fresh veteran, but Kash was prepared and easily turned the tides whenever Mason initiated an offensive flurry. During his abuse of Mason, Kash would go out of his way to antagonize the crowd and get them (a group of fans where weren't too pleased with Andrews winning the previous match) behind the rallying hero as he started getting to his feet and landed a few dropkicks after avoiding Kash's moonsault. Andrews, who had the game plan of using a pinning combination to end this one quickly, refused to let go of his belief that Kash was prone to surprise pins. That belief in his plan worked as Andrews countered Kash's own pinning combination, sneaking in a roll up to pick up his second win of potentially three over the course of the night.
This was a completely different match from the opening contest as Kash worked a good old fashioned "underdog good guy vs. a villainous veteran" story that actually turned the fans in the favor of someone they weren't too happy about making it into the next round of the tournament.
On the Path to Royalty: Shortly after leaving Ring of Honor (at the time he was the company's Tag Team champion), Kenny King was given a chance to compete with a former TNA Tag champion Douglas Williams in hopes of gaining another title to his growing resume. The early minutes saw King fluster the Brit with arm drags and some pinning combinations like the sunset flip. Just when it seemed Kenny King was going to make quick work of Williams, Douglas started unleashing an offensive flurry that led to both men throwing bombs such as King's blockbuster and Williams' flying knee drop from the top rope on his floored opponent. Slowly but surely, King's attacks were wearing his opponent out and left Williams prone to Kenny's Royal Flush maneuver for the pin fall.
Though similar to the prior match featuring Kid Kash slowing things down, Douglas Williams utilized his proficiency in grappling to control the match's early pace. But King's unique offense and ability to mix speed with cunning power allowed him to capitalize on his opponent's waning momentum during the back & forth action.
What a Maneuver: In the final X-Division Title Tournament opening round match, one of the biggest stars in the X-Division that never won the title in Sonjay Dutt took on a new face to TNA fans, Rashad Cameron (BLK Jeez/Sabian of Combat Zone Wrestling fame). As the announcers – specifically Jeremy Borash – talked about Dutt rediscovering his love for wrestling again after his stint in India for the "Ring Ka King" promotion, Sonjay was whipping off head scissor and hurricarana attacks to set up his attempt at a dive. Avoiding whatever Sonjay had in mind, Cameron took advantage and antagonized the pro-Dutt fans with knife-edge chops and his own highflying attacks such as the head scissor takedown into a cross arm bar aimed at one of their favorite wrestlers. But Dutt persevered and used a DDT to set up one of the most impressive maneuvers in his arsenal: a moonsault double stomp. As the late Gorilla Monsoon would say, "The pin fall's elementary."
Borash wasn't lying when he said Dutt was motivated. Though Cameron looked good and tried to give a reason for the fans to dislike him, Sonjay was on another level with his performance to the point he became the favorite to win the whole tournament thanks to that exclamation point of a finisher.
Bound For Ten: What was becoming a yearly tradition to determine the number one contender for the TNA World title during the company's biggest event of the year, "Bound For Glory", rivals Samoa Joe (ranked two out of twelve wrestlers) and Kurt Angle (ranked fourth) entered the ring for another highly-anticipated battle. Both men made their intentions known that they would go after a submission victory to attain the maximum points possible for winning a "BFGS" match, ten points.
As you'd expect from two individuals specializing in ground-based action, and a pair of men very familiar with each, other took things to the mat and looked for the early submission victory. It didn't take long before both competitors realized that they would have to wear the other out with a flurry of offense, leading to an exchange of big maneuvers such as Angle's various suplex variations and Joe's ability to mix strong striking with his limbs and unusual highflying tactics such as his tope forearm to the floor that left the former multi-time World champion staggered.
As the fans were split down the middle, the former Olympian recovered and fought through the pain to land his Angle Slam for a near fall that would leave Joe reeling and desperate not for his patented Coquina Clutch submission, but the devastating Muscle Buster. Angle somehow kicked out of Joe's follow up pin attempt when "The Samoan Submission Machine" finally landed the Buster, causing Joe to return to his original plan of going after a submission victory. Kurt knew what to expect and wanted to not only avoid the rear naked choke, but also use his Angle Slam to put Joe in position for the Ankle Lock. Angle's plan worked. Sadly for the former TNA World champion, his usual penchant for attacking his opponent's leg to set up the Ankle Lock was nonexistent in this match, allowing Joe to have enough leg strength to kick his way out of the hold and slip free of Kurt's grip before yanking Angle into the Coquina Clutch. Samoa Joe's ring positioning was perfect and his offensive onslaught weakened Angle so much he couldn't make it to the ropes before passing out. the referee was forced to stop the match in favor of Samoa Joe.
Though not a classic like some of their previous outings, it's pretty much impossible for these two to have anything short of a high quality match. The best part about this bout was the story of both men, being submission specialists, looking for that submission-oriented victory and those much-needed ten points to jump ahead on the "Bound For Glory Series" rankings. But the tenacity of both men forced both to slowly abandon their game plans before going for broke with not much time left on the clock.
Claims That Won't Stand: The story leading to this match has become one of the biggest jokes in wrestling since Katie Vick and it's almost impossible to explain the absurdity. Simply put, Christopher Daniels alluded to AJ Styles not only having an affair with TNA President Dixie Carter, but also Styles impregnated a drug addict while trying to help her get clean. Of course AJ was out for revenge against the man who wrongly tarnished his good name.
In this Last Man Standing match, AJ Styles entered with fire in his eyes and heart, hoping to tear his former friend apart. Christopher Daniels, on the other hand, looked to set the pace and frustrate AJ by running away as long as he could. The strategy eventually worked for Daniels as he was able to bring a steel chair into the fight and utilized his patented uranage slam to literally drive "The Phenomenal One" through the steel. Daniels took great pleasure in abusing a man who once was like a brother to him, splitting his forehead via the steel ring steps and antagonizing pro-Styles fans at ringside. But Christopher's need to bludgeon Styles came back to haunt him as the recovering AJ used his springboard forearm smash to bounce Daniels' head off the steel chair. The end result was both men bleeding from their heads and the crowd craving AJ to rip "The Fallen Angel's" head off.
The fans were chanting about the awesomeness of this fight as the action moved from ringside to the entrance stage. With Daniels on his back and begging off, Styles looked to be on the verge of putting Christopher down for good. Suddenly, Daniels' fellow TNA Tag Team champion Frankie Kazarian came out to attack their mutual enemy and pitched him off the stage, onto the concrete! As if Bad Influence weren't done, Daniels retrieved a table after being helped to his feet; placing the object in front of the stage the two fighters were fighting on just seconds earlier. And just like earlier, Daniels' penchant for violence against Styles came back to figuratively bite him in the butt. Blocking Christopher's Angel Wings finisher, AJ pulled Daniels off the entrance ramp with his Styles Clash to drive Daniels' face first through the table! The referee started counting both men down, but AJ, having taken a much easier fall than his opponent, was able to pull himself off the concrete with some help via the nearby guardrails before the ref's ten count; giving AJ Styles another huge victory over Christopher Daniels.
This was unlike anything in the Styles-Daniels catalogue of matches that stole the show up to this point. It's very rare in this day and age for two wrestlers to produce a match where you can feel the vitriol and hatred – making the match incredibly immersive and entertaining.
Ultimate (X) Opportunity: After the first four bouts of the evening, the then-latest iteration of TNA's synonymous specialty match, Ultimate X where a wrestler would have to climb across two crossing cables to unhooked the attached X-Division title belt. It didn't take long before things got a little wild and innovative maneuvers like Kenny King northern lights suplexing Mason Andrews into the tree of woe positioned Zema Ion before climbing toward the cables. Shockingly, the match's first casualty didn't happen because some fell some fifteen feet from the cables to the ring, but Sonjay Dutt hitting a standing shooting star press on King before elbowing the hard canvas upon impact. King, Ion and Andrews were left to battle it out, going after the belt every time it seemed someone was down on the other side of the ring long enough to scale the ropes and steel truss that made up this structure.
Just when it seemed all three men were neutralizing each other, Sonjay Dutt, one arm and all, returned to the match. Rather than enter the fray, Dutt smartly climbed toward the belt. Already at Dutt's destination was Andrews and King. The fistfight over the title belt caused both men to fall as Ion and Dutt took things one-step further by meeting on the actual "X"-shaped truss that was constructed above the cables. Before Dutt could slip down and retrieve the belt, Ion pulled out his can of infamous hairspray to blind Sonjay and shove him from his elevated perch. With no one to stop him, Zema Ion unhooked the belt and became the new X-Division champion
While not the greatest or most innovative Ultimate X match in TNA history, it was action-packed and featured a group of men smartly going after the title rather than synchronizing unbelievable and rather "cute" spots that wouldn't help anyone looking to win a match like this. With the teasing of Jesse Sorenson coming back (more on that later), it was a perfect time for Zema Ion to become the new X-Division champion.
A Gamble That Paid Off: After reigning as TNA's X-Division champion for almost a year, Austin Aries decided it was time to take that next step and prove himself as the "Greatest Man That Ever Lived" by becoming the TNA World Heavyweight champion. But to do so, Aries had to relinquish his X-Division Championship and challenge a man who too overcame a ton of odds to become the face of TNA in Robert Roode.
Following the in-ring introductions, Austin Aries tried to out-grapple the much larger and potentially stronger champion, only to find himself at a true advantage when he quickened the pace, slipped around his opponent and struck whenever he saw an open opportunity. The challenger seemed to be firing on all cylinders as the fans chanted in anticipation for a new World champion when he went for patented heat-seeking missile of a tope to the floor. The champ moved at the last second, sending Aries crashing against the steel guardrails.
Though he had the fans' support, "A-Double" was truly fighting from behind in hopes of turning a dream into reality. Anytime Aries seemed to be regaining some momentum, Roode would catch him with simplistic, yet effective back elbow strikes and clotheslines that saw the champ's ego swell. Between attacks, Roode mouthed off his true feelings on the matter, repeatedly stating, "You're not in my league." But the challenger and his fans believed otherwise, causing a fiery comeback that not only rocked the champion, but also connect with the move that turned the match in favor of the challenger. With Aries's offensive flurry coming at him and forcing Roode to kick out more than go for pin falls, the champ decided to reach into his illegal bag of tricks. Using the title belt he'd done everything to win as a distraction, Roode punched Aries in the groin for a near fall. When that didn't work, the champion "accidentally" shoved "A-Double" into the referee before bashing Austin in the face with the title belt. Somehow, some way, Aries kicked out right before the three count. The fans were on the edges of their seats as Aries stumbled to his feet and witnessed Roode charging his way. Moving at the last second, Aries kicked the champ in his unsuspecting face prior to executing a Brain Buster to end all brain busters … to score the three count! The crowd exploded in joy as Austin Aries was declared the new TNA World Heavyweight champion.
Easily TNA's Match of the Year in 2012. It had everything you'd want when it comes to a professional wrestling story: two interesting characters with the talent to back it up inside the ring, a hot crowd, a monumental finale and the feeling that fans had been on a true journey. It rarely gets any better than this in wrestling.
Wrong:
Flip, Flop and Flop: Following the arrival of Jesse Sorensen following a successful neck surgery to fix his broken neck caused by a Zema Ion moonsault gone awry, the man responsible for Sorensen's injury entered the ring for his tournament match with Flip Casanova. Sadly for both high flyers, they were barely given any time and all that the fans witnessed was Ion practically running the Flip before finishing him off with his Gory Bomb. With a card as stacked as this event, it was a surety one match would get the short end of the stick. This was "that" match.
Results:
1. Mason Andrews defeated Dakota Darsow, Lars Only and Rubix in a TNA X Division Championship Tournament Qualifying match
2. Mason Andrews defeated Kid Kash in a TNA X Division Championship Tournament Qualifying match
3. Kenny King defeated Douglas Williams in a TNA X Division Championship Tournament Qualifying match
4. Sonjay Dutt defeated Rashad Cameron in a TNA X Division Championship Tournament Qualifying match
5. Zema Ion defeated Flip Casanova in a TNA X Division Championship Tournament Qualifying match
6. Samoa Joe defeated Kurt Angle in a Bound for Glory Series match
7. AJ Styles defeated Christopher Daniels in a Last Man Standing match
8. Zema Ion defeated Kenny King, Mason Andrews, and Sonjay Dutt in an Ultimate X match to win the vacant TNA X Division Championship
9. Austin Aries defeated Robert Roode to win the TNA World Championship
Is It A Classic:
TNA seemed to have a new lease on life heading into the summer of 2012, and it translated in a harder working bunch of men and women doing their best to impress. While there were more Rights than Wrongs, most of the undercard (minus the opening match) was entertaining for the time being, but ultimately forgettable. What makes this event something special is the Last Man Standing match and, of course, the main event. Both were nothing short of excellent with the latter featuring one of TNA's greatest moments to date in Aries winning the World title in a thriller of a match. While the show isn't a downright classic, it does feature two incredible matches and a very good undercard that makes this event worth seeing.