After several years of missed opportunities and champions ducking him at ever turn, Samoa Joe found himself at a crossroads. "The Samoan Submission Machine", consider one of the best wrestlers in the world, could pull off the big one in TNA by winning the company's World Championship. Frustrated over the recent turn of events the ended with Joe's rival Kurt Angle as the champion, Joe demanded one more chance to prove himself worthy against Angle. But Joe's challenge would potentially come at a grave price – Samoa Joe would have to put his career on the line. The submission specialists found no better battlefield than in the Six Sides of Steel Cage during the 2008 version of "Lockdown". Lets find out if TNA's fourth annual all-Steel Cage match event is a classic.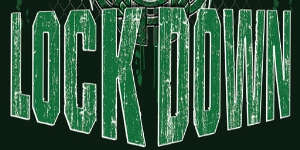 Lockdown
Lowell, Mass
April 13, 2008
1. Jay Lethal successfully defended the X-Division Championship in an Xscape match that featured Johnny Devine, Consequences Creed, Sonjay Dutt, Shark Boy and Curry Man
2. Roxxi Laveaux defeated Angelina Love, Traci Brooks, Christy Hemme, Jacqueline, Salinas, Velvet Sky, Rhaka Khan in a Queen of the Cage match
3. BG James defeated Kip James
4. Eric Young & Kaz defeated Scott Steiner & Petey Williams, The Motor City Machine Guns, LAX, Black Reign & Rellik, and The Rock-n-Rave Infection in a Cuffed in the Cage match
5. Gail Kim & ODB defeated Awesome Kong & Raisha Saed
6. Booker T. & Sharmell defeated Robert Roode & Payton Banks
7. Team Cage (Christian Cage, Sting, Kevin Nash, Matt Morgan & Rhino) defeated Team Tomko (Tomko, AJ Styles, Team 3D & James Storm) in a Lethal Lockdown match
7. Samoa Joe defeated Kurt Angle to become the new TNA World champion
Right:
The Great Escape: "Lockdown" 2008 kicked off with Jay Lethal defending his X-Division Championship against friend Sonjay Dutt, rival Johnny Devine, the hilarious Curry Man, a "Stone Cold" Shark Boy, and the rookie Consequences Creed in a Xscape Match where the only way someone could win was surviving three pin and/or submission falls where an elimination would occur until it was down to two men who would have to physically escape the cage.
The initial minutes saw all six men keep things civil and orderly with only two men in the ring at a time. Friends Jay Lethal and Sonjay Dutt decided that the self-policed rules of two men in the ring would hinder their ability to double-team their opponents. Sonjay and Lethal dropped all of their opponents together, leading to some interesting, yet contrived spots like the tower of doom superplex-power bomb. Dutt's need to help Lethal would eventually cost him as Devine rolled up the unsuspecting Dutt to pin and eliminate "The Guru".
Shark Boy, Creed, and Curry Man followed Sonjay's elimination lead thanks to Consequences, Curry Man and Devine respectively in front of a white-hot crowd loving every minute of the action. These eliminations occurred during some big moments like Curry Man somersaulting off the cage's top to take down Creed and Devine; Lethal and Man's Hart Attack on Devine; Johnny's Devine intervention on the food masked man. Dutt, who stood with Lethal's potential girlfriend So Cal Val to support the champ, blocked Devine from exiting the cage through the door after Johnny tied Lethal to the ropes. With another exit available by climbing the cage, Devine made the trek; only to find Dutt helping cut his friend free and allowing Lethal to dive through the door before Devine could get down for a successful title defense.
Silly finish aside, this was very high octane, fun opener as you'd expect from the X-Division wrestlers from that time. Some of the maneuvers and spots will have certain wrestling fans not fond of the X-Division style pulling their hair out, but you can't deny the results.
The Real Outlaw: After teaming and feuding constantly for ten-plus years, the former New Age Outlaws/James Gang of BG James and Kip James found themselves at a crossroads after Kip attacked BG's father "Bullet" Bob Armstrong with a crutch. Though BG proclaimed he'd make Kip pay in the pre-match promo package, it was Kip being the aggressive one as he not only blindsided his former partner, but also put the boots to him. The fans rallied behind BG, watching him punch his way off the mat after being tossed against the cage and rear chin locked over and over again.
Kip's overconfidence/arrogance would get the better of him as he took too much time playing with the fans' anger over his actions, giving BG a chance to recover and avoid Kip's Stinger Splash to roll his former partner up for the surprising three count. The post-match confrontation and Kip attacking BG after feigning a reunion wasn't shocking in the least, but at least made sense.
Though it wasn't anything truly special from a work rate standpoint, the fans were emotionally invested in this simple match of good guy versus bad guy. They kept things short and simple, making this a perfect undercard bout.
Can't Beat 'Em, Tag Team 'Em: Gail Kim and ODB found themselves in a conundrum. They both had a chance to defeat the powerful Awesome Kong for the TNA Knockouts Championship, but the constant interference of Kong's second Raisha Saed ended their dreams. Hoping to gain a measure of revenge, Kim and ODB challenged the two to a tag match where Kong and Saed would team up for, knowledgably, the first time.
The first few minutes saw Kong's temper get the better of her as she unsuccessfully chased ODB and Kim, getting hit when she couldn't get a shot in. Kong eventually tagged out and let the burqa-wearing Saed to take control of Kim's left arm. Gail would spend the majority of this battle trying to distance herself from Saed and Kong in an effort to tag out. Kim's perseverance paid off after taking a big beating at the hands of Saed by spearing her.
ODB entered with great speed, taking the fight to both opponents while Saed was in the ring and Kong was stuck between the ropes and the cage. Following a huge hurricarana by Kim to Saed, Kong found herself struggling to keep everything in control. The final minutes inevitably saw Kong back fist her own partner, leaving Saed unconscious and prone to ODB's Superfly splash to pin Raisha in her TNA in-ring debut and potentially gain another title opportunity.
A really fun match here featuring sure signs of Kong's inability to work well with others. Kim is always an enjoyable "fan favorite in trouble", adding a great sense of urgency to all of her attacks during the abuse from Kong and Saed.
Lethal Lockdown: TNA's answer to the long favored Wargames Steel Cage match from the era of Jim Crockett Promotion's greatest days and World Championship Wrestling's premier fall season event. On one side were the TNA World Tag Team champions of team leader Tomko and his partner AJ Styles grouping with Team 3D (Brother Ray & Brother Devon) and James Storm to take on Team Cage featuring Christian Cage, Kevin Nash, Sting, Rhino and Matt Morgan. As expected from this type of match, the villains gained an early advantage after AJ Styles and Brother Ray isolated Christian Cage after Team Tomko won the coin flip to gain the entry advantage. With each entrant came a greater anticipation from the crowd for the cage roof to descend and give these wrestlers a slew of weapons.
Sting was the last man to enter the cage, causing the "lockdown" portion of this match to commence. Team Cage immediately started clobbering their opposition with trashcans, trashcan lids, steel chairs, and kendo sticks. Blood flowed and bodies writhed in agony. Hoping to avoid the violence, James Storm climbed atop the cage where a table and ladder awaited. AJ tried to help his partner as a ladder was being set up, eventually going through the table alongside Cage thanks to Storm pushing the ladder. "Why Storm would help put his own teammate through a table?" is a good question, but it looked incredible. Storm, happy about his actions, would reenter the cage and get Gored by Rhino for "The War Machine's" follow up pin and victory for Team Cage.
If you like chaotic, War Games style cage matches with a slew of weapons and blood, but only in one ring, this is your type of fight.
One Last Try: Samoa Joe, after having not captured the TNA World Championship and losing three of the four matches against the Olympic gold medallist, Kurt Angle, offered to put his career on the line for one last title opportunity. Both champion and challenger took their training to another level, with Joe being mentored by Ultimate Fighting Championship veteran "The Irish Hand Grenade" Marcus Davis while former UFC and Pride fighter Frank Trigg took Kurt Angle under his wing. From a physical perspective, it was obvious this match would be unlike anything ever seen before or after in TNA as the champion entered wearing a pair of trunks and no footwear rather than his usual singlet and wrestling boots.
As expected by two submission specialists, the action immediately went to the ground with both looking for a quick tap out by his opponent. The focus of Kurt's attacks was Joe's legs. Seeing how superior Angle was compared to him on the mat, Joe took the match into his hands by stunning the champion with a kick to the head followed by some ground and pound action featuring hammer fists and Mongolian chops. The bout eventually returned to its roots of submission grappling, slowly leading to the match's conclusion as the challenger had to survive a figure four leg lock and Angle's patented Ankle Lock. Joe would counter with the crippler crossface and the Coquina Clutch, but the tenacity of Angle refused to let the champion submit as he struggled to the ropes to save himself time and time again.
Remembering this was still a pro wrestling match; Joe slammed Kurt face first into the steel cage to set up his Muscle Buster finisher. Angle couldn't stop himself from being driven into the mat, allowing Joe to pin Angle for the second time in his career and to become the new TNA World champion.
Though it's considered one of, if not the best matches in TNA during 2008 (and for some, one of the greatest bouts in TNA history), Joe vs. Angle 5 is not for everyone. If you're not a fan of mixed martial arts and professional wrestling blending, you will most certainly walk away feeling disappointed by this main event. But if you enjoy incredible grappling exchanges, submission battles and a hot crowd looking forward to their long-awaited Samoa Joe TNA World Championship victory to finally come true, then Joe-Angle V definitely delivered a classic.
Wrong:
It's a Break-in: The evening's second match had a solid back story of "The Voodoo Queen" Roxxi Laveaux trying to get revenge on the arrogant and obnoxious Beautiful People (Angelina Love and Velvet Sky) for mocking and attacking her for not representing their perception of beauty. Rather than just let Roxxi take on one of rivals in a singles bout, TNA decided to add every woman in the company (minus the ones who would compete later in the aforementioned tag match) to a bout where the rules state the ladies had to battle their way into the cage. Yes, a Cage match where you don't start in the cage.
The dubbed "Queen of the Cage" match barely lasted three minutes after Love and Roxxi entered the cage to become the official finalists (with Angelina making it in almost instantly). What the last two ladies provided in the ring showed just how much of a missed opportunity a one on one match was as the two did a wonderful job with the time allotted. Both Roxxi and Love deserved more (as did the women thrown out there to get more names on an already bloated card).
Cuffed and Caged: If the Queen of the Cage match was an effort in futility, the "Cuffed in the Cage" bout featuring six tag teams (twelve men) fighting in a cramped Steel Cage with the point of not pinning or submitting your opponents, but literally handcuffing them to the steel cage (so the bodies never leave the ring and just clutter the area) was ridiculously unnecessary. Well, actually eleven because Eric Young left his partner Kaz high and dry due to his fear of Rellik and Black Reign. For the next several minutes, bodies flew, viewpoints were obstructed, the fans actually enjoying the crazy bumps like Rave taking Kaz's Flux Capacitor were upset over the Motor City Machine Guns being cuffed pretty quickly and, eventually, Eric Young returned as his alter ego "Super Eric" (featuring Young doing a gold superhero outfit) to thwart the monsters of Rellik and Reigns and help his team finally win.
Ignoring the whole "Super Eric" deal, the only true highlight of this match was Scott Steiner's opening barrage of clotheslines and suplexes that got the fans behind "Big Poppa Pump". Other than that, there's nothing to see here in a match that should never be done again in any way, shape or form.
Smack the Bank, Sucka : The situation between Booker T. and Bobby Roode turned from a professional rivalry into something very personal quickly. Roode hated the fact Booker T. was taking a spot and TV time from some "more deserving". Booker T.'s wife Sharmell looked to save her husband from a beating at the hands of Roode and his valet Payton Banks. An infuriated Bobby Roode actually accidentally hit Sharmell. Looking for revenge, Mr. and Mrs. T. entered the Six Sides of Steel cage to take on Roode and Banks in an intergender bout.
Sadly, the stipulation caused a lot to be left desired, as this hate-filled feud was more of a simplistic pseudo-tag team match with everyone confined in the cage and the women being nothing more than extras watching their men do all of the work. And when the women finally got involved, Banks intentionally hits Roode following a Sharmell low blow behind the referee's back; setting up a Sharmell roll up on Banks for a family T. victory.
This could've been another great, brutal one-on-one bout hampered by the need to put more bodies in the cage than necessary. But kudos to Sharmell for being a lot better in the ring than people give her credit for.
Is It A Classic: Though there are a few more rights than wrongs, the fourth "Lockdown" in TNA history is deceptively average. Outside of the final two matches, there is nothing truly must-see (and even those two matches aren't for every type of wrestling fan). With that said, there's nothing so horribly bad that you'll scoff in disgust other than during the Cuffed in the Cage Match. If you can see this show, you'll more than likely enjoy it, but won't put it on a "Top Ten" list any time soon.