Every squirrel finds a nut, every dog has its day, and a professional wrestler, not matter who they are, has a chance to win. Though St. Patrick's Day has come and gone, one can't help but look at some of the wrestlers lucky enough to win at least once in their struggling careers.
Barry Horowitz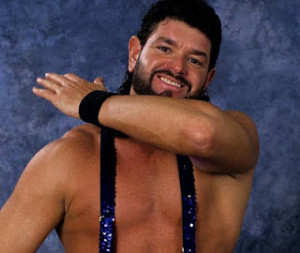 To put "The Winner" Barry Horowitz on a list of lucky wrestlers having known him before his time in the World Wrestling Federation would leave someone questioning how valid this list could be. But for those who didn't see Horowitz's triumphs in Championship Wrestling from Florida and the Global Wrestling Federation would only think of Horowitz who would pat himself on the back thanks to the embroidered handprint on the back of his ring vest. They'd also remember Horowitz for losing constantly in the WWF. From 1987 until 1995, Horowitz never picked up a win on WWF television.
It wasn't that Horowitz lacked the skills, but for some reason he just couldn't pull it together when facing the larger than life superstars. Then something miraculous happened. In the summer of 1995, Horowitz outsmarted Chris "Bodydonna Skip" Candido, pinning him on the WWF's Sunday morning show, "The Action Zone". For the first time in years, Horowitz was a winner again and he refused to let those victorious ways stop. Competing for the first time on pay-per-view, Horowitz shocked the world by defeating Candido again during "Summerslam '95". Sadly for Horowitz, he couldn't continue the streak he started in the summer of 1995. But for a short period of time, fans around the world were singing alongside Horowitz anytime they heard his entrance song "Hava Nagila".
Virgil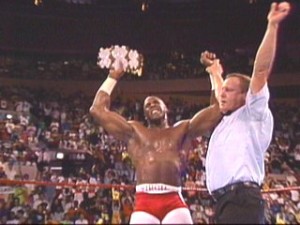 The wrestler once known as "Soul Train Jones" made his World Wrestling Federation debut under the name of "Virgil" in 1987. Instead of wrestling, Virgil was hired to be the servant/butler/bodyguard of "The Million Dollar Man" Ted DiBiase. Virgil succumbed to both physical and verbal abuse during his time as DiBiase's second, watching his employer fail and take out his frustrations on poor Virgil. Ted DiBiase, having lost his chances at becoming the WWF Heavyweight champion, opted to create his own championship, the Million Dollar title. It wasn't long after that moment of expensive self-pity that DiBiase slapped his second around like a disobedient dog. And just like any animal backed into a corner, Virgil had enough.
Virgil turned on DiBiase, being embraced by the fans in the process. Roddy Piper, who had gone out of his way during his time as a commentator to plead with Virgil to stand up for himself, helped train the servant to become a wrestler. Virgil would take Piper's training to survive the DiBiase's onslaught, winning via count-out during their first official encounter. Several months later, thanks to a literal mooning from Piper, Virgil would pin DiBiase to win the Million Dollar Championship. Virgil never defended the non-sanctioned title until he lost it back to DiBiase. From that moment on, Virgil's wins became less and less frequent to the point you could count on one hand how many matches ended with his hand raised in victory during his time in both the WWF and World Championship Wrestling.
Zach Gowen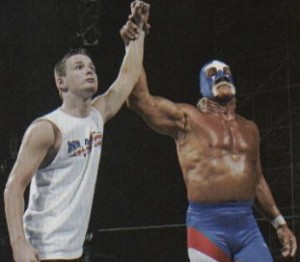 Looking at a picture of "Tenacious Z" Zach Gowen, a wrestling fan would probably think Gowen was lucky to get a shot in World Wrestling Entertainment (the former WWF) due to his smaller stature. In truth, Gowen is blessed to be alive, having lost his left leg to cancer as a child. Zach Gowen grew up and became a professional wrestler just he had dreamt, one leg or no leg. Wrestling's latest anomaly caught the eye of WWE and Gowen was given the opportunity to compete on the biggest wrestling stage of them all.
Gowen immediately drew the ire of WWE's Chairman and main villain Vince McMahon when young Zachary took it upon himself to help a beaten down Hulk "Mr. America" Hogan. Gowen would not only go on to compete alongside Mr. America, but also battle legends like "Rowdy" Roddy Piper and future UFC Heavyweight champion Brock Lesnar. The "One-Legged Wonder" even headlined a pay-per-view, losing to McMahon in a bloody bout.
It's hard to believe Gowen would've gotten the same opportunities if not for his amputated leg. But Gowen showed that with a never-say-die attitude and a little luck, you too could rub shoulders with wrestling's biggest stars.
Brooklyn Brawler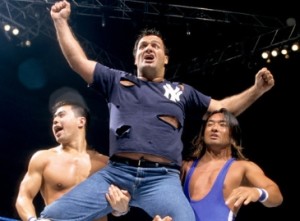 There's no one in the history of the WWF/WWE, maybe even wrestling in general, better associated with losing than the Brooklyn Brawler. Brawler, who has actually won several matches in his career (more than others on this list), has been seen losing on wrestling television more than he's ever won. If you ask someone who is the Brooklyn Brawler, they'll probably tell you he's the guy who lost to Hulk Hogan, The Ultimate Warrior, Randy Savage and The Rock.
But in 2000, the Brooklyn Brawler found himself in a peculiar situation while teaming with the Japanese contingent Kaientai to take on former WWF Heavyweight champion Triple H in a three on one handicap match. Shockingly, Triple H was still the favorite to win this potential thrashing. HHH rid himself Kaientai before getting into an argument with the referee. The referee, being pushed to the mat, was unable to see Chris Jericho attack his rival, Triple H. And when the ref did witness what was going on, he ignored the action and counted Triple H down to give Brooklyn Brawler his first televised victory in years. Though getting up in age and continuously losing on his own, the Brawler stayed strong and found people nice enough to help him pick up a win or two whenever he had the chance. If not for men like Chris Jericho, who's to say if the Brooklyn Brawler would have secured one win during this millennium.
Mikey Whipwreck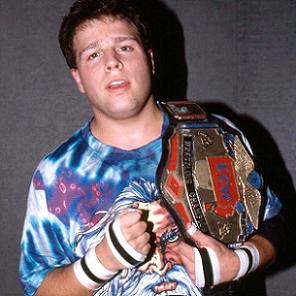 There's probably no one on this list who had more unexpected professional success than the man who was nothing more than a towel boy/ring crew member when Extreme Championship Wrestling started gaining some national success. Whipwreck simply wanted to wrestle without worrying about the rigors of becoming the next "Hulk Hogan". Simply put, Whipwreck couldn't match those legendary heroes and villains seen by wrestling fans around the globe. Instead, Whipwreck became the Special Delivery Jones' of the world, being beaten by any ECW wrestler he came in contact with while barely landing a single strike or maneuver.
Then something clicked. Thanks to the help and training of men like Mick Foley and Taz, Whipwreck won the ECW Television Championship by pinning the hulking Pitbull #1. It appeared to be a fluke in the end as Whipwreck lost the championship not long after his victory, seemingly reverting to his original losing ways. But that wasn't the truth. Whipwreck, the truest of underdogs, kept scrapping and fighting until he turned his losses into wins; his wins into golden moments. Whipwreck would become ECW's grand slam champion by winning all the titles the company had (ECW Heavyweight, Television, and Tag Team championships). In the end, Mikey Whipwreck proved luck is nothing more than preparation meeting opportunity.